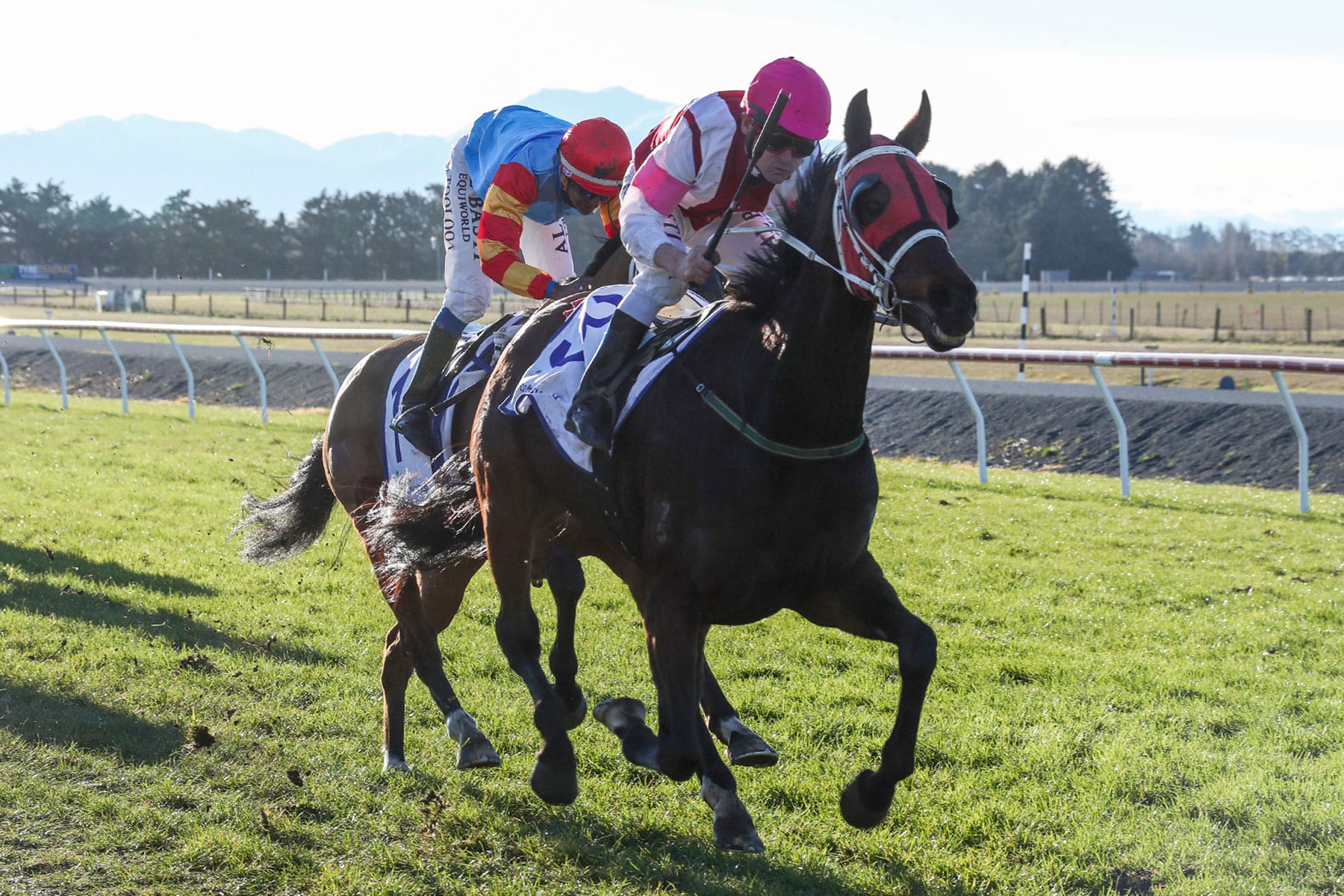 Estimated Reading Time: <1 minutes
New Zealand trainer Leonard Stewart took a bit of convincing by his granddaughter, Lacy Stewart, to take Miss Harley Quinn south to Wingatui on Friday, but her insistence paid off.
The four-year-old mare was backed into +160 favouritism in the NZB Insurance Pearl Series Race (1400m) following her last start runner-up effort on her home track, and she didn't disappoint punters, running away to a convincing 2.75 length victory.
"We weren't intending to go, but my granddaughter is one of the owners and she said on Tuesday morning there were only six nominated for it," Stewart said.
"She is eligible for the Pearl Series Bonus so I put her in and luckily Jake (Lowry, jockey) was available."
As a result of the Pearl Series Bonus, owner-breeders Aaron Tapper and Lacy Stewart collected an additional NZ$10,000, while Stewart earned NZ$1,000 as the trainer.
Stewart took plenty of confidence out of Miss Harley Quinn's last start placing and he was hopeful she could go one better on Friday.
"Like most of those maideners, you don't know who is going to handle it and who is not, but at least she was race hard," he said.
"At the top of the straight when Jake got her clear he thought nothing was going to catch her, he said she was travelling."
It was Miss Harley Quinn's 15th start and Stewart said she has taken a while to mature.
"She can get pretty uptight, and sweats up badly before the start, so we have been sending her around early and trying to settle her," he said.
The win was Stewart's sixth of the season, his best tally to date.
Tapper and Lacy Stewart, who stand Jon Snow at Clearview Park Stud, have been purchasing a few mares to send to the Group One winner off gavelhouse.com, and Leonard Stewart said New Zealand Bloodstock's online auction platform was also the source for the most promising horse in his barn, Take The Deel.
The five-year-old gelding was purchased for just NZ$1,200 off gavelhouse.com and has subsequently won three races for Stewart.
He holds a nomination for the Group 3 Winning Edge Presentations 124th Winter Cup (1600m) at Riccarton on August 7, but Stewart said he has his work cut out to get there.
"With Aaron and Lacy having Jon Snow at Stud, they have been buying fillies and mares," Stewart said. "We got onto gavelhouse and bought Take The Deel. I think he is just growing into himself, he is such a rangy horse.
"We are looking at Ashburton in the 74 mile next week with him. We have freshened him up a bit. We will see how he progresses through there and then he will have to try and get enough points to qualify for the Winter Cup.
"But whether it is as strong as some of the Winter Cups in the past, I am not so sure.
"I do like the way he kicks in that last furlong, he really lets down and goes."