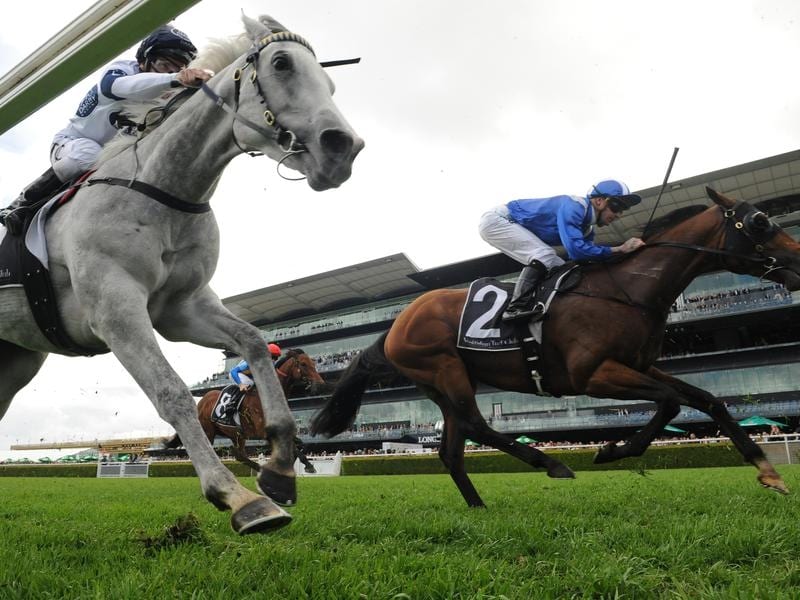 Trainer Mark Newnham and jockey Rachel King have combined to claim their second successive Villiers Stakes and they were thrilled to do it with stable favourite Greysful Glamour.
The five-year-old was one of the first horses through the door when Newnham took out his trainers' licence and she has been a wonderful money-spinner.
King has also forged a dynamic relationship with her and admits she isn't the only member of her family with a soft spot for the mare.
"She has got the biggest heart of any horse I've ridden," King said.
"I might have ridden classier horses and Mark might have trained better horses but everyone has a soft spot for her.
"Everyone in the stable loves her and even my parents in England follow her. My mum says Greysful Glamour is her favourite horse.
"They will be up watching the race back home so it's a big thrill."
The victory was a sweet one for Newnham, who like King has a great affection for Greysful Glamour.
The trainer is also a racing traditionalist so capturing back-to-back wins in the time-honoured Randwick mile, which was first held in 1892, holds significance.
"I love the traditional races, especially at Randwick," Newnham said.
"I've spent my whole working life at Randwick so any win here is special but to win a good Randwick mile like the Villiers makes it more special."
With the track playing to on-speed horses, Greysful Glamour was well found at $5 and took up her favoured front-running role.
She kicked clear at the top of the famous Randwick rise and staved off the late challenges of Godolphin pair Best Of Days ($16) and Criaderus ($3.90 fav) in a time that eclipsed the race record held by Happy Clapper.
"It was pretty to watch," Newnham said.
"She's an all-time favourite. She raced as an early two-year-old, she placed in the Oaks in Melbourne, which got us our first Melbourne carnival runner, and (syndicators) Darby Racing have supported me from the start. It's a good win all round.
"She is just a lovely, kind mare then you get her out there and she gets a bit of killer in her."
As the winner of the Villiers, Greysful Glamour is assured of a start in the Doncaster Mile but Newnham is non-committal.
The mare needs firm tracks, which she is unlikely to get in the autumn when the Group One race is run.
"Now she's guaranteed a start we can at least aim that way but with her you have to make some exceptions for the weather," he said.
The Summer Cup at Randwick on Boxing Day is also on the table.