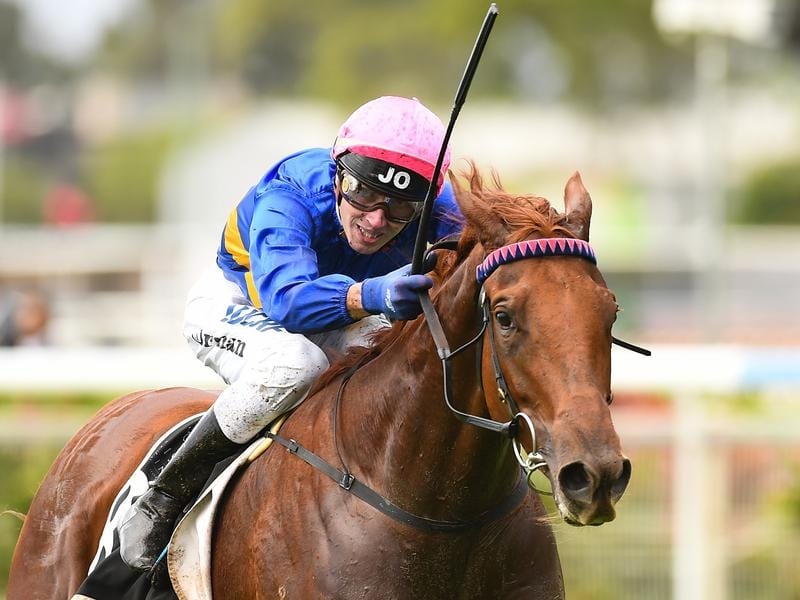 A pre-race decision to change tactics gave unbeaten filly Gem of Scotland a chance to show her best form at Doomben.
At Toowoomba two weeks ago, Gem of Scotland beat Howwonderfullifeis and Devils Marbles in a close finish.
The same horses filled the trifecta at Doomben, but this time Gem of Scotland ($3.30) beat Howwonderfullifeis ($2.35) by 6-1/2 lengths with a half length to Devils Marbles ($21) third in the Peachester Lodge Two Year Old.
Trainer Rex Lipp said a change of tactics was probably the reason for the difference in winning margins from Toowoomba to Doomben.
"Last time the runner up drove us mad in front the whole way. This time I told Jimmy (jockey Orman) if they wanted to lead to let them go and we would take a sit," Lipp said.
"It worked out the way we planned."
Gem of Scotland has now won all four of her starts and keeps getting better in each win.
However, Lipp is still undecided about pushing on into the winter with the filly.
"She is very honest and she did win by six-and-a-half lengths, but it was on a heavy track. I will see how she pulls up before deciding to go on this winter," Lipp said.
Orman said Gem of Scotland had been fired up before the race, but had been too strong.
"She really put them away in a hurry. She is promising," he said.
Jeff Lloyd said Howwonderlifeis had her chance in front but had not run out the 1200m.
Trainer Michael Nolan said Devils Marbles would have been better served continuing to go forward after jumping in the lead rather than going back in the field.
"Still it was a good effort to get near them at the finish," he said.