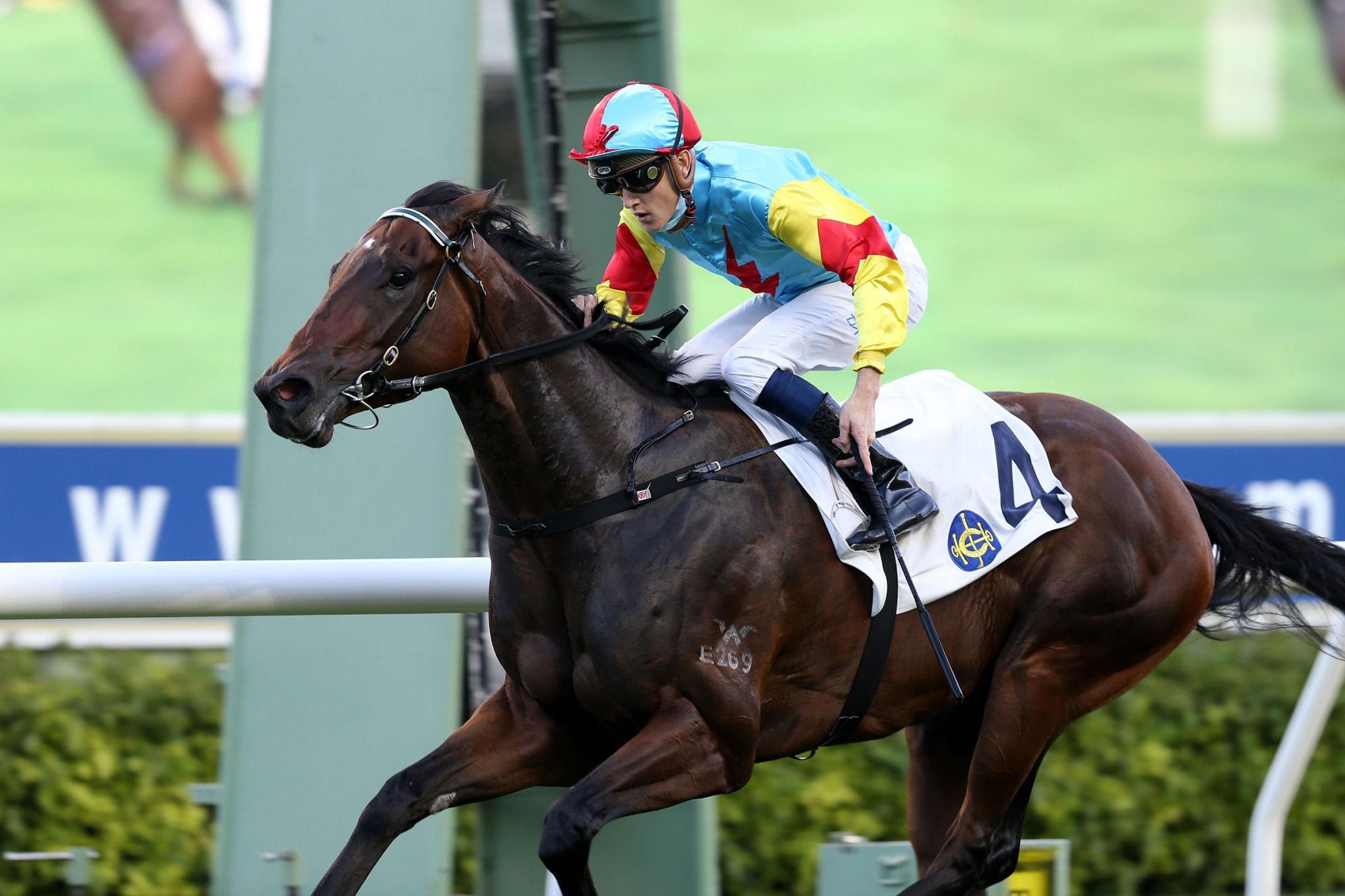 Chad Schofield celebrated his 200th Hong Kong victory in perfect fashion as Fantastic Treasure confirmed his rare quality by bettering Golden Sixty's Class 2 1400m record at Sha Tin with a stunning win in the Crystal Handicap at Sha Tin on Sunday (16 May).
Competing at Class 2 level for the first time, David Hayes' gifted three-year-old downed a bevy of seasoned gallopers, weaving his way through tiring opposition to retain an unblemished record with a fifth successive win and covering the 1400m trip in 1m 20.28s – bettering Golden Sixty's class record mark of 1m 20.29s, set in October 2019.
Schofield, 27, declared the Written Tycoon gelding the most exciting galloper he has ridden after spectacularly sealing a card which also featured three other record-breaking performances, including Valiant Dream's effort to lower Aethero's 1000m course record.
"Yes, he's the most exciting (horse I've ridden). He's just such an impressive horse, he just oozes quality, no matter what you do," Schofield, winner of the Group 1 W.S. Cox Plate (2040m) and Group 1 Newmarket Handicap (1200m) in Australia, said of Fantastic Treasure.
"I've ridden him in all of his starts and in each one of them, he's progressively improved – mentally and physically. Today, I fired him out of the gates. I knew I was going to get caught wide, so I asked him to come back and he came back. Then I picked him up again to take a position and he did that for me.
"He's just bomb-proof to ride because he does whatever you want him to do."
Schofield said Fantastic Treasure's competitiveness and composure are attributes which allowed the PPG (Privately Purchased Griffin) to spear through tight gaps late in the race.
"I wasn't (worried) because he was coming through that quickly, I only needed half a gap and he was going to burst through. I was worried that one tiring horse might wobble in his way but he came through it quickly, it was like a knife through butter," he said.
"He's quality – in this race today, you had Beauty Smile, who's a Class 1 winner. You had Not Usual Talent, who had raced behind Beauty Generation. This young three-year-old has beaten them at his first go at Class 2, on his first prep and broken Golden Sixty's record. It's very exciting."
Hayes will now spell Fantastic Treasure in preparation for next season's Hong Kong Four-Year-Old Classic Series.
"He's very versatile, he's going to be better at a mile," Hayes said. "Congratulations to Chad, there was a bit of pressure there and it was his 200th winner. He took a couple of chances that maybe he didn't need to, but he took the shortcut and won, so all credit to him.
"I know they're running fast times today but to do something Golden Sixty has done is a privilege – at that stage of his career.
"I was thinking he might be in a little bit of trouble. I knew he was travelling well and I knew when he pushed him it would be fine. He got through and he won so it was a very clever ride as it turned out. "He had to change direction twice to win. I love the way he can get out of trouble and win – that's what good horses do."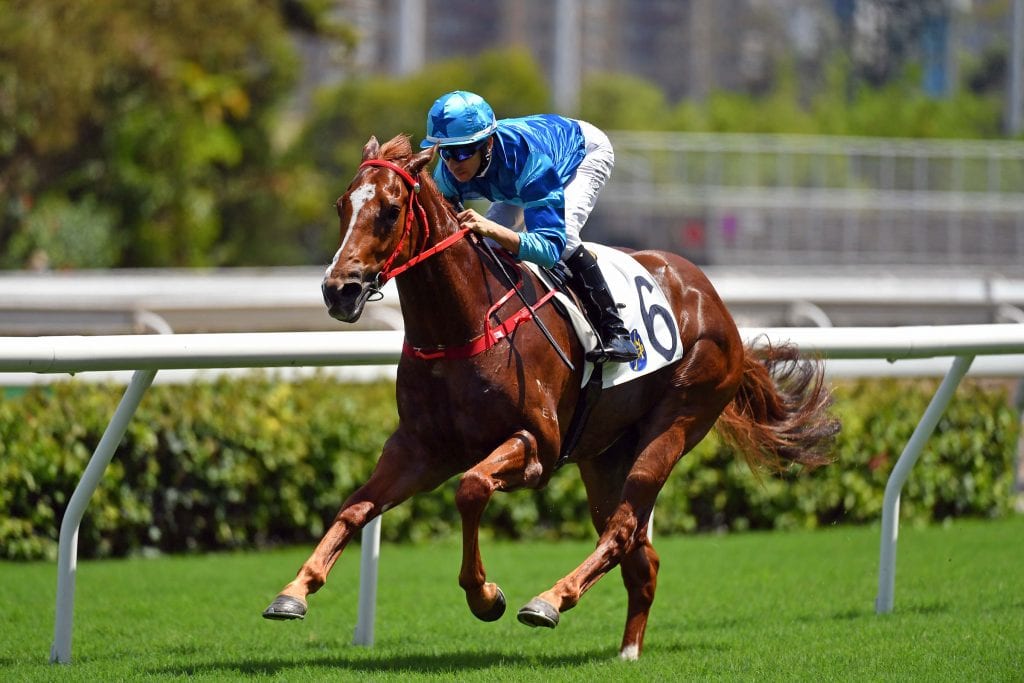 Master Eight also bolstered the growing cluster of emerging fresh talent in Hong Kong with a dazzling debut which drew lavish praise from Joao Moreira and Frankie Lor following emphatic success in the second section of the Class 4 Sapphire Handicap (1200m).
Moreira, who leads the jockeys' championship with 123 wins, suspected the son of Oamaru Force was extremely gifted based on a pair of Sha Tin trial victories, but even the Brazilian was taken aback after Master Eight set a new Class 4 record.
"He's very promising. We knew he was a straight forward kind of a horse and he actually surprised me with where he is at the moment – I thought he was a few steps behind," Moreira said.
"But he did it in such an easy way, which makes me think that he's a good horse. He's going to end up with a very high rating. It's difficult for me to predict but the handicap is a bit far off at the moment to stop him. He's got it."
Secured by bloodstock agent David Price, the son of Oamaru Force clocked a 1200m Class 4 record of 1m 08.40s. The effort prompted Lor to label Master Eight the best PPG (Privately Purchased Griffin) currently in his stable.
"He's the best one," Lor said, referring to where the chestnut gelding sits in the stable's PPG pecking order. "In his last trial, he trialled really good. He can go up to Class 3, no problem."
Francis Lui's Valiant Dream scorched up the 1000m straight, posting a 20.23s sectional between the 800-400m before steaming over the final 400m in 21.39s to log his fourth win over the course and trip to lower Aethero's mark.
Danny Shum's United We Stand set a new Class 4 1000m mark of 54.94s to add to the record-breaking spree.
Moreira's double came in tandem with Tony Cruz as the pair landed the first section of the Class 4 Spessartine Garnet Handicap (1400m) with Mercurial.
Trailing by 14 wins with 16 meetings to go, Zac Purton notched a treble, winning the first section of the Class 4 Sapphire Handicap (1200m) on Benno Yung's Diamond Brilliant before succeeding on Danny Shum's Regency Bo Bo in the Class 3 Emerald Handicap (1200m).
Purton coaxed the best out of John Size's Beauty Fit to win the Class 3 Lapis Lazuli Handicap (1600m) to break his Hong Kong maiden at his fifth attempt. Beauty Fit created a huge impression while racing as Barocha for Clayton Douglas in Australia, where he was undefeated in two starts under Jamie Kah.
Shum took training honours with a brace, attributing United We Stand's blistering victory in the Class 4 Ruby Handicap (1000m) under Jerry Chau to a recent stint in Conghua.
Me Tsui's Fantastic Show defied the on-speed trend with an extraordinary victory in the second section of the Class 4 Spessartine Garnet Handicap (1400m) under Dylan Mo.
Customarily slow at the start, the son of Not A Single Doubt tailed out to a conspicuous last before eventually responding to Mo's urgings to make contact with the field at the 300m – before unleashing a withering late surge to win.
"He normally jumps slowly but this time it was much slower than I expected," Tsui said. "It depends on the pace."
It was the six-year-old's first win since stringing four together last season.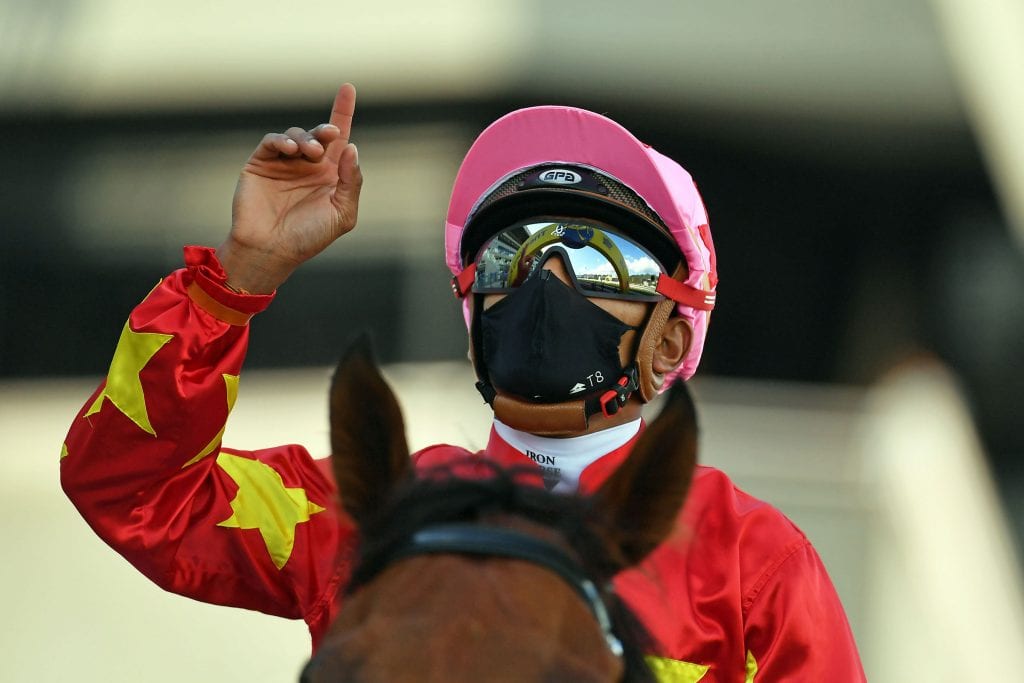 An emotional Karis Teetan cemented his lead at the top of the all-weather standings with a 14th win for the term aboard Regency Gem in the Class 5 Topaz Handicap (dirt, 1200m) for Chris So.
Beaten into seventh place over the same course last start, Regency Gem justified So's decision to back up the Showcasing gelding after just four days with a searing last-to-first burst.
Paying homage to countryman Nooresh Juglall, who died after a race fall in Mauritius on Saturday, Teetan pointed to the sky after winning on Regency Gem – and again after piloting Valiant Dream.