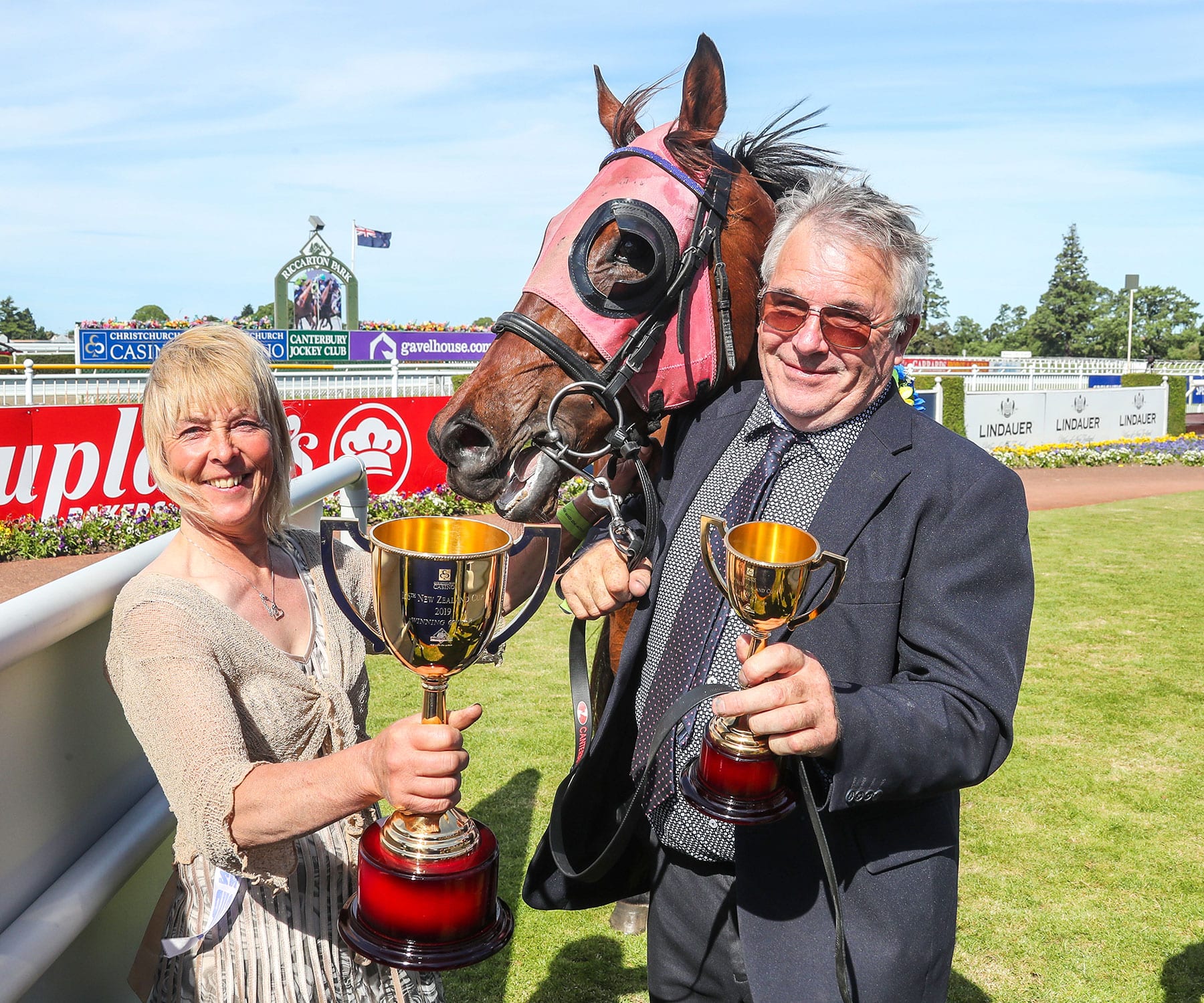 It's been a tough month for trainer Peter Corbett, but some light was put back into his life on Saturday when his pride and joy Dee And Gee recaptured form when storming home late to win the Waikouaiti Cup (2200m) at Wingatui.
The former Group 3 New Zealand Cup (3200m) winner had been out of form for some time, and the mare, who is raced by Corbett and the Estate of his late partner Terrill Charles, was on the cusp of being retired. However, she made a fitting return to the winner's circle just a matter of days after Charles' remembrance service at Riccarton.
"I galloped her on the Wednesday at Riccarton after the service," Corbett said. "That was a two-pronged thing. I needed to get a gallop into them and I couldn't do it with the service going, so I rang Tim Mills and galloped them after the service. "That was quite fitting, everyone seemed to enjoy it."
Charles passed away last month after a near six year battle with brain cancer, and Corbett identified Dee And Gee as a major factor in extending his partner's life past her initial four month prognosis. "It was quite emotional. It is still fairly raw," Corbett said. "It has been pretty rough the last five or six months.
"She (Charles) got two months less than six years. They only gave her four months (to live) to start with, so she didn't go bad. "I always promised her we would win a New Zealand Cup, and that probably kept her going. I didn't think we ever would (win it), but I used it as a motivation for her to keep going. When we got it that was unreal. "That's one thing I can honestly say was the highlight of the struggle all the way through."
Dee And Gee was facing a new career in the broodmare paddock had she not performed well on Saturday, but Corbett was confident of a bold showing despite a disappointing spring campaign. "If she hadn't gone a decent race on Saturday I was retiring her," he said. "I had made that decision. I didn't expect her to win, but I expected a bold showing. "She had been working the house down and it was nice to see her hit form again."
Dee And Gee hadn't raced since her 11th placing in the New Zealand Cup, but Corbett said she has still had plenty of work, with a tilt at the Group 3 NZ Campus OF Innovation & Sport Wellington Cup (3200m) on Saturday-week in-mind.
It is a race Corbett feels his charge has some unfinished business in after her runner-up effort two years ago, and a nightmare run last year. "She got buggered up in the Wellington Cup when she got galloped on, it took her confidence right out of her, but she seems to have that fighting spirit back in her now," he said.
"The Wellington Cup second was huge. We have got a bit of unfinished business up there, but it looks like I have got a horse to go up there with now."
Corbett also took plenty of confidence out of Dee And Gee's winning time on Saturday. "She ran a bit of time down there on Saturday, which I didn't realise," he said. "She went 2:13.25 for the 2200m, so they were flying. They broke the track record which is pretty remarkable for her. "We are hoping to go into the Wellington Cup firing on all cylinders."
The win on Saturday will also make Corbett's life a little easier next week. "From that win the other day I have got a return trip with Majestic (Transport) for Dee And Gee to the Wellington Cup, so I might just take it easy this year and put her on the transporter and just fly up," he said.
If she performs well on Saturday-week, Corbett is contemplating putting in a late nomination for another race he feels his charge has some unfinished business in. "If she happened to run in the first three in the Wellington Cup, I would probably look at throwing in a late nomination for the Auckland Cup (Group 1, 3200m) with her," he said. "She ran fourth in the Auckland Cup on a rain-affected track, which isn't her go. She needs a firm track."
After a trying couple of months, Corbett said Dee And Gee's victory over the weekend has helped lift his spirits. "It is just amazing how things change around," he said. "I was thinking we were going nowhere before Saturday, but it has given me a spring in my step now."