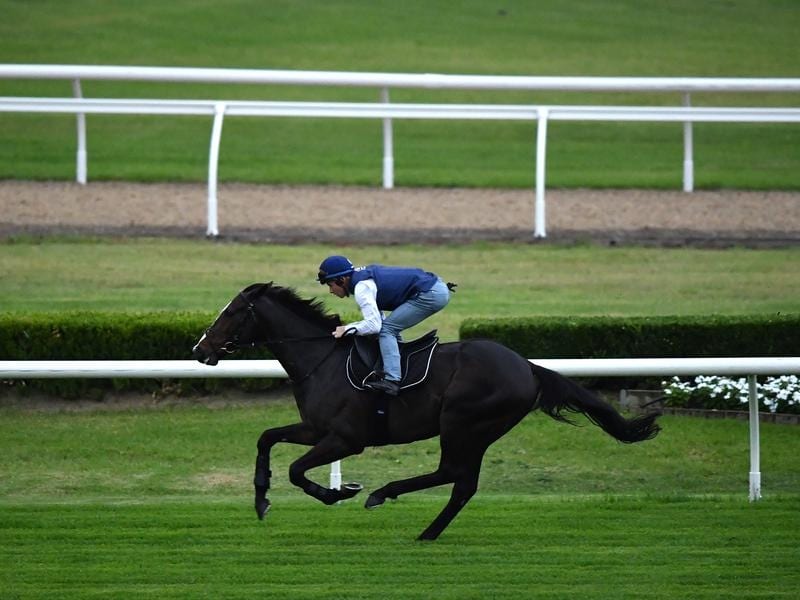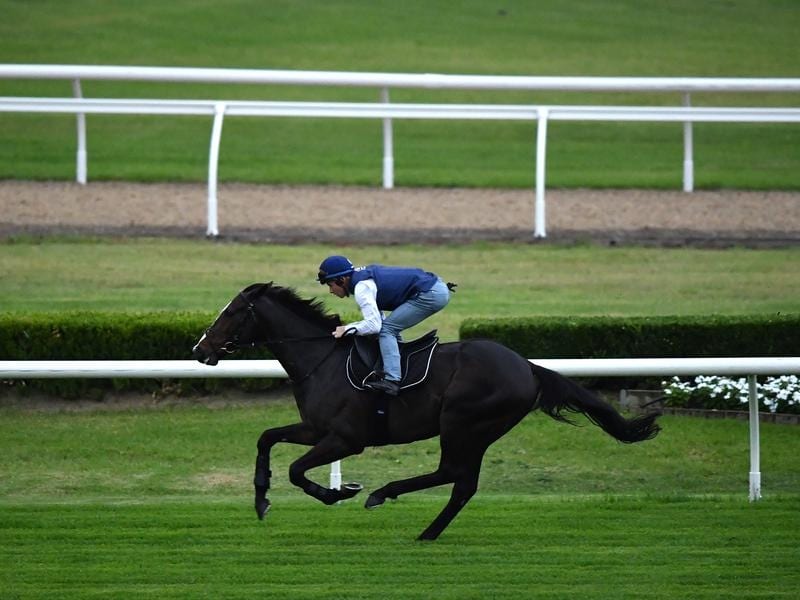 Eminent will need some of his champion trainer's gold medal-winning form to have any chance at a Group One victory during Sydney's autumn carnival.
Star jockey James McDonald says the five-year-old "felt terrific" after he gave him a work-out at the Canterbury Racecourse quarantine centre on Wednesday.
The unknown question is whether Eminent can recapture his form in time for March 23, McDonald said, to be competitive in the Ranvet Stakes at Rosehill Gardens.
New trainer Sir Mark Todd told reporters the team still did not know what to expect for the son of Frankel since he had only taken the horse into his care in October.
"We've come here knowing that at best he's a very good horse but we've still got some questions to answer," Sir Mark said.
"Even when I was training I never ran a horse first up over 2000 metres so we're in unknown territory."
The dual New Zealand Olympic equestrian gold medallist, who has not trained racehorses in more than a decade, had to hurriedly get his licence before taking over from English trainer Martyn Meade.
"Obviously (Meade) did a very good job in his early stages. Eminent was a good two-year- old, a very good three-year-old," he said.
Sir Mark has had previous success in training during the early 2000s before he returned to eventing, having won the Group One NZ Oaks with Bramble Rose and the 2007 Wellington Cup with Willy Smith.
A long-time lover of racing, he has also booked Eminent for a clash with champion mare Winx in the Queen Elizabeth Stakes on April 13.
Sir Mark says the team is under no illusions about how difficult defeating the super mare would be but would love to give it a crack.
"Winx is not just an Australian icon she's worldwide," he said.
"If we go well in the Ranvet and get a chance to run there it would be an amazing occasion to be a part of it and hopefully our horse is good enough he can make it into a horse race."
Principally owned by NZ Bloodstock's Sir Peter Vela, Eminent raced in Europe where he had several wins including including a French Group Two race in 2017 before a drop in form last year left him unplaced in all four runs, three at Group One level.
En route to stud in New Zealand, Eminent spent time doing dressage and jumps work with Sir Mark before it was decided to try the entire in Australia for one last season.
The 63-year-old will return to the UK following the Queen Elizabeth to compete in the Badminton Horse Trials but says he hopes to get a few more horses to train.
"I've always loved racing so we'll just see what happens," he said.
Cups Betting has all the latest horse racing news and betting bonuses.