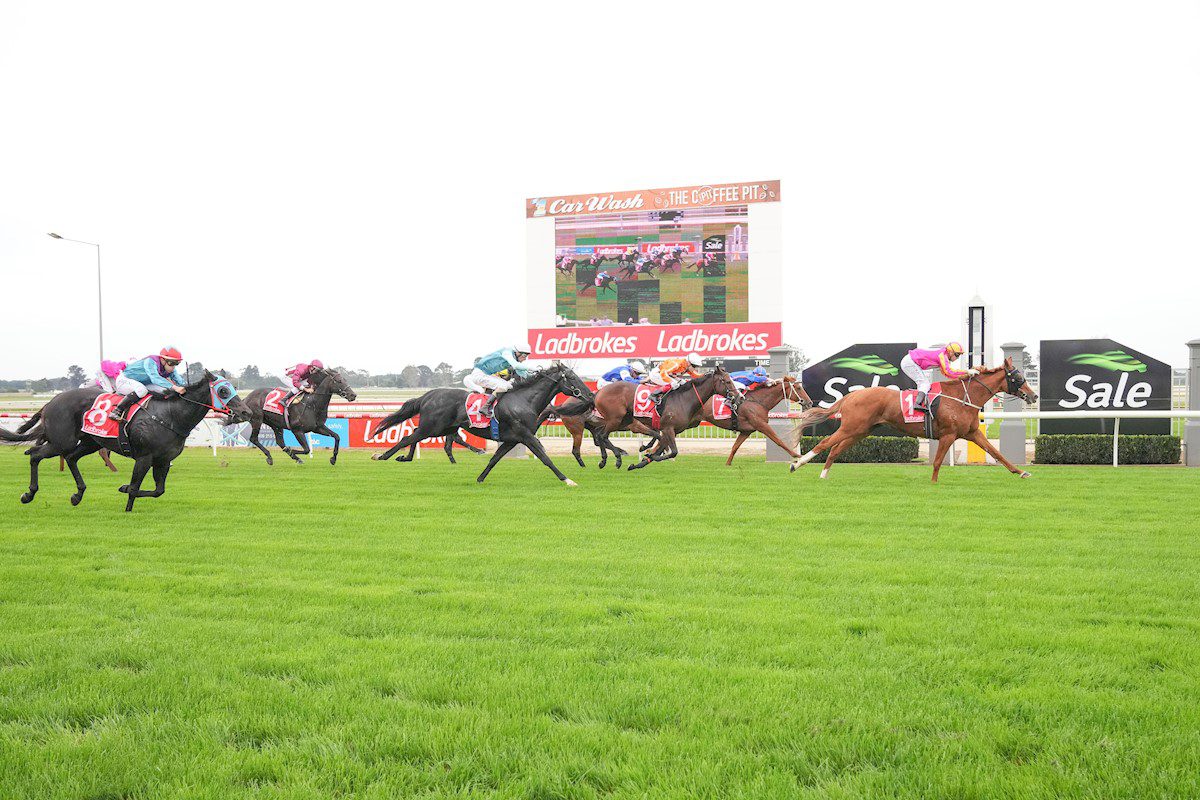 The inaugural Good Friday meeting at Sale kicked off with the running of the Country Trainers Series Finals.
The new initiative from Racing Victoria is exclusive to trainers who are licenced in Victoria and had less than 50 metropolitan starters in the 2020-21 racing season and less than five metropolitan winners in the same period. The series culminating in the two $150,000 finals, a 1200m Benchmark 70 and a 1500m Benchmark 70 after four qualifying heats.
Race 1 on the card was the 1500m Final and was won by the Wendy Kelly-trained Jesta Dreamer ($6) with an inch perfect ride from Vlad Duric.
The Bon Hoffa gelding was lining up for his 54th start after winning a heat on April 6 at Ladbrokes Park beating home Unfair Dismissal and Electric Belle who took the minor placings and the same result was replicated again on Friday with the three finishing in the same order.
Jesta Dreamer had a nice run from barrier five just in behind the speed and when finding the gap at the top of the straight, the ever-green galloper showed a good turn of foot to run down the leaders, claiming the win by 1.5 lengths.
In a photo for second, David Noonan-trained Unfair Dismissal ($8) held on unde the steer of Beau Mertens after taking the box seat early and Electric Belle ($8) ran on well for third after being on speed and three wide throughout without any covert for trainer Alex Rae and ridden by Craig Williams.
"Absolutely fantastic, just thrilled for this horse, his owners, our team at home who just work so tirelessly with these beautiful animals and especially for Vlad too," a very happy Kelly said after the race.
"We were just chatting before the race and he (Duric) was saying the the track here (at Sale) is the one he's won most on in his career. So, he knows the track very well!
"He's a horse that just loves racing, generally we just space his races and he just really enjoys being a horse in the stable and is a favourite of the team.
"I think Vlad had just clicked with him so well. It's a bit like watching Bon Hoffa go around again.
"I thought Vlad had him in a really nice spot and when I saw him get out and start to really build, I thought 'yes, he's got this'.
Duric couldn't have been more pleased get the win for the Cranbourne trainer,
"It's been amazing really. I've had a few little struggles to get back in the saddle, but this old horse has been wonderful in giving me a little buzz and keep me going.
"He's done his job the old horse now. He had the chance of winning a good race and we've been able to get it done for connections and I'm really proud of that," Duric said.
Next was the 1200m Final which was then won by Smart Mozzie ($13) for Mornington trainer Kane Harris and ridden by Ethan Brown.
"It was the race that we targeted with him, purely and simply because he was four and lightly raced," said Harris.
"He had been sold a couple of times over to Hong Kong, but when that fell by the wayside you had to find as restricted races as you could with him.
"To the team at home this week, gee they've worked hard.
"In all honestly, he got ridden upside down at Warrnambool, he's a new horse on the scene and doesn't know what he's doing. Ethan has ridden quite a few of his trials, so he knew he didn't have to expose him too early or he doesn't know where to go with it."
Smart Mozzie was third in a Finals heat at Warrnambool on March 25, getting run down after taking the early lead. But racing off the pace and three wide with cover proved a more successful tactic with the four-year-old son of Smart Missile registering his third win from just five starts.
Brown rode the horse a treat,
"He did a good job this horse, there was a good bit of speed on. He drew a nice gate and had a beautiful run in behind them.
"He's a better chaser this horse, that proved the point today and I thought his work through the line was really nice."
Brown thought he was on track to go on with at the top of the straight and get past them, but conceded he had to convince the horse to do so,
"He's a bit of a thinker and that last furlong when I put a few around his tail, he switched on and off he went."