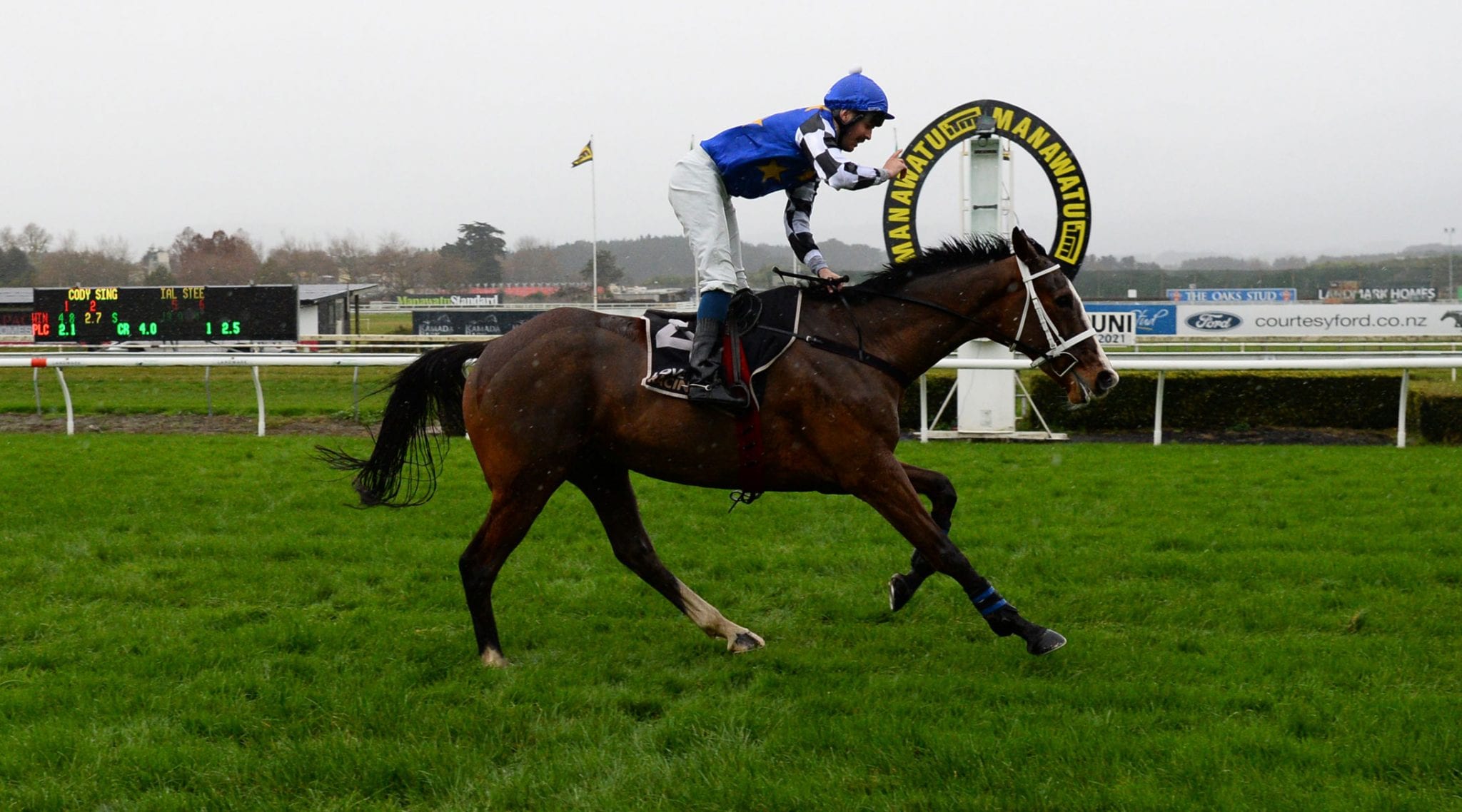 Estimated Reading Time: <1 minutes
Joshua Lavelle has always wanted to be a trainer, but he didn't realise how much of an impact following that dream would have on his life.
Lavelle was hooked on horses from a young age, growing up watching his mother Bronwyn Lavelle train a handful of gallopers in the South Island of New Zealand before they moved to Palmerston North.
He assisted Awapuni trainer Lisa Latta for a number of years but he decided that if he were to become a more well-rounded horseman and fulfill his dream of becoming a trainer, he should learn to ride.
Lavelle was pointed in the direction of Elizabeth Rennie, a sport horse and thoroughbred trainer, and he said heading to her Manawatu property for that first lesson was the best decision he has made in his life.
Not only did he learn to ride, and now competes in show jumping, he also met his future fiancé and training partner, Rennie's daughter Sacha.
"I met her (Sacha) originally because I wanted to learn to ride, as my end game was to learn to train my own racehorses," Lavelle said.
"I went out to their farm and met her. They taught me how to ride and how to ride trackwork, and now we are engaged. It just happens like that sometimes.
"We have just gone from there and have got a handful of horses that we are trying our best with."
Lavelle realised his dream of training his own racehorse last season when he lined-up Itiswhatitis at Hawera, and while he faded late to finish last, the son of Thewayyouare would provide his owner-trainer with his biggest moment in racing 20 months later.
A steeples career was always in the back of Lavelle's mind with Itiswhatitis, and while his initial plans were foiled by injury, the seven-year-old gelding would get his chance over fences a year later.
"I wanted to debut him about a year or so ago, but he got hurt and went out for 12 months and rehabbed. It was just a paddock injury. He rolled into the fence and did a bit of damage to the bone below his suspensory," Lavelle said.
"We had a lot of help from people with advice on how to rehab him."
Now training in partnership with his fiancé, Lavelle gave Itiswhatitis two starts on the flat this year before deciding to give him his first steeples test in the Cody Singer Memorial Steeplechase (3200m) at Awapuni last Saturday.
With no prior raceday experience over fences, and a less than flattering record on the flat, his trainers didn't hold great expectations heading into his steeplechase debut.
However, Itiswhatitis pleasantly surprised his connections, showing an immediate talent for jumping and taking out the race comfortably by 2.5 lengths.
"That was pretty special on Saturday," Lavelle said. "We didn't expect that, especially straight off the bat, having his first jumping start.
"We were absolutely amazed and thrilled by it, and extremely thankful for the help that we had to get there. We had a lot of help from the jumps racing fraternity and riders, and we were rapt that we could pay back the faith a little bit.
"I have to thank Hamish McNeill (jockey) for an absolute perfect ride and for giving us a shot. It was so cool seeing how happy they both were across the line."
Showing an instant liking for jumps racing, Lavelle is now eyeing loftier targets with Itiswhatitis.
"We are looking at going to Te Aroha in three weeks and targeting an open entry steeple, and then possibly pack to Palmy," Lavelle said.
"Our end game would be to head to Ellerslie."
While proving to be a handy jumper, Itiswhatitis was initially purchased by Lavelle to compete in the Beyond The Barriers competition, and from there Lavelle had an inkling he wasn't done with his racing career.
"I bought him as a sport horse and targeted that (Beyond The Barriers)," Lavelle said. "He gave me the feeling that he still wanted to be a racehorse and I really wanted to try and train a steeplechaser. He has given me the opportunity and has paid us back."
The 26-year-old horseman is still coming down from the high of winning his first race as a trainer, and he is looking forward to the future with the small team he trains with Rennie.
With a full-time job as a sheet metal engineer, Lavelle said it leads to busy days and he couldn't do it without Rennie, an accomplished horsewoman in her own right.
"I get up at 4am and go and work Kevin (Itiswhatitis) and I feed up and muck out some boxes, and then head to work and Sacha carries on from 6am onwards and works the rest of them," he said.
"Sacha is very good with the horses and show jumping. I have learnt a hell of lot off her and her mum."
While the big goal is to train on a full-time capacity, Lavelle said he is enjoying training their own horses and continuing to build their skills as trainers.
"If we could train full-time that would be an absolute dream, but I would rather learn as much as I can at the moment off our own backs just because there is a little less pressure having our own horses," Lavelle said.
With a promising jumper on their hands, the couple have plenty to look forward to.
"It is quite cool having a horse with a bit of hope," Lavelle said.