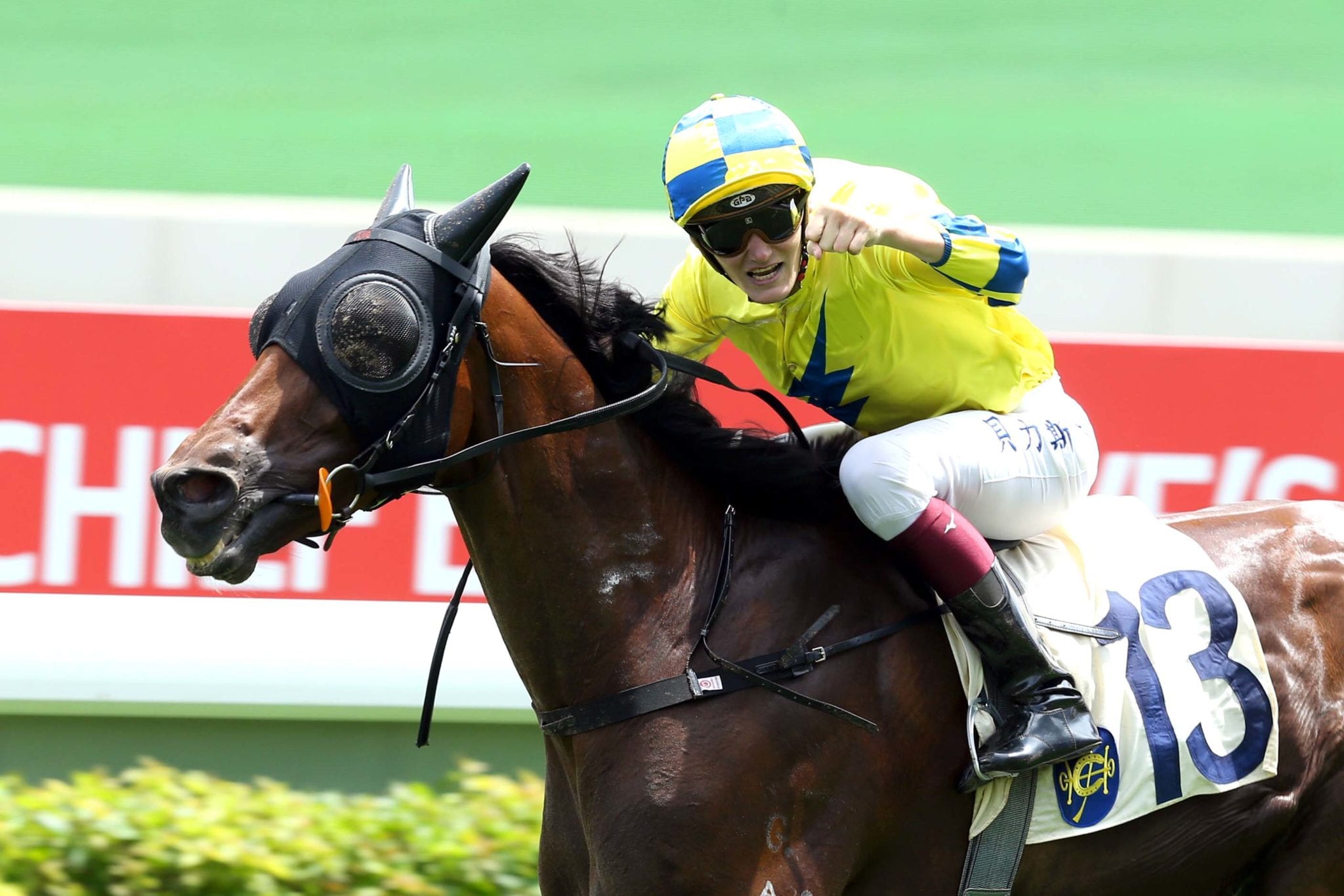 Douglas Whyte is a titan of Hong Kong racing so it is perhaps fitting that a horse named for the Greek god Adonis should go down in the record books as the former riding great's first winner as a trainer.
"It's phenomenal. It's fantastic!" Whyte said after the six-year-old had chosen the most opportune moment to break his own maiden. That came in just the second race at Hong Kong's season opener yesterday (Sunday, 1 September), the Class 5 Mount Parker Handicap (1200m), and the second of the 13-time champion jockey's new career.
"It's lovely to have the support and to be able to achieve my first winner on the first day; it's Hong Kong, this is my home, so it's a special feeling," he continued.
Whyte's first Hong Kong win as a rider was Fireball, 23 years ago this month, and the South African found comparison between that historic marker and today's breakthrough victory.
"It's just as emotional, it's a good feeling," he said. "I'm a lot more mature now and I've had a lot of success since, so to have a winner as a trainer, it's not about that, it's about the effort and the time that's gone into this horse."
Whyte has long enjoyed a deserved reputation as a horseman of impressive talent and understanding and that was apparent in his post-race comments about Adonis, one of 26 off-season stable transfers that have swelled his stable numbers to 47.
"He's been a very difficult horse to ride and I've been the only one on him every single day," the trainer said. "That, for me, is satisfaction. I can't tell you how much satisfaction that is: when a horse learns to trust you and you can change it around from a horse that used to take off with his head up, to put his head down and enjoy work; it's not about the Class 5, it's not about anything, it's about the individual that I've got to actually start to enjoy racing.
"He's been showing me how much he's been able to turn the corner the last two weeks. If you'd asked me two weeks ago was I going to run him, I'd have said absolutely not. I didn't even trial him because I knew if I trialled him it could work him up too much, so I've just been slow-working him, a couple of canters and one jump out."
Regan Bayliss received praise for his successful ride. The Australian, 22, broke his hand during a late-season stint last term, but returned with zero ill-effects and his confidence evidently high.
He soon had Adonis cruising along fifth from the tail, having broken from wide in gate 12. The bay closed up through a wide alley entering the home straight, and, when he was given the signal 350m out, the Hong Kong International Sale graduate quickened to score by two and a half lengths.
"I spoke to Regan in detail and I asked him a numerous amount of times to trust in the horse and be kind to him and don't get him revved up," Whyte said.
"The horse has got a lot of muscle memory of bad habits and if he got him stirred up it would have been the end of his race. A 10 out of 10 ride, he gave him a peach! He had him exactly where I would have had him out of the gates, he's done a lot of work for me, he's a lovely young guy and credit to him."
Whyte has had no shortage of jockeys courting his horses, eager to tap into his stable's potential. Bayliss was thrilled to have put himself even further up the pecking order.
"It's very, very special: as a little kid I looked up to Douglas and always kept an eye on what he was doing here in Hong Kong," Bayliss said. "To be able to do a lot of track work for him the past two weeks and get on Adonis and prevail is really special.
"The first stint here was a great learning curve. A few things didn't go my way. I had the broken hand, which meant I missed the last couple of months, which wasn't ideal at all. But what I've learned I've brought into this season. My body feels great, my hand feels great and it's good to get that first win on the board for the new season."
And with Bayliss doing the steering, Whyte, the Durban Demon, the all-time great of the Hong Kong jockeys' room, felt perfectly at ease in his new role.
"It's not strange at all," he said. "The biggest difference is I didn't have to go for a run or get in the bath and sweat. I'm doing all of my sweating now!"