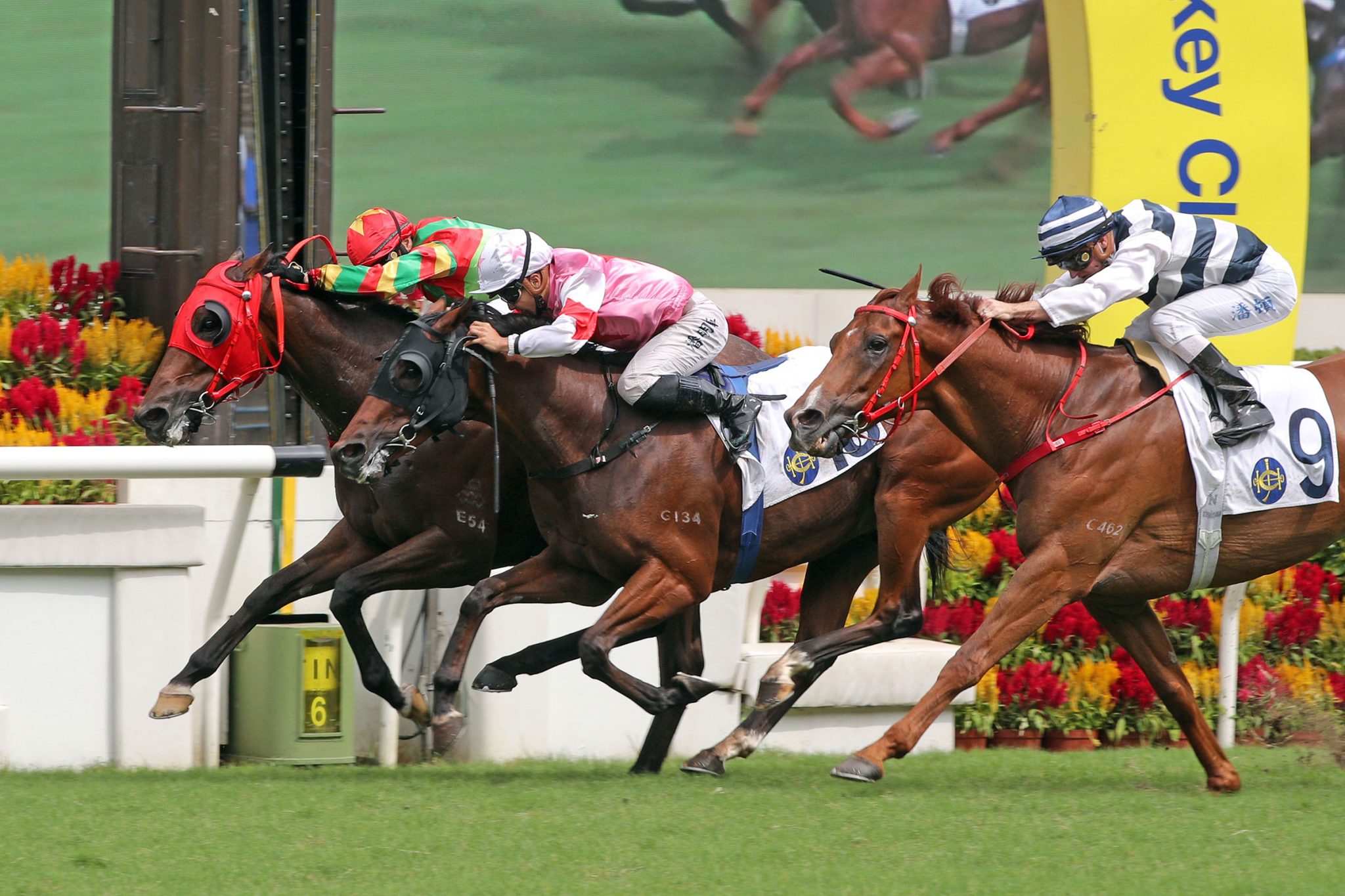 Tourbillon Diamond (132lb) and Alexis Badel continued a rewarding partnership at Sha Tin yesterday afternoon (Sunday, June 19) with the duo nailing a stubborn win for trainer Danny Shum in the HKD$3.7 million Group 3 Premier Plate Handicap (1800m).
The five-year-old denied a fast-finishing Turin Redsun (113lb) in a rip-roaring renewal, overcoming a hefty impost to secure his second Group 3 triumph in Hong Kong by a short head in a time of 1m 48.27s with stablemate Butterfield (121lb) holding on for third place.
"The horse is talented, he's very brave – he's got a good heart – and he's a fantastic racehorse. He deserved a win like that, carrying 132 (pounds), I think that's very impressive," Badel said.
The win caps a phenomenal run for Badel who grabbed his fifth success at Group 3 level this season, adding to his pair of Group 1s and solo Group 2 aboard Wellington.
"I've been very lucky with this horse and I'm very grateful for the support from Danny and also the owners – they have given me a lot of confidence," Badel said.
Tourbillon Diamond's consistency this season has returned nine top-five finishes as well as a win in November's Group 3 Sa Sa Ladies' Purse Handicap (1800m) at Sha Tin. He also finished second in April's Group 1 FWD QEII Cup (2000m) behind Romantic Warrior.
Stepping away from gate seven, Tourbillon Diamond – a son of Olympic Glory – settled near the tail of the field early on; turning for home, Badel made his move to take up closer order before hitting the front with 250m left to play.
"He began just ok, he can be a lot quicker away sometimes. So, basically, I based my tactics on the way he jumped and I thought the pace was good enough to settle midfield but obviously I decided to make my move a bit earlier, before the 600 (metre mark), because I wanted to improve my position, but I didn't want to be pushed out in a brutal way.
"So, I anticipated it a little bit and improved my position very quickly without too much effort and I think that was the key," Badel outlined.
Tourbillon Diamond will now be set for a 2022 Group 1 LONGINES Hong Kong Vase (2400m) tilt after a break with Shum electing to split both he and Romantic Warrior at the 2022 LONGINES Hong Kong International Races in December.
"He likes Alexis and Alexis likes him as well! His rating is quite high, we'll try our best to maintain his form. I won't run him over 2000 metres (Group 1 LONGINES Hong Kong Cup), probably the 2400 (Group 1 LONGINES Hong Kong Vase). Because I plan to run Romantic Warrior over 2000 metres and he can't beat him," Shum said.
Prior to export from Australia, Tourbillon Diamond – then Eric The Eel – won four races and finished third behind Quick Thinker in the 2020 Group 1 Australian Derby (2400m).
"He's lucky actually, he's had 11 starts this season and always gets prize money and he won two Group 3s – just amazing. He's made over (HKD$) 18 million in prize money. He always tries his best, he's amazing," Shum said. "Hopefully we can continue to get prize money for the owners."
Shum sealed a double on the programme when Secret Vision broke through in the Class 3 Amethyst Handicap (1600m).
As well as today's success, Badel's big-race haul this season includes the Group 1 Queen's Silver Jubilee Cup (1400m), Group 1 Chairman's Sprint Prize (1200m), Group 2 Sprint Cup (1200m), Group 3 Sha Tin Vase Handicap (1200m), Group 3 Chinese Club Challenge Cup Handicap (1400m), Group 3 Sa Sa Ladies' Purse Handicap (1800m) and Group 3 National Day Cup Handicap (1000m).
More Hong Kong horse racing news