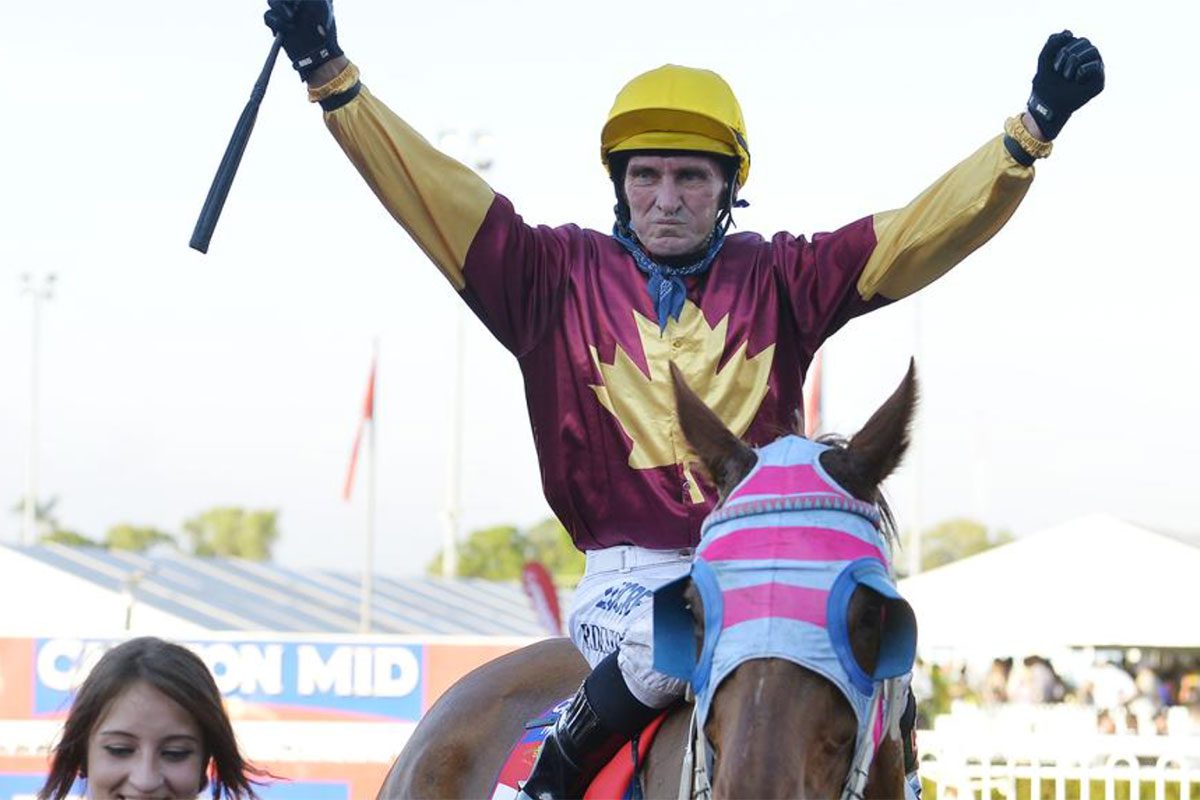 It's that time of year that appeals to veteran Northern Territory jockey Paul Denton.
You'd almost be on the money if you said it was the Alice Springs Cup Carnival, which has only recently concluded.
And you wouldn't be far off the mark if you said the Darwin Cup Carnival, which starts on July 2.
It's the opportunity to race at remote locations.
The rewards on offer during the cup carnivals in the Red Centre and Top End are obvious, but there's just something about riding in the bush that the Alice Springs-based hoop finds gratifying.
The Tennant Creek Turf Club's annual Cup Day meeting is scheduled for Saturday.
Denton, who has also left his mark in Darwin over the years, may not get to the Adelaide River and Katherine Cup meetings in coming weeks, but he'll definitely be at Tennant Creek.
He has five rides on the six-event program at Hagan Park and is happy to make the 507km trip up the Stuart Highway.
"I just love country racing," Denton said.
"Got a lot of fond memories of Tennant Creek and I'm looking forward to going back there again.
"Tennant Creek only has one meeting a year now, they used to have two.
"I'm pretty sure, by memory, the first Tennant Creek meeting they had I won the Cup.
"We're going back about 30 years ago."
There are a plethora of meetings in the south at Pioneer Park and in the north at Fannie Bay, so according to Denton it's good to ride at a different track.
He laments that other race meetings held at remote locations in the past have now been excluded from the NT program.
"Since I've been in the Territory, I've ridden at most of the country meetings," he said.
"I feel sorry for a couple of clubs like Pine Creek because their tracks were too tight and can't handle the horses these days.
"Places like Tennant Creek – I'm on their Facebook page and you see the community putting in all the hours.
"It's just so good to support them, absolutely.
"They probably get a bigger crowd than what we do most days at Pioneer Park.
"The atmosphere is really good, I really enjoy it."
Where other annual country race meetings have gone by the wayside, the Tennant Creek Turf Club seemingly tick all the boxes every year as they prepare for Cup Day.
That's despite missing out on their big day in 2020 because of the COVID pandemic.
Recommended!
For this year's event, brand-new sand has been added to the track, a brand-new sound system has been erected, and there's $117,000 in prizemoney up for grabs.
Known as the "Two Cups" meeting, the feature races are the $25,000 Tennant Creek Cup (1600m) for the open class and the $20,000 Denis Staunton Memorial Cup (1200m) for the 0-70 class.
"I rode there last year, probably the first time I'd ridden there for a while and the track was good," Denton said.
"Does change from year to year, but apparently they've done a lot of work.
"Yeah, I've got no qualms with the track.
"The circumference is very good, it's got a long straight and gives every horse a chance.
"Looking at the videos on Facebook, the track looks in pretty good nick."
Denton has had a good season and currently sits second behind Stan Tsaikos (32) in the Alice Springs and Provincial jockey premiership with 23 winners.
Not bad considering he contemplated retirement 20 years ago.
"I'm heading towards my twilight years – like, I'm 58," he said.
"I'm enjoying it still, I'm fit and I'm riding winners – I rode a double on Alice Springs Cup Day."
Denton agrees that come Tennant Creek Cup Day, you may as well throw the form book out the window.
He isn't willing to dismiss any of his rides on Saturday, and that includes the 10-year-old marvel Lotion, who won the Cup in 2018 and 2019 for Darwin trainer Angela Forster.
Lotion, the 2020 Alice Springs Cup winner and 2019 Darwin Cup runner-up, will be lining up in his 100th race when he contests his fourth Tennant Creek Cup.
"If I really had to pick one, I sort of like Halogem in the 1450," Denton said.
"He's been going alright here in Alice, the longer straight might suit him."
And believe it or not, Denton has tasted victory in the past on a horse in a similar milestone race to what awaits Lotion.
"I actually rode Pioneer Prince, a horse Lisa Whittle used to have here in Alice Springs and Scott Whittle trained – he had his 100th start here and I won on him," he said.
"I hope it's an omen.
"The last time I rode Lotion was in November in Alice and I won on him.
"He's won a couple of Cups at Tennant Creek – he failed the last time he went there.
"He's a tough old iron horse, I'm really looking forward to riding him."