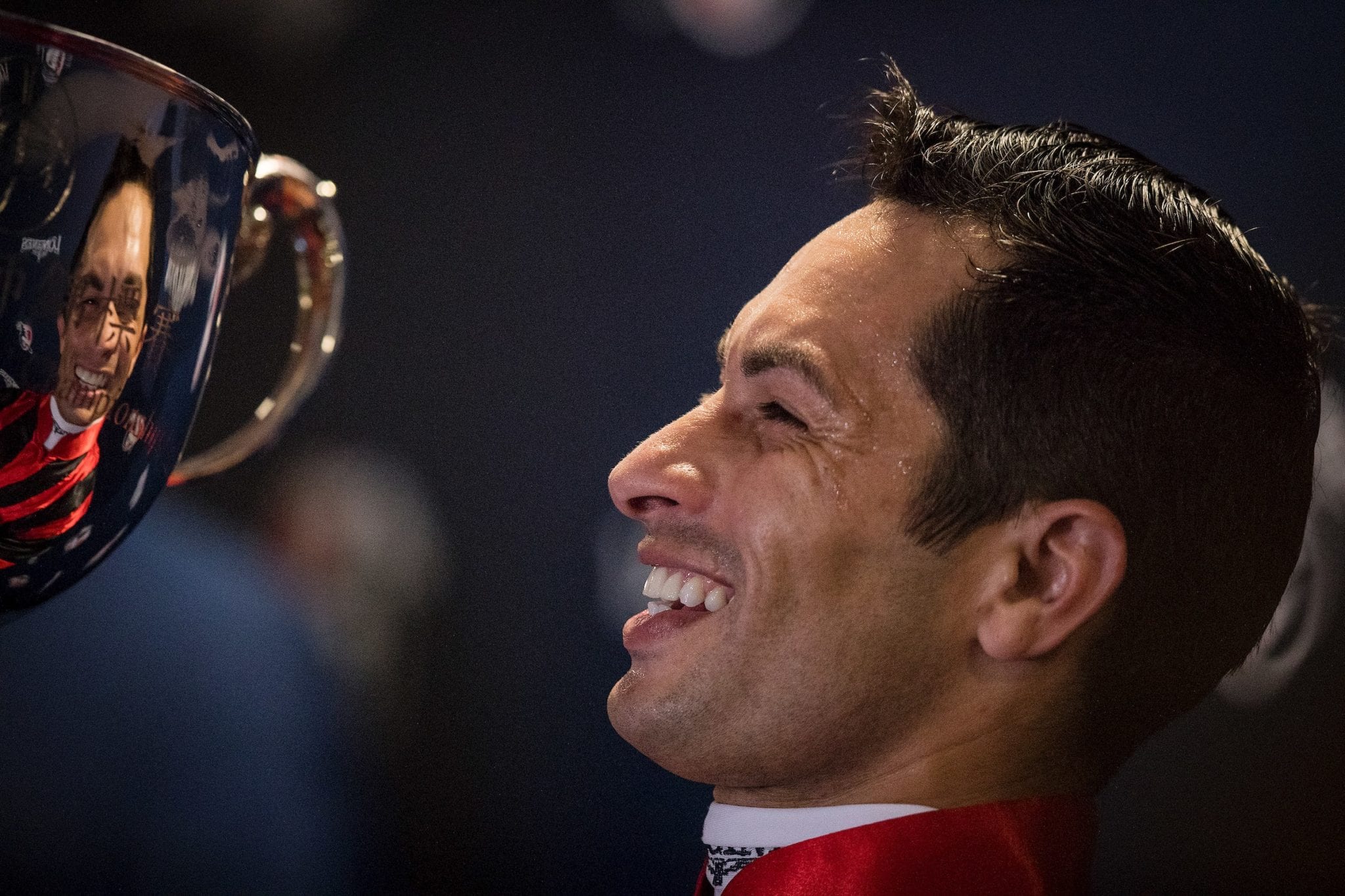 Hong Kong 'gets' Silvestre de Sousa. It has for a good while now. The city's racing fans, its owners, its trainers, all of them hardheaded judges conditioned to appreciate jockeys endowed with strength, savvy, that all-important 'fighting heart', and, above all, an uncanny ability to win – they 'get' de Sousa.
The Brazilian, for his part, fits into Hong Kong as well as Mohammad Ali's right fist in a bound and fastened 8oz Everlast. But in his own mind, that was not always so; despite his first two head-turning short stints in 2015/16 and 2016/17 – for a more than respectable 16 wins each time – De Sousa chose not to apply for a contract in the 2017/18 season.
The overriding reason for skipping that winter was the birth of the second of his three children. Instead, he flew in briefly for the 2017 LONGINES International Jockeys' Championship (IJC), but there was a hint of coolness towards Hong Kong at that time, or, at least, certain factors around the racing scene; a sense of mild disgruntlement – like a schoolboy peeved at the master.
"I felt that things weren't quite working out when I left the second time, so that was a factor in me not coming back the year after, and we didn't want to bring the baby all the way here. But I also like Dubai, it's a different style of life there and I had a good offer to go there. At that time, I just wasn't in love with Hong Kong," De Sousa says.
That is in the past, though, blown away this time last year in a flurry of Sha Tin success.
"Things changed," he says. "The baby was older and I thought I'd give it another go and last season was good, I just went from strength to strength and I enjoyed it."
De Sousa was two weeks off the tarmac at Chek Lap Kok airport in November 2018 when he lifted the Group 2 Jockey Club Cup for the powerful John Moore stable; a couple of weeks later, he was the triumphant star on a glitzy LONGINES IJC night; from there he powered to his biggest and richest Hong Kong victory of all, a make-all, bicep-pumping win aboard Glorious Forever in the HK$28 million Group 1 LONGINES Hong Kong Cup.
"For the last few seasons I've managed to come here and ride a few winners but last year was the top – I touched gold," he says.
De Sousa packed his kit and departed the city at the end of March with an impressive 44 wins – good enough for fifth in the season's premiership – and his share of the HK$70 million stakes money accrued. The months since have delivered highs and lows, a dramatic fall and resultant injury, the loss of his champion's crown, but also an exciting new partnership forged with King Power Racing, another Group 1 bagged and a future with exciting prospects.
His immediate possibilities lie in Hong Kong. On Wednesday (4 December) he will defend his LONGINES IJC crown at Happy Valley against 11 world class rivals, among them Hong Kong's dominant pair of Zac Purton and Joao Moreira, as well as familiar faces from home, the incomparable Frankie Dettori and Ryan Moore, his fellow three-time British champions.
"It's a different kind of experience because you draw the rides you draw and you race against the best jockeys in the world. You need the talent – you need to get on the best horses on the night, but you can't doubt the other jockeys, they are the best in the world," he says.
His career tally at Happy Valley, Hong Kong's historic and high-rise ringed downtown venue, stands at 24 wins.
"I do look forward to it. It's a night when you need a lot of luck, so you need luck with the draw and the horses you ride. I go around there and I know what I'm doing, I know what speed I'm going and I go out there with plenty of confidence that if the horse is good enough he'll deliver for me. I believe it's very important for a jockey to ride full of confidence," he says.
That confidence was brimful last year when he bustled the Frankie Lor-trained Glorious Forever out of the stalls in the Group 1 LONGINES Hong Kong Cup at Sha Tin. The front-runner was never headed in the charge for home as De Sousa thrust his right arm with a fighter's force, lifted and let drop his urging left, all while maintaining a lip-curled, eyes-set focus on the winning line. There was no salute, no thought of an in-saddle celebration.
"It's my job to win," he says matter-of-factly.
"He was in front and he got his way in front, the way he likes to do it. It was a big achievement for myself and for Frankie Lor as well. It was a terrific moment."
De Sousa will not be aboard Glorious Forever in this Sunday's (8 December) Cup. "I was waiting for another ride and Frankie has fixed up someone else," he says, that "someone" being Zac Purton.
In fact, he has only one Group 1 mount, with rides in the big four not easy for anyone to secure this year.
"I'm not that busy on the day so I hope I can still pick up some rides," he says. "I'm free in the Cup and free in the Mile, and I don't have a ride in the Vase either, but I'm riding Regency Legend for Danny Shum in the Sprint."
Regency Legend was unbeaten in four starts until a disappointing 10th in the Jockey Club Sprint saw Purton defect and open up an opportunity for De Sousa.
"He didn't run his race last time but Zac rode him, so he must think quite a bit of the horse. It'll be hard to beat the (probable) favourite, Aethero, and Beat The Clock. I think they're the two we all have to beat to win. I think Beat The Clock could turn the tables on Aethero this time."