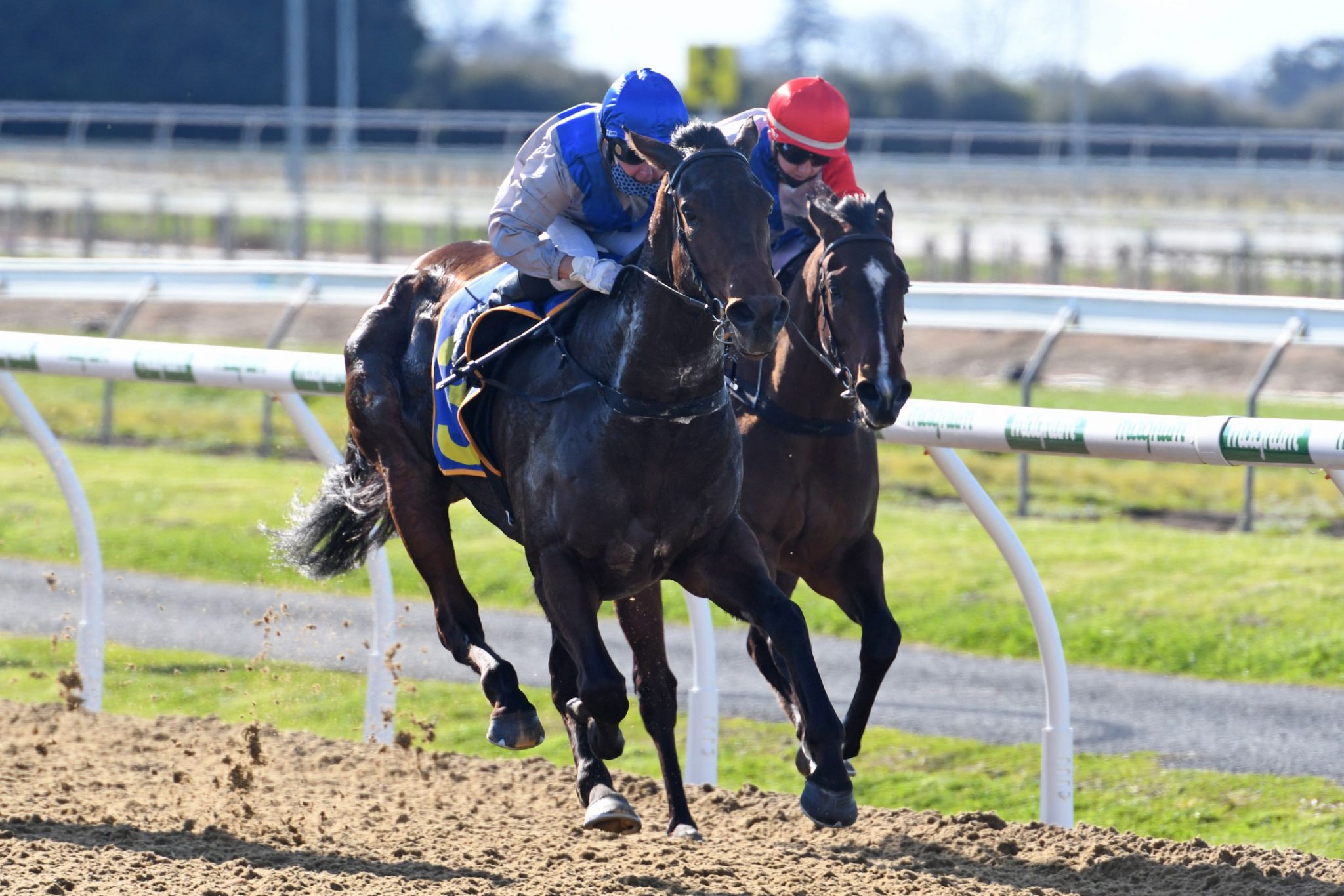 Estimated Reading Time: <1 minutes
Cambridge trainer Ben Foote is looking forward to heading to Hastings this weekend where he is hoping Sakura Blossom can extend her faultless form line in the Remember "Jooky" 1200.
While the four-year-old mare has yet to taste defeat, Foote said she still has plenty of maturing to do after racing greenly on debut on the Cambridge Synthetic earlier this month, where class saw her through.
"It didn't really go to plan on debut," Foote said. "I don't think you have seen anywhere near the best of her. A bit more experience and she will show what she really is.
"She is a bit of a work in progress but she has got some talent."
With the exception of a trial at Avondale last year, Sakura Blossom hasn't ventured far from Waikato but Foote doesn't believe the 10-hour round float trip to Hastings will bother her this weekend.
"I don't think it will affect her too much," he said. "She walks about 550 kilos, she is a big mare. She has got a couple of annoying traits, but I don't think too much will worry her."
Foote has been pleased with her work in the lead-up and believing she is a Group-level horse he said he is just wanting to increase her rating over her coming few starts.
"She had a good hit-out on Saturday and made some of the fast ones look slow. I think we are on the right track," he said.
"I just want to get her ratings points up because I think she is a Group horse. We just need to get her points up to get into those races."
Meanwhile, Foote is excited about a couple of his three-year-olds who could be on a path towards the Group 1 New Zealand 2000 Guineas (1600m) at Riccarton in November, including Ruach, a half-brother to Travelling Light, and Whisky Mac and Ayreon, who have pleased in their trials.
"Ruach is a half-brother to Travelling Light and he has got a lot of ability," Foote said.
"Once he steps up to 1400m and a mile, hopefully we will see the best of him. There will be a race for him in a couple of weeks.
"He is a really good doing horse and is quite tough too. At this stage we are going to head in that 2000 Guineas direction, but he has got to prove himself.
"Whisky Mac is a horse with a hell of a lot of potential. He will have another trial and then it is a long shot to get him there (2000 Guineas) in time, but if he proves himself in two starts, he might head in that direction.
"And Ayreon is going to kick-off in about 10 days. He is a nice, handy horse."
Foote has also been pleased with the way stable stars Babylon Berlin and Travelling Light have returned to his barn ahead of their spring and summer preparations.
Babylon Berlin put her hand up as a horse of the future last season when winning four of her 10 starts, including the Group 3 Cambridge Breeders' Stakes (1200m) at Te Rapa, and placed in the Group 3 Gold Trail Stakes (1200m), Group 3 Almanzor Trophy (1200m), and Listed Mufhasa Stakes (1300m).
"Babylon Berlin had a jumpout on Friday and she will trial tomorrow-week at Cambridge," Foote said.
"If they have return flights to Christchurch she could start in the Pegasus (Listed, 1000m), otherwise, we will look at the Counties Bowl (Listed, 1100m).
"Ultimately, she is on a path towards the Railway (Group 1, 1200m), that's what I plan with her.
"She is a bigger, stronger horse now and is just as angry. I have got high expectations with her this season."
Group One winner Travelling Light has also pleased Foote with her condition upon her return.
"She is not far off," he said. "She might kick-off in the Breeders (Group 2, 1400m) in November at Counties, or an Open Handicap in the week before, looking towards possibly starting in the Captain Cook (Group 1, 1600m).
"She has done three weeks on the water treadmill at Margaret Park and has come back in really good order. I am happy with her."