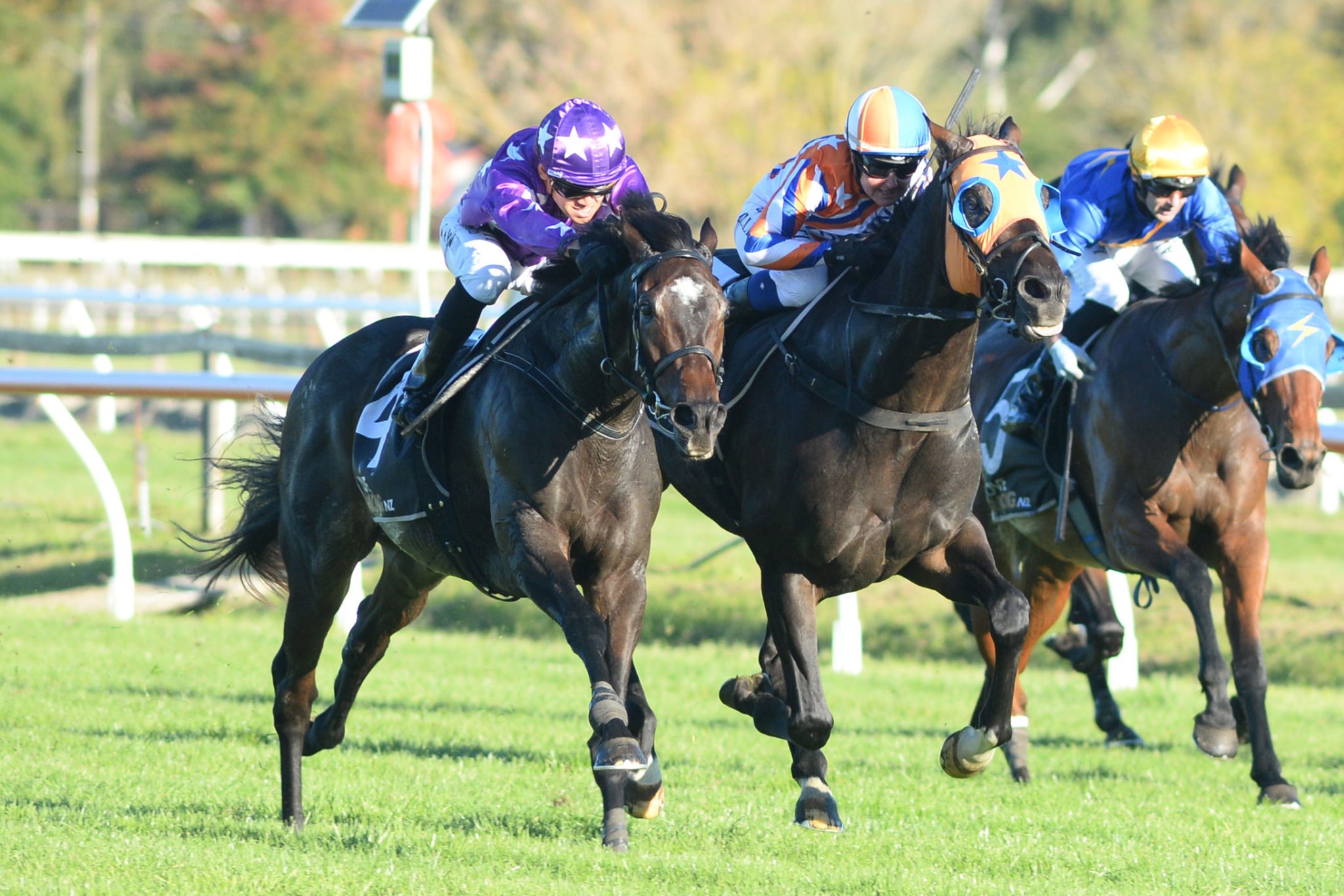 Swords Drawn will likely have his last start for New Zealand trainers Shaune Ritchie and Colm Murray when he lines-up in the Listed Caloundra Cup (2400m) on Saturday.
The Listed Hawke's Bay Cup (2200m) winner hasn't fired in his two starts across the Tasman – finishing sixth in the Gold Coast Cup (2400m) and 12th in the Listed Ipswich Cup (2150m) and Ritchie, who also part-owns the gelding is hoping for a form reversal this weekend.
"His form has been a bit mixed," Ritchie said from the Gold Coast. "His Gold Coast run was okay and his last run at Ipswich it didn't look like he was travelling too comfortably in the puggy track.
"I think the big sweeping bends of Caloundra will probably suit him better.
"Obviously he needs a bit of a reversal in that last performance, so we are going to add some blinkers to try and sharpen him up.
"He has drawn barrier two so we might and ride him a bit handier this time and get him a little more involved in the race.
"He has got to improve a few more lengths on that last run and we have to do something so we have decided to go with some blinkers."
The son of Camelot will head to the spelling paddock after his weekend run but Ritchie said a return to New Zealand is unlikely for the six-year-old.
"He will go for a break after this and I will have a talk with Gerard Peterson (owner). We have got a good association with Mike Moroney and now that Big Mike is retired, I don't see the point in coming home and carrying 60 kilos in handicaps at home.
"He will most certainly transfer to an Australian trainer, with Mike likely to get the horse."
Ritchie is also looking forward to continuing the Queensland preparation of stablemate Badgers Nuts, who has won and placed twice from his four starts across the Tasman.
"He is going terrific, he just keeps improving," Ritchie said.
"We brought him over as a maiden, which is always a bit of a risk, and he has thrived over here.
"We nominated him for the Sunshine Coast Guineas (Group 3, 1600m) but it has just come up a bit strong for a horse in his first prep.
"We will save him for the Grafton Guineas (1600m) and I think that will be a very suitable race for him. He just keeps getting better with each run and he has even strengthened since he has been here."
Meanwhile, back home Ritchie is looking forward to lining up a handful of horses at Hastings and Ruakaka on Saturday.
His Hastings charge will be led by Nassak Diamond, who takes consecutive wins into the Birchleigh Polo Club 2200.
"She keeps improving," Ritchie said. "From a maiden and a one-win straight to a 74 is a big rise in class and she is still only a three-year-old filly, albeit she will be four in another month.
"She seems to be thriving in work. She has had a bit of spacing between races for this one but she has proven she handles wet ground and that is why we went to Hastings instead of Whangarei.
"There is not much point turning her out for the summer because she is obviously adept on wet tracks.
"Although she hasn't raced, we have kept her up to the mark in her training and I think Lisa Allpress is a good booking because she needs a strong rider to keep momentum up as she can hit flat spots. There is no reason to suggest that she won't be competitive."
Ritchie will also line-up The Twinkling in the Colliers Spring Racing Carnival 1600.
"She needed her first two runs, so I am expecting a bit of improvement from her," he said.
"She was extremely disappointing last time, we expected a bit more.
"She is one who could improve if she returned to her best form, but off the back of her last start we are still scratching out heads."
Meanwhile, Burgundy gelding Goldburg will make his debut at Ruakaka in the Rae Racing Prom Queen Dash (1100m).
"I am looking forward to him," Ritchie said. "We raced Goldminer (dam) and she won 10 for us. This horse's two trials have both been good.
"He is in fantastic order, you could comb your hair on his coat.
"It is hard to go up and beat the locals, and Deploy was fast and impressive last time. I wouldn't think that we would be beating her.
"We will probably ride him a bit conservatively with it being his first start. He has had two polytrack trials and I wouldn't be surprised if he was hitting the line really strongly.
"We are just going up there to see how far he is off the likes of Deploy."