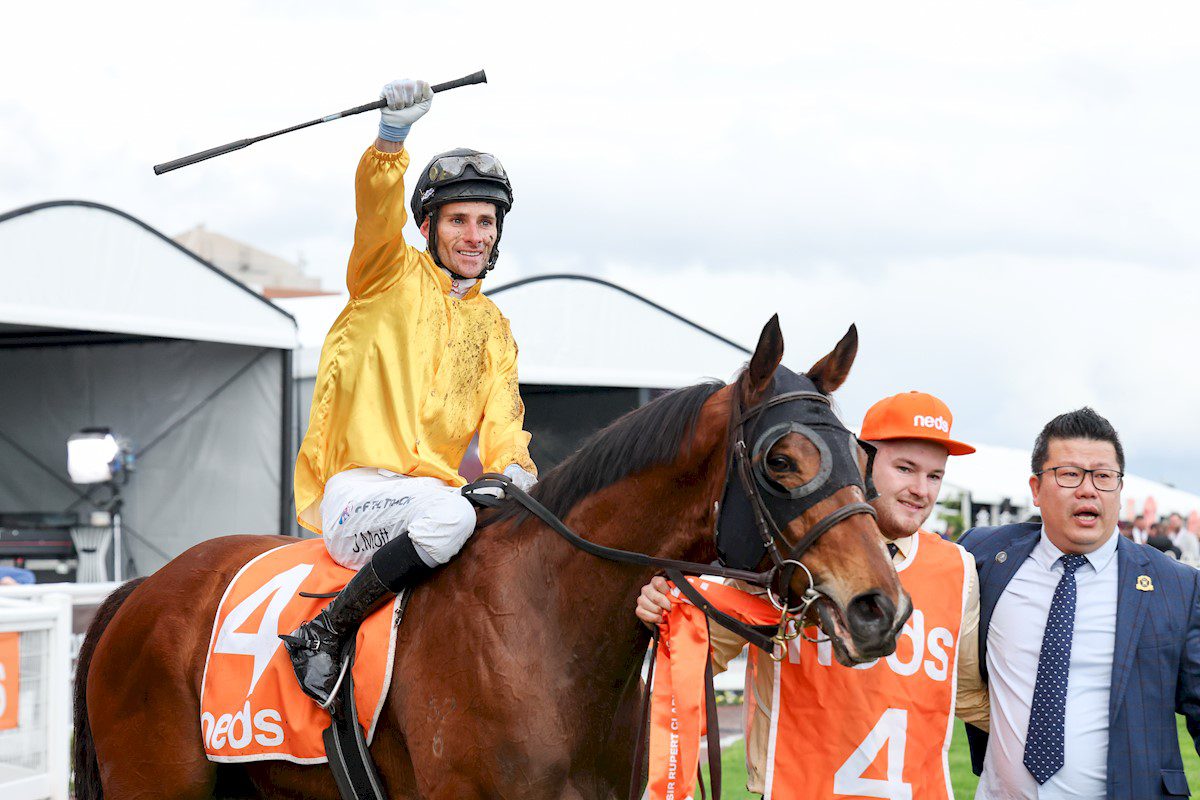 Estimated Reading Time: 2 minutes
Callsign Mav has won the Sir Rupert Clarke Stakes to give Jamie Mott his first ever Group one victory and Danny O'Brien's 23rd, in a stirring win for the former Kiwi in the feature race of the day.
The six-year-old gelding victory was his first race win and Group one triumph since being sent over to Australia and Flemington trainer Danny O'Brien.
Jamie Mott had the son of Atlante three-wide the trip, whilst looking to be off-the-bit with just over 500m to go, Mott was able to get every ounce out of the three-time Group one winner in New Zealand, holding off the fast finishing I Am Superman.
2022 Sir Rupert Clarke Stakes Replay
"He's a three-time Group one winner in New Zealand, so he has done it at the top level over there and he's been in a Cox Plate and All Star Mile and that here." Danny O'Brien explained as to why this race was one they had been looking for this spring.
"Just a little bit softer conditions today, a little bit softer race and he's a tough race horse who has won plenty of races. It is great to see him as a Group one winner in Australia as well.
"It's a big thrill. He's been such a gifted rider who has worked so hard over a long period of time with his weight, you know, if Jamie was four or five kilos lighter he would be a top three metropolitan jockey.
He rides as well as anyone and he's gonna be a very popular victor here today, there is so many people here today that have got so much admiration for Jamie."
Danny O'Brien also alluded to the fact that Callsign Mav could go to a Toorak Handicap, but they would see how he pulls up after this run.
"I always knew it was coming." Jamie Mott said post-race when asked if he ever thought his Group one victory would ever come.
"I'm one for always working hard and giving up was not an option. I put myself in a good spot weight-wise and mind-wise this campaign. I'm just really thankful to Danny and the wonderful connections for keeping me on Callsign Mav.
Mott also reiterated that this six-year-old gelding is a three-time Group one winner over in New Zealand adding, "they've been saying he's not really up to it here and he got conditions to suit today and he was really tough when I needed him.
"He was really in for the fight, I got to Tuvalu and I felt one coming but he was never gonna lie down."
After the victory, Callsign Mav has shortened into $11 in the Toorak Handicap market with online bookmakers.