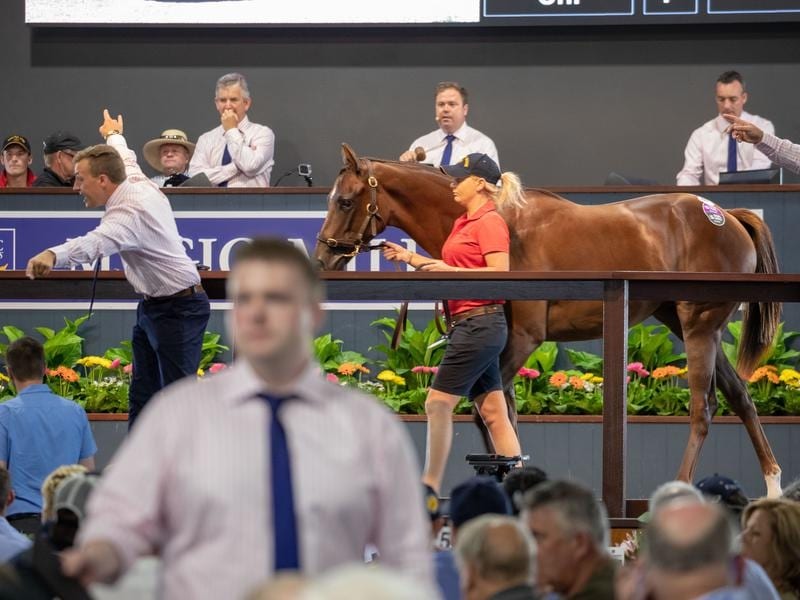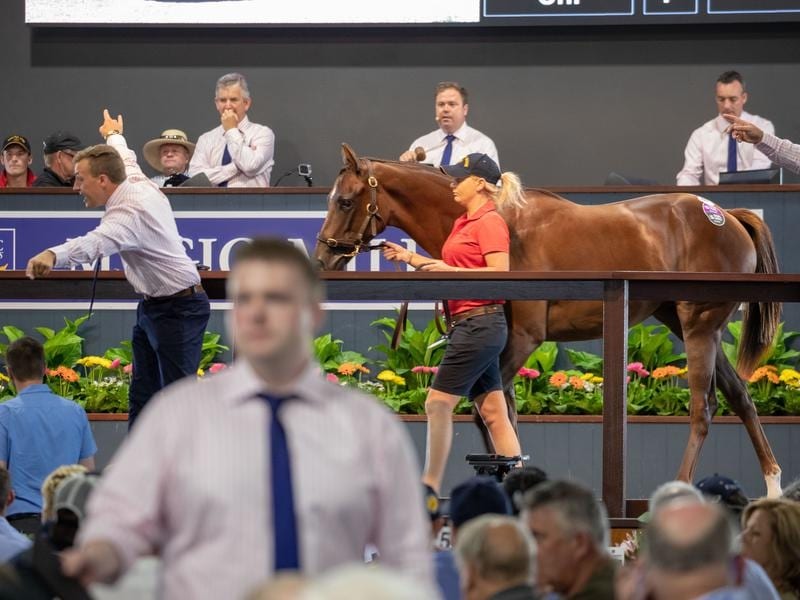 Four yearlings have fetched $1 million or more on the first day of the Magic Millions sale at the Gold Coast headed by a Redoute's Choice-Purely Spectacular colt.
Offered by Bhima Thoroughbreds, the colt was bought by Aquis Farm and Phoenix Thoroughbreds for $1.6 million.
"We loved the horse," Aquis Farm chief executive Shane McGrath said.
"He's by Redoute's and he's the sire of sires here in Australia and he's a brother to a proper Group One winner (Stratum Star).
"We loved him. He vetted out clean and he's going to be an exciting horse for our partnership.
"We'll take him back to Aquis at Canungra and then sit down and work out who's going to train him."
Trainer Chris Waller's bloodstock agent Guy Mulcaster, the man responsible for finding Winx at the Magic Millions, went to $1.3 million for a colt by I Am Invincible colt from Tai Tai Tess, a full brother to last year's sale topper.
"We really loved the colt last year but he was a bit too far from our budget," Mulcaster said. "We are very happy to get this one."
"He's very similar to his brother and we hear he's got a lot of ability and we hope this bloke does as well."
International bloodstock agent Marie Yoshida of Asian Bloodstock Services paid $1 million to secure Peggy Jean's Medaglia d'Oro colt from Widden Stud and he will be trained by Peter and Paul Snowden.
"He just has so much presence," Yoshida said. "He's an excellent mover."
"Medaglia d'Oro is a proven sire. We believe a lot in a young sire like Vancouver, so we think we should definitely follow Medaglia d'Oro."
The top priced filly on Wednesday was the I Am Invincible-Rose of Choice youngster bought by Yulong Investments who paid $1 million.
The China Horse Club and Newgate Bloodstock partnership ended the day as the leading buyer, outlaying $3.46 million for eight lots while Redoute's Choice was leading sire by average for three or more lots sold at $690,000.
The sale continues on Thursday.
Cups Betting has all the latest horse racing news and betting bonuses.