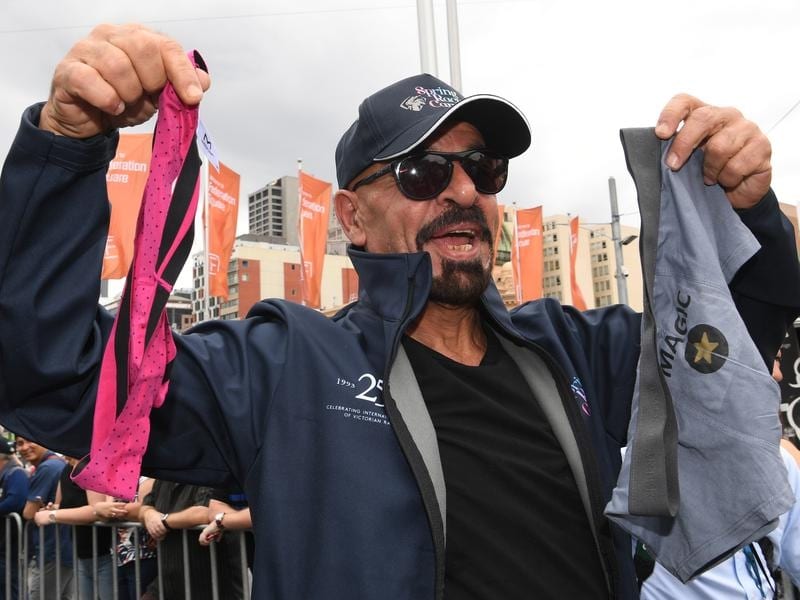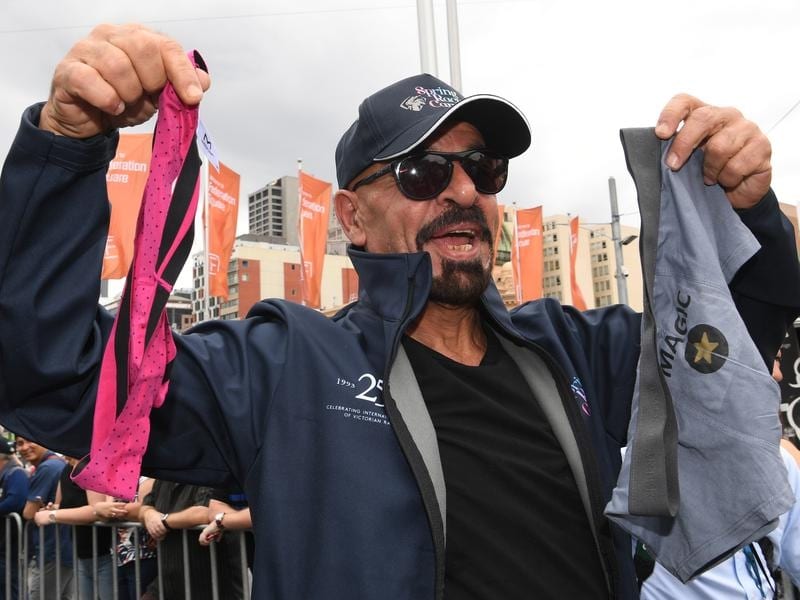 Flamboyant British billionaire racehorse owner Dr Marwan Koukash has an extra incentive to win this year's Melbourne Cup: he desperately wants to accept the trophy in his G-string.
The self-proclaimed "crazy owner" loves every part of the build-up to the Cup, whether it's the annual parade in front of thousands of people or the attention he's getting over his promise to strip.
"It's fantastic, a fantastic experience," he said after Monday's parade.
"You'd have to be an absolute miserable bastard not to enjoy it.
"I've been enjoying every minute of being in Melbourne."
Dr Koukash is very confident his horse Magic Circle will win the Cup and just as determined to celebrate in a way no owner has before.
"It's the best race in the world," he told the crowd at Federation Square.
"It's not only the race that stops Melbourne or Australia. It stops the world."
Then he showed off a bright pink G-string, modelling it over his jeans.
"That's the lace that's going to stop the nation."
Dr Koukash rejects any suggestion he's all talk and no action, after not following through with his threat to collect the Chester Cup wearing only a tie when Magic Circle gave him a fourth win in the big British handicap in May.
Charlie Fellowes thinks Dr Koukash won't get the opportunity to strip, playing down Magic Circle's win in the Chester race over the English trainer's Cup contender A Prince of Arran.
"I don't think you're going to have to worry about the G-string."
That only emboldened Dr Koukash.
"If your horse wins I'll strip absolutely naked."
Fellowes, who hopes to become the first British trainer to win the Melbourne Cup, described the parade experience as unbelievable.
"When I was told you're doing a parade I thought there would be like five people lining the road, cheering with a flag or two. Maybe some friends or something," he said.
"I didn't realise they'd be three or four deep. It's unreal.
"We don't have this in England. So to come out here, have a runner in the race aged 32, five years into my training career, is a huge thrill."
UK-based Thady Gosden described his first experience in Melbourne for the Cup as surreal.
"I've never seen anything like it to be perfectly honest," said the 23-year-old, a junior assistant trainer to his father John who has Muntahaa in the race.
"It's almost like when a football team at home wins the Premier League and they have a parade through the streets, it's a similar type of thing to that.
"The amount of public interest in the whole event is dumbfounding really."
Looking for Melbourne Cup guides? Cups Betting has all the 2018 Melbourne Cup guides and news you need right here.