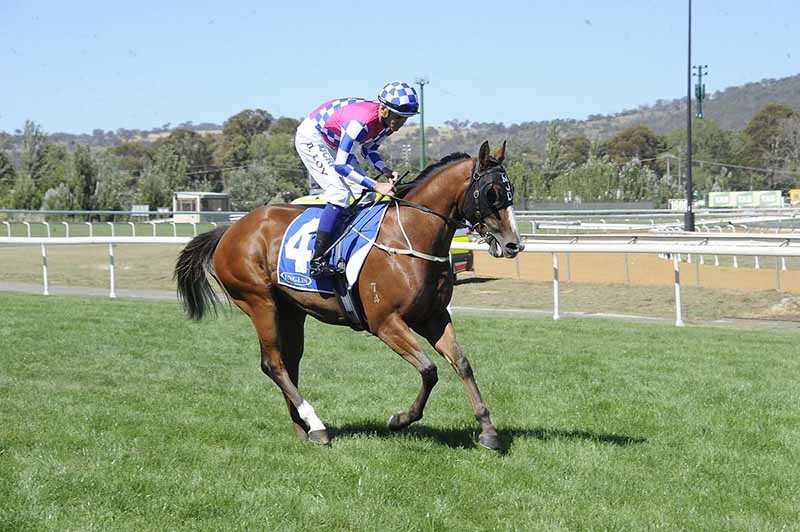 Estimated Reading Time: <1 minutes
Canberra-based horseman Matthew Dale hopes to answer a few questions when Mossman Gorge runs in the Listed Bel Esprit Stakes at Caulfield.
Saturday's outing will be Mossman Gorge's second in Victoria and Dale is using the 1100m contest as a guide to whether the sprinter may handle the 1200m of the Wagga Town Plate.
Mossman Gorge has raced twice previously at 1200m with Dale considering 1000m to be his sweet spot.
But in riding the six-year-old differently this campaign, Dale wants to see if there is a chance the sprinter can see out a strong 1200m.
Mossman Gorge returns to Victoria having finished an unlucky fourth in the 55 Second Challenge (955m) at The Valley on March 19.
"He got a squeeze at the start and was spat out the back and apart from that may have almost won the race," Dale said.
"Now that we're riding him differently and having a really good preparation being ridden where he is comfortable, I just want to see him over 1100 metres on a track other than Canterbury.
"He's performed well at Canterbury, but I want to see him in a high-pressure race over 1100 metres and see where he sits, and whether we use that to see whether we run him in the Wagga Town Plate.
"His sweet spot has always been 1000 metres, but now that we're riding him differently this is the time to have another look at 1200 metres with him."
Dale said Mossman Gorge was up heavily in grade on Saturday but added it was the right stepping stone to the future.
"I could have kept him at 1000 metres as there's a really good option in Brisbane on Saturday week, but now's the time to answer the question to see if I can run him at 1200 ever again at a higher level," Dale said.