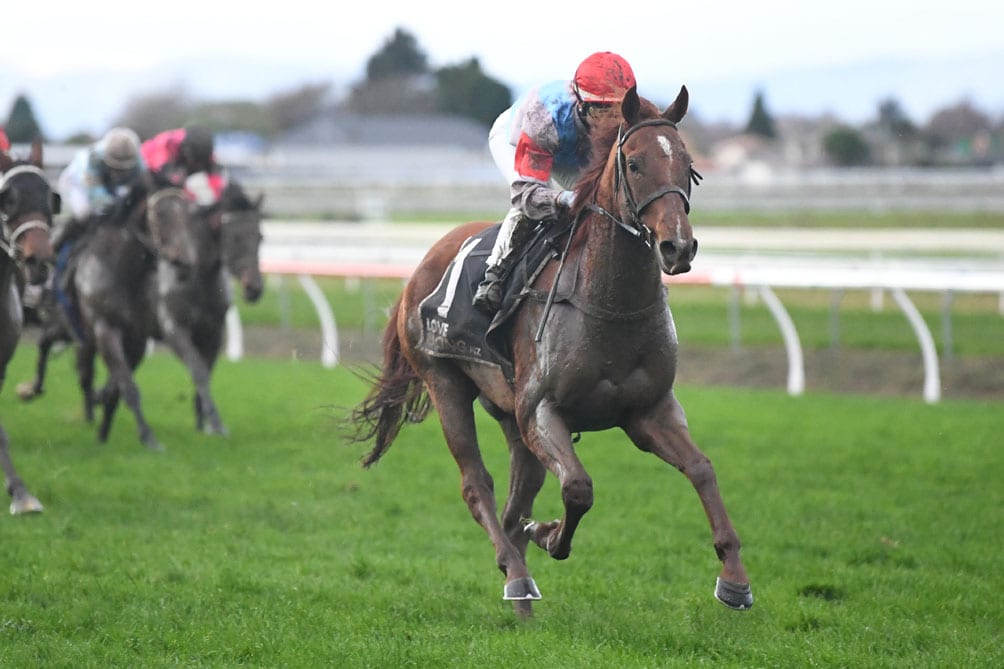 Estimated Reading Time: <1 minutes
The paths of New Zealand trainer Mark Oulaghan's two Group 3 Winning Edge Presentations 124th Winter Cup (1600m) hopefuls will become a lot clearer after racing at Awapuni on Saturday.
Semper Magico is the stable's leading light for the Group Three feature, however, Oulaghan said the five-year-old gelding would have to win the Johnny Monckton Memorial (1550m) this weekend, and win it well, to warrant a trip south.
Bred and owned by Oulaghan, Semper Magico has been in great form this preparation, placing in his first five outings before being rewarded with a win on a Heavy11 track at Awapuni last month.
"He is doing things right and he was knocking on the door," Oulaghan said.
"He was good at the finish and handled the ground. It was only a 65-rating race but we were pretty happy.
"The encouraging thing about it is that it looks like he is going to handle the soft ground, so that is a bit of a plus."
The son of Per Incanto will be met by another Heavy track on Saturday, conditions that should pose no concern for him having won and placed twice from four starts on the surface.
"The ground is going to be heavy, but I guess they have all got to run through it, so it will be a bit of a test for him," Oulaghan said.
While Semper Magico does hold a nomination for the Winter Cup next month, Oulaghan said a trip south is far from set in stone.
"He is in the Winter Cup, but whether he goes there or not remains to be seen," he said. "If he did go there he probably wouldn't have another run until then and he has still got to get in.
"We are not specifically aiming for that but if he is doing alright and the opportunity comes up he could run there, otherwise we will just go quietly and look for something in the spring."
Oulaghan had all but ruled out a trip south for his other Winter Cup hopeful, Super Flash.
He will contest the Bayleys Feilding 1400 on Saturday in a fresh state after his last start seventh placing at Trentham in May.
"His form is probably not quite good enough (for the Winter Cup)," Oulaghan said. "We will just see how he goes. He hasn't had a run for a wee while. I think he likes loose ground, he doesn't like it too puggy, that's his forte."
While looking forward to racing at Awapuni on Saturday, Oulaghan will head to Waverley a day prior with a couple of runners in preparation for their jumping targets.
Master Fin will contest the Donaghys N-Boost (2200m), while West Coast will line-up in the Forest360/Sportzbar (2200m).
"Both are jumping horses that are just getting conditioned up," Oulaghan said. "We will look at a maiden hurdle somewhere with West Coast and Master Fin could go to Wellington."
Oulaghan is also looking forward to the return of unbeaten steeplechaser Dal Kilchoan.
"He will probably kick-off in the next few weeks," he said. "I have got a couple of others that we are schooling and doing a bit with, so we will just see how they come up."
Meanwhile, Oulaghan has welcomed New Zealand Thoroughbred Racing's announcement of increased prizemoney next season, highlighting it is a much needed boost for the future of the sport.
"An increase of 20 percent is quite significant," he said. "Racing is a money game and the strength of racing is reflected with your prizemoney.
"I think now that they are starting to up the prizemoney levels hopefully the racing can improve.
"With the foal crop the way it is, and not a lot of horses around, it needs a bit of a shot in the arm and I think what they are doing is heading in the right direction."