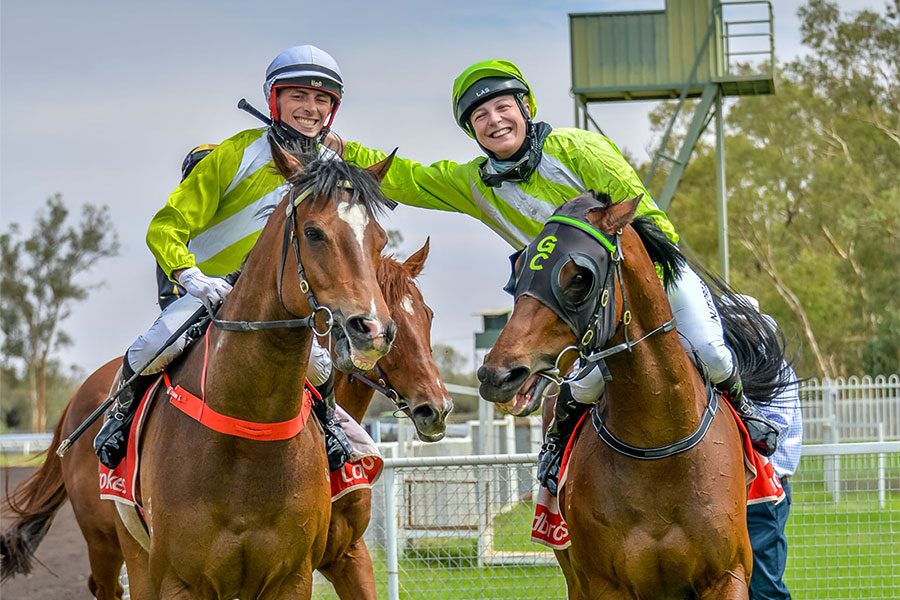 South Australia-based jockey Alice Lindsay is gradually getting her career back in shape after a whirlwind two years.
Lindsay headed to Darwin for an opportunity in July 2020 and enjoyed plenty of success before a fall during last year's Darwin Cup Carnival brought a premature end to her adventure.
On July 28, Lindsay was dislodged from her mount Jomera in a fall at Fannie Bay that also claimed fellow jockeys Sonja Wiseman (Supreme Times) and Wayne Davis (Somervell).
Sadly, Jomera died, but after suffering injuries as a result of the fall, Wiseman and Davis are now back riding in the Northern Territory.
Lindsay suffered injuries to her back, a broken nose and damage to her hand, as well as lacerations and bruising.
"I was knocked unconscious for about 15 to 20 minutes," she said.
"I broke my T5 and my T6 – that's your thoracic spine.
"It's that area of the spine between your shoulder blades.
"I've actually lost a centimetre in height, but the injury is stable and I was required to wear a back brace for a couple of months for support while the injury mended.
"I was able to get away without surgery by just having that back brace.
"At the same time I was very lucky to only escape with what I did.
"It could have been a lot worse, that's for sure."
Lindsay, now 28, started her apprenticeship in South Australia in November 2017.
Like a lot of apprentices, she was looking for an opportunity to ride on a regular basis, which was proving difficult due to the competitive nature of the sport.
Time to come up with a plan.
"That's when I thought to myself to set myself aside and really try to progress quicker, I decided to head up to the Northern Territory, up to Darwin, where I planned on staying for 12 months," she said.
"It ended up being a very fruitful experience, and more than that I made a lot of friends that I consider family that will be close to me for the rest of my life.
"It was the best thing I ever did."
Returning to South Australia, where she is now based in Murray Bridge, Lindsay rode her pony Piccolo and was wearing her back brace to improve her fitness.
Recommended!
She got back to work doing track riding in November and come February she did a lot of trials to ensure that her back held up and everything was stable.
"I got back race riding on February 17 at Kangaroo Island, which was just brilliant," Lindsay said.
"It was really special – for a little while I wasn't sure if I was going to be able to race ride again.
"It was a really great experience to be able to go back riding – I did a lot of preparation, a lot of work to get there.
"I had a great first month. I think I rode five winners in my first four or five weeks, and quite a few placings."
Lindsay, who is now apprenticed to Heather Lehmann in Murray Bridge, is currently convalescing after having further surgery on her hand.
She hopes to return on May 26 at a non-TAB meeting at Hawker.
It was after consulting Briony Moore, Racing South Australia's Apprentice Academy Master, and speaking to friends Eran Boyd (a current jockey) and Dan Morgan (a former Alice Springs apprentice jockey) that Lindsay ended up in the Northern Territory.
She rode her first winner at Fannie Bay on Darwin Cup Day in 2020 aboard Art Of More for trainer Phil Cole.
"Briony really helped me organise everything and she was really supportive of the decision I made to go to the NT," Lindsay said.
"Briony was really happy for me.
"I originally went up to work for Phil Cole.
"I'm very thankful for the opportunity Phil gave me, but I was then able to go to Gary Clarke.
"To be able to get in with the leading two stables in Darwin and to be given those opportunities that's all it really took – I owe it all to Phil and Gary for putting me on.
"I was also overwhelmed by the support I received from other trainers in Darwin and Alice Springs.
"It was just so nice to have trainers that backed me and believed in me.
"For a long time I was the only apprentice in the Territory because Dan stopped riding and I could claim 3kg.
"I did struggle with my weight up in the heat and up in the tropics in Darwin."
Lindsay certainly won her fair share of races throughout the NT during her 12 month sojourn.
She puts her success down to opportunities where she was able to fast-track her ability to improve.
The experience also proved invaluable and she attained so much confidence.
And she holds champion Darwin trainer Gary Clarke in high esteem.
"There was a day when Jarrod Todd was injured and it was the first day of the 2021 Darwin Cup Carnival," she said.
"They put me on and I rode four winners that day.
"To have someone like Gary to believe in me and to put me on all those horses – I just didn't think I was good enough.
"It worked out. We had a massive day. Gary and wife Sharlene are very special to me."
Lindsay, who grew up in Ashton in the Adelaide Hills, has one objective when she returns to the saddle.
"I'm actually still an apprentice thanks to Briony Moore," she said.
"When you have time off with injury they allow you to add it on to your four years.
"I'd love to be able to be finished by the time I turn 30."