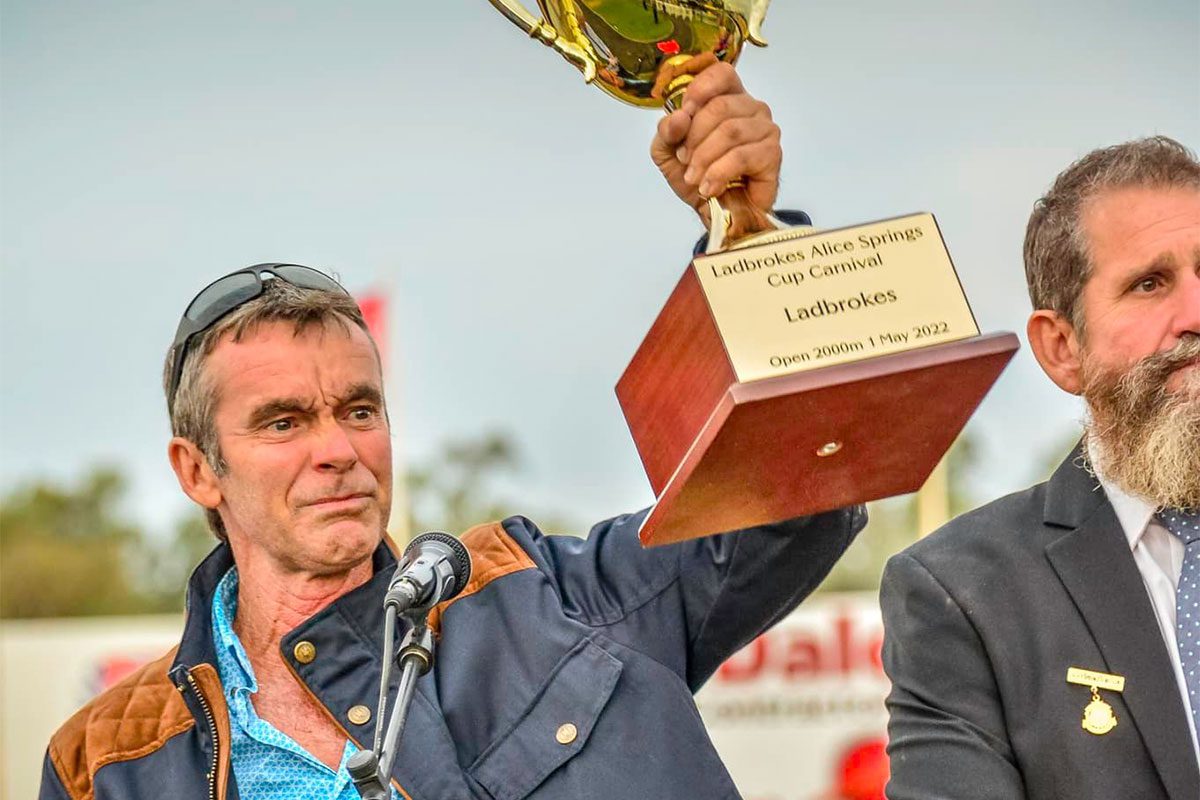 He might have ended the day with a winning double, but leading Darwin trainer Gary Clarke actually endured mixed fortunes at Fannie Bay on Saturday.
Wilsons Prom suddenly became a serious prospect for the Darwin Guineas (1600m) on July 2 with victory over fellow three-year-olds in the Totally WorkWear Palmerston 20 Years TROBIS 0-66 Handicap (1300m).
With Jarrod Todd in the saddle, Wilsons Prom was always travelling nicely and hit the front in the home straight before holding off the fast-finishing Flying Start (Jessie Philpot) from the Greg Connor stable in Alice Springs.
Flying Start arrived in the Top End after three wins from as many starts at Pioneer Park, including victory in the NT Guineas (1600m) in April by eight lengths, and looked set to seal victory after finding clear air with 200m to go.
Wilsons Prom (55kg) wouldn't back down after he and Flying Start (59kg) overtook the leaders Super Famous and Max Fire, and although the win was fully deserved the Red Centre arrival perhaps gave the leaders far too much start after settling at the rear of the field.
In any case, Clarke is aware that Flying Start will be a force to be reckoned with come the Guineas as Wilsons Prom will meet him at set weights (58kg).
"What I actually liked about his run yesterday is that after they got into the straight he and Flying Start were pretty much on level terms and he looked like he was going to go past Wilsons Prom, but Wilsons Prom just fought him off," Clarke said on Sunday.
"Going into the Guineas there will be a 4kg turn around, so I think Wilsons Prom has got to improve to beat Flying Start to be honest.
"What he did yesterday is why we bought him for basically because he showed that sort of form in Victoria.
"We were probably a little bit disappointed with his first couple of runs in Darwin."
If Wilsons Prom's win came as a surprise for Clarke, then the performance of three-year-old gelding Wolfburn in the Bridge Toyota 0-58 Handicap (1600m) was met with disappointment looking ahead to the Guineas.
Wolfburn (Jarrod Todd), who won his first race at the 14th attempt when he debuted in a Fannie Bay maiden over 1200m on June 4 after performing admirably in NSW, finished fourth behind Peter Stennett's very impressive Pacadow (Wayne Davis).
It was Pacadow's first career win after just five starts in Victoria and after leading from start to finish en route to a three lengths win he is certainly in the mix come the Guineas.
"Wilsons Prom was probably not so much a surprise, but the other horse Wolfburn – he was a bit disappointing," Clarke said.
"That looked like a pretty soft race for him to go in to – even though he was probably a little bit wanting for the mile at this point.
"Not at any stage did he look like he was sort of travelling like a winner and there's more improvement in Wolfburn for sure.
"They're both really different horses.
"One takes a lot of work and the other one doesn't take much work at all.
"The one that takes a lot of work is Wilsons Prom – and he still has got improvement in him.
"Wolfburn is a lot better than what he showed yesterday.
"Both will back up in the Guineas – that's why we bought them for."
Recommended!
Wolfburn was not the only odds on favourite from the Clarke yard to come to grief on Saturday with the in-form Raazou finishing third to Kronos at 0-76 level over 1200m, while stablemate Rich Sun grabbed second place.
"I was sorted of disappointed in Raazou – I think he might have a few feet issues going on there," Clarke said.
"I will have to have a look at that this week – he's way better than that.
"He actually, at his last win, ran a quicker time than what they ran in that race yesterday.
"Rich Sun exceeded all expectations.
"We opted to ride him a little bit differently – it might be the way to go with him by the looks of things."
Syncline was second and Belmont Day was seventh in open company over 1000m, Thunder Peak triumphed and Captain Hedderwick was third at 0-64 level over 1600m, and Siakam was second and Chief Mondo was fifth at Class 2 level over 1200m.
"I was pretty happy with Syncline, but I was disappointed with Belmont Day," Clarke said.
"Really happy with Thunder Peak – she finally did what we've always thought she could do.
"Captain Hedderwick, yeah, he's as honest as they come – picked up another cheque.
"He always seems to find one or two better than him, that's all.
"Siakam has a decent record in Darwin and is getting back to his best.
"Chief Mondo ran a good race without winning – got a good run up the fence and loomed into the race like he was going to win.
"He's not a real brave horse at the best of times – he went from flying home to all of a sudden thinking 'no, I'm not going through there'.
"Had to stop, the gate shut on him – so that was the end of him."
It was a unique situation the previous week when Clarke's runner Akoni succumbed to his daughter Ella's runner Pop Magic in a maiden at Fannie Bay.
It was Ella's second winner since attaining her trainer's licence.
"That was good, it was a good day," he said.
"If someone is going to beat me, then I'm happy for my daughter to beat me."
Clarke has now trained 42 winners for the 2021/22 season and has extended his lead over Phil Cole, who enjoyed success with Kronos (Jade Hampson) on Saturday, in the Darwin trainer's premiership to 13.