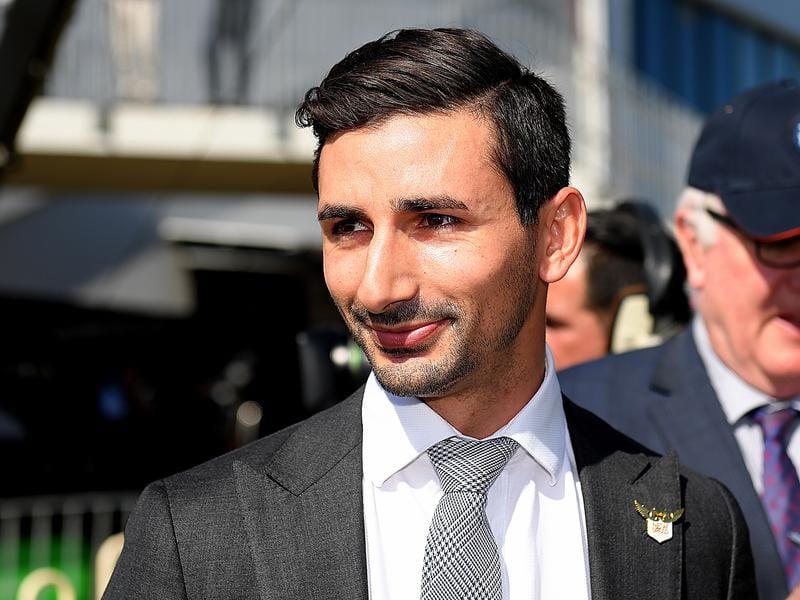 Ten years ago, Gold Coast, Australia trainer Michael Costa was struggling to pay rent, often sleeping in his car.
On Wednesday he announced that he will be pulling up stumps and heading over to Dubai, UAE to take up the training operation of Sheikh Ahmed Bin Rashid Al Maktoum, who is the owner of champion British galloper and two-time Australian Queen Elizabeth Stakes winner Addeybb.
The news broke via News Corp early Wednesday, confirmed later in the day by Costa on his own "MCR TV" channel on You Tube and Facebook.
"In January I received a call from Dubai just when I was going to bed, it was a bizarre number and I didn't answer it because I thought it was a telemarketer or something,"
"But they left a message, so I called back.
"It was a representative of the Sheikh and they said they had been looking around the world for a trainer and come across me and done their due diligence.
"I initially told them I didn't want to waste their time too much, I feel like a pig in mud training on the Gold Coast and I've got a good business with good momentum and I felt like I could be in the top couple in the (Brisbane, Australia metropolitan training) premiership within a decade.
"But they came back to me with an offer and said they wanted me to go over to Dubai and have a look at their facility, so that's what I did and it has all come together pretty quickly in the last couple of months."
Costa started his career as a Racing NSW steward in Sydney, New South Wales, Australia before taking out his trainers licence. He initially based himself at Warwick Farm, Australia before moving up to the Gold Coast in 2016.
His success today, has not always been the case, Costa recalls: "One night I went to the Racing NSW Night Of Champions and all the racing people were getting picked up in flash limousines.
"At the end of the night, my missus and I realised we didn't have enough petrol in the car and we didn't have any cash. So we slept in the car in the carpark and watched all the racing people in their suits.
"I spent most of that year sleeping in the car because I couldn't afford to pay both the stable rent and house rent.
"I was just a battler and I often didn't even have enough money for petrol so I had to rely on people to help me out."
Costa doesn't know how he came to Sheikh Ahmed's attention to be offered the coveted job.
Nevertheless, Costa and his family, including his three sons aged 2, 5 and 7, will be heading to Dubai in the next three to four months.
"I'm not sure on how they found me in Dubai, some of the leading trainers around the world were applying for the job," Costa said.
"I will be going from rowing my own boat on the Gold Coast to working in Dubai.
"One of the things the Sheikh wants to focus on is bringing up a trainer who is young and helping them with their career, it's one of his main things.
"In Dubai they race five months of the year and the obligations outside of the racing season are to go to Royal Ascot and to go to other sales around the place.
"I wouldn't get the opportunity to take my kids to those sort of places while based in Australia as I work 365 days a year here."
"I will be here on the Gold Coast for as long as it takes to get the transition process done," Costa said.
"I don't want the wind-down period to impact the preparation of any of my horses and I also want to guarantee all my staff a job."
Costa's biggest training moment so far came last year when Phobetor won the Group 2 Missile Stakes at Randwick, Australia.
Over his training career, Costa has become famous for his innovative training methods, dedication to horse welfare and fresh and dynamic emphasis on the client experience.
Michael Costa Racing is currently sitting 14th on the Queensland Metro Trainers Premiership and in the 2019/20 season, was crowned in the top 5 winning strike rates in the country.