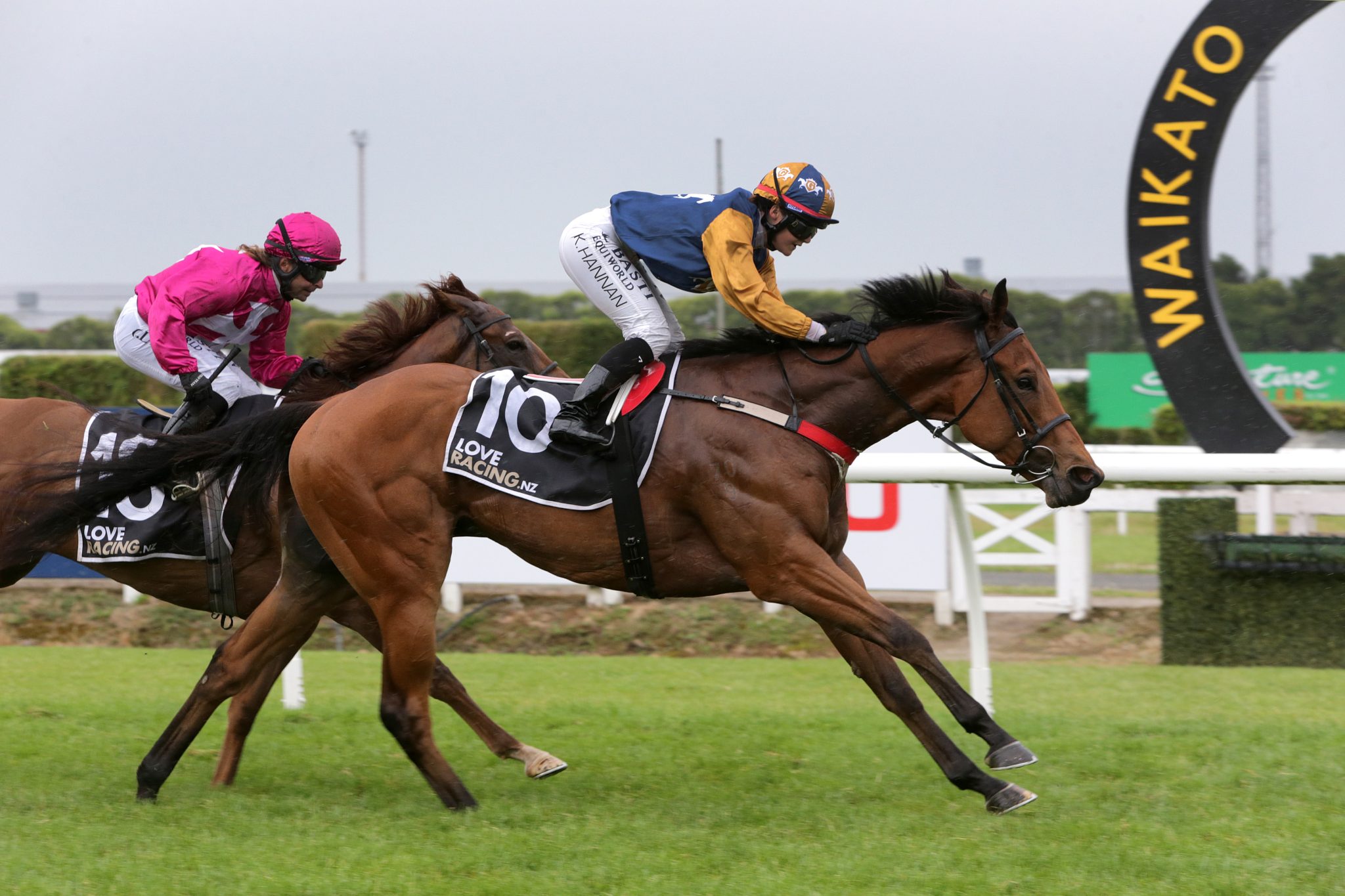 The Group 2 Wellington Guineas (1400m) is the likely target for The Racketeer after his gutsy victory at Te Rapa on Saturday.
The Racketeer, one of two winners for the day for the Cambridge partnership of Shaune Ritchie and Colm Murray, led most of the way for in-form apprentice Kelsey Hannan to hold off a useful Rating 65 field over 1200m.
Ritchie said The Racketeer was an exciting horse but he was unlikely to take on the big guns in the Karaka Million 3YO Classic (1600m) at Pukekohe next month.
"At his previous two starts he ran into the 1000 Guineas winner Legarto and was only beaten 2.8 lengths, and the start after that he was beaten by the top male in Wild Night, and they will be the favourites for the Karaka Mile," Ritchie said.
"So playing it smart and running him in the right races, perhaps the second tier three-year-old races, might be best for him. Because the Wellington Guineas is over 1400m and one week before the Karaka Million, he might dodge a few of the other horses that are going for that race."
Ritchie and Murray had been trying to teach The Racketeer to settle better in his races but they have now decided he's better being allowed to roll along in front.
"He just doesn't seem to be able to hit the line as well when we're fighting him," Ritchie said.
"We've come to accept that he likes to roll along a bit, and when he got a soft sectional at Te Rapa he looked a couple of time he might get headed, but he was very strong. I thought he was coming away at the line."
The Racketeer had previously raced in the colours of the Ritchie stable but on Saturday he debuted new colours of Grosvenor Park, an agistment farm near Cambridge run by one of the horse's co-owners, Scott Massey.
"It's a new boutique spelling farm, a beautiful bit of land there between Milan Park and Wentwood Grange. We took all our yearlings out there last year, and it's going to be a massive bonus for us," Ritchie said.
"Fortunately, Scott had his staff party at the track, with two groups of 20 out there cheering the horse home, so they've had a great Christmas party. They might have lifted him the last bit, the noise they were making."
Ritchie's other winner at Te Rapa was the four-year-old Regazzo, who scored his second victory of the season when taking out a Rating 65 1600m event in the hands of Opie Bosson.
Regazzo holds a nomination for the Group 2 Auckland Cup (3200m) in March but Ritchie said his season target was more likely to be a very different event, the Gr.2 Easter Handicap (1600m) in April.
"He had wind surgery before he won first-up last season, but since that surgery we've worked out that he's probably best kept fresh and running at a mile," he said.
"We're going to race him once a month and keep him to 1600m. We're probably more likely to try to get him into a race like the Easter Handicap with a light weight."
Ritchie was also impressed with the effort at Te Rapa of Hammer Time, a granddaughter of the outstanding racemare Romanee Conti. Hammer Time worked hard to lead in a maiden 1600m event but still fought strongly to finish third.
Ritchie hopes he can get Hammer Time to the Group 1 New Zealand Derby (2400m) in late summer.
"He moves like a dead-set stayer," he said. "He'll win a big race, nothing surer, but he just needs to straighten up and concentrate a little more."
Ritchie and Murray are in the top 10 of the New Zealand trainers' premiership with 14 wins, which have come mainly with young horses on the way up.
Though he lacks a headline horse, he has high hopes for the import Mahrajaan, who he bought in October at his first visit to the Horses in Training Sale in England.
Mahrajaan has completed his time in quarantine in both England and Australia and is set to arrive at Ritchie's stable on Thursday. Formerly trained by William Haggas, Mahrajaan has won three of his 10 starts, all of which have been between 2000m and 2800m, and has an official UK rating of 98.
The syndicate which owns Mahrajaan includes Hammer Time's part-owner Gerard Peterson and Scott Massey.
"I went up there to target a horse that had a bit of form and looked alright, and something I thought we could improve mentally and physically," Ritchie said.
"Mahrajaan's a little bit light across the top, and instead of being boxed as he was up there, with our property here at Cambridge, we've got quarter-acre paddocks for each horse. If it works well for us, it might open new doors."
Ritchie said he hoped Mahrajaan would race a few times in New Zealand and possibly Queensland this autumn and winter, and then be targeted towards staying races in Melbourne next spring.
"If we could get him to a Melbourne Cup that would be the ultimate," he said.
More New Zealand horse racing news