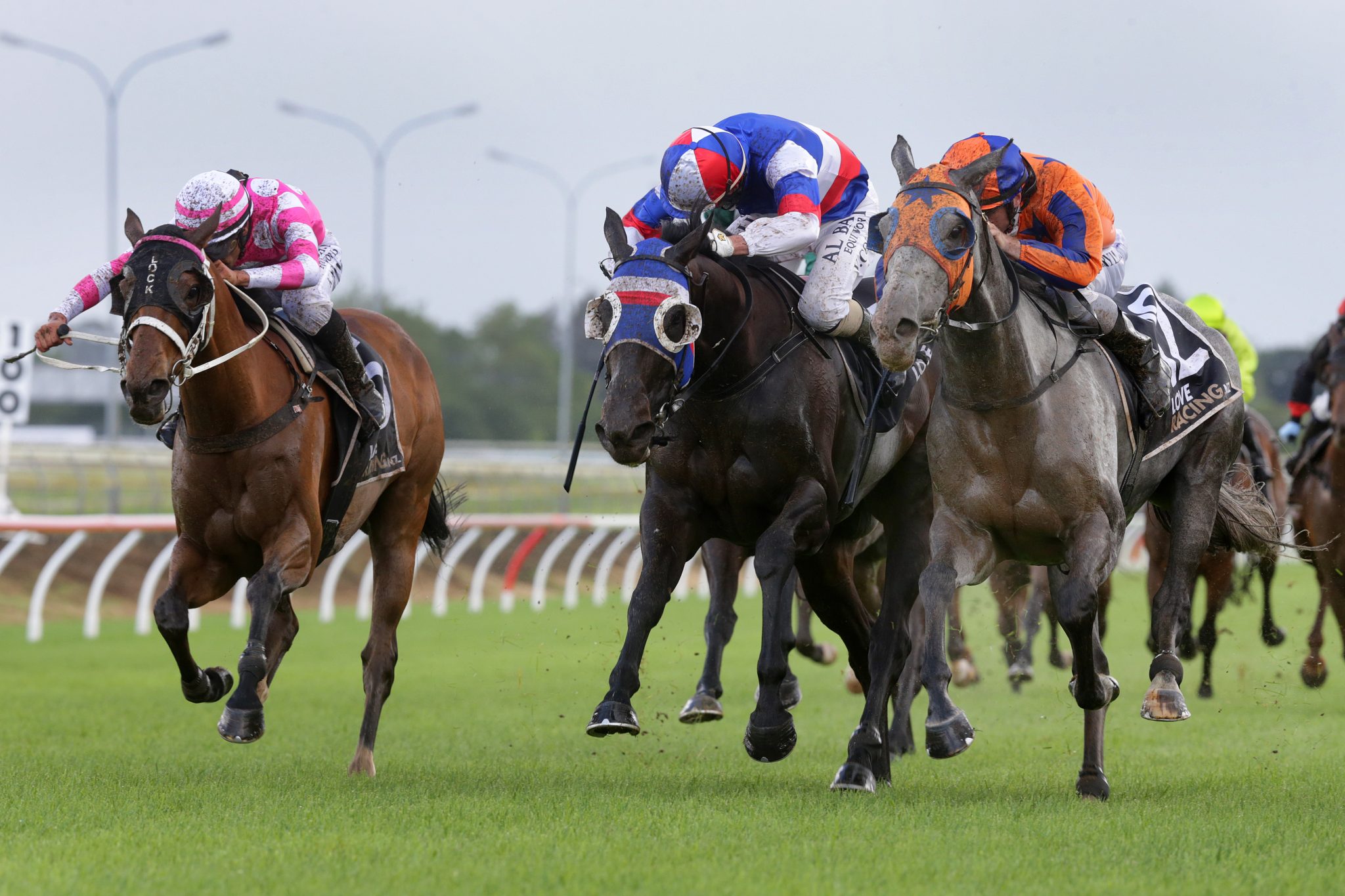 On a day where Auckland's enigmatic weather produced plenty of sunshine combined with heavy showers, stablemates Aromatic and Self Obsession fought out a thrilling finish in trying conditions to the Group 3 Pukekohe Traders Counties Cup (2100m).
A sharp downpour before the race saw all riders splattered with mud midway through proceedings, with those in contention for the lion's share of the prize heading to the outside of the track rounding the home bend.
At that stage it was one of last season's best three-year-old fillies in Self Obsession who had taken over at the head of affairs with stablemate Aromatic, Viktor Vegas and Zee Falls heading the chase.
The Mark Walker-trained pair settled down to a knock-em down, drag-em out scrap at the 150m which went in favour of grey mare Aromatic and current Jockeys' premiership leader Craig Grylls by a long head at the winning post.
A saturated Grylls was all smiles as he discussed the performance by his mount.
"I think I'm carrying a kilogram and a half more than anyone else," he joked.
"I'm soaked to bits but it was a good tough effort.
"I was back a little further than I wanted to be, but I stayed out deep with a bit of cover and I was able to creep forward when I wanted to.
"I was happy the way we were going and that rained loosened it up nicely for her.
"All the same it was a good, tough effort as I've been up against that one (Self Obsession) before and she is a tough nut to get past."
Walker agreed that the shower of rain before the race had played in the winner's favour.
"That shower of rain just a few minutes ago probably helped, but it's full credit to the whole team at home as she doesn't have the best of feet and the whole barn have worked tirelessly to keep her on the track," he said.
"It was a good effort as Self Obsession is so gutsy, so both mares did us proud.
"Self Obsession chipped a knee after the New Zealand Oaks (Group 1, 2400m) last season and is coming up nicely now, so hopefully she will get her turn soon.
"I think at this stage they both will head to the Waikato Cup (Group 3, 2400m) next."
Purchased by Te Akau Racing boss, David Ellis for $160,000 out of the Milan Park draft during Book 1 at Karaka in 2018, Aromatic is out of the Group 3 Taranaki Cup (1800m) winner Vickezzchardonnay.
She has won four of her twenty starts for her owners, the Te Akau Sacred Wine Syndicate, while she has also finished runner-up on a further ten occasions for total prizemoney of $185,000.
More Australian horse racing news