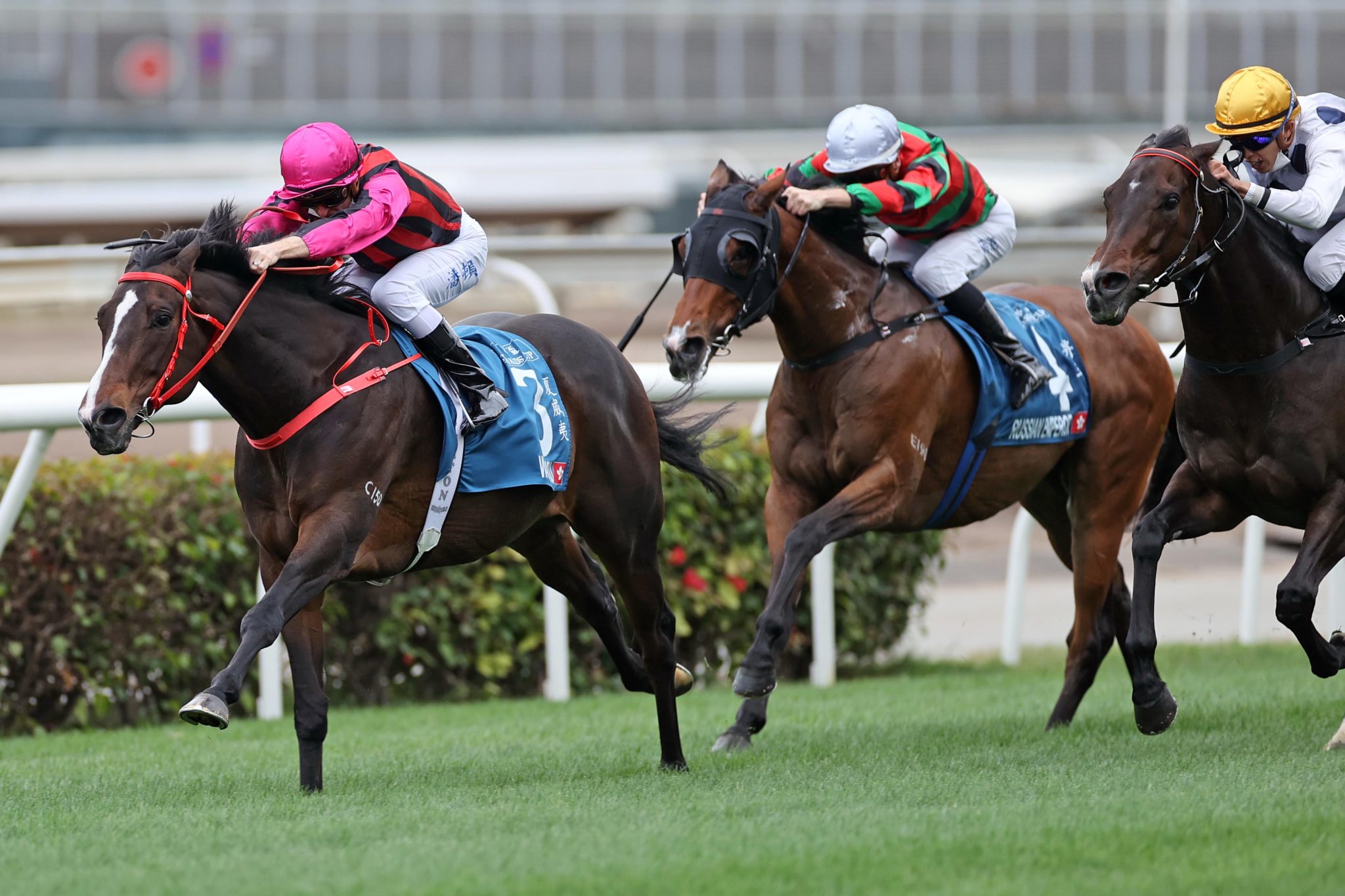 John Size will chase a pair of remarkable feats with Waikuku when his stable star lines up to contest a fourth HK$12 million Group 1 Stewards' Cup (1600m) at Sha Tin on Sunday afternoon.
No eight-year-old has ever won the Stewards' Cup dating back to the 1980s, while across this period no horse has ever returned three wins in the race – two records Waikuku will be chanced with setting this weekend after his victories in 2020 and 2022.
A three-time Group 1 winner in Hong Kong and famed with halting Golden Sixty's winning streak at 16 in last year's renewal, Waikuku will once again play the role of David in a bid to overthrow Goliath – except this time he faces a trio of colossal figures: Golden Sixty, Romantic Warrior and California Spangle.
"Now we have three world-class horses in the race, excluding Waikuku, so it's an astounding event. It's just amazing that we could get this quality of horses with our (horse) population.
"He has beaten some giants in the past but only one at a time, like Golden Sixty and Beauty Generation, to take on three horses of this quality looks like an ominous task," Size said.
Waikuku finished eighth last start in the 2022 Group 1 Hong Kong Mile (1600m), however, he is no stranger to finding winning form in the Stewards' Cup after prevailing in the 2022 edition off a seventh placing and the 2020 edition after finishing second.
"He seems healthy, he's in good shape, he's sound and he looks good – he'll be happy to be there but the competition might be a bit beyond him at this point.
"He's been remarkable, he's picked his day and he's picked his race and he's got it right on those three occasions and when he's won those races, he's had something up his sleeve and some sort of favour.
"He's not going to get any favours here but we hope that he runs well, obviously he's in the twilight of his career and one day hopefully he enjoys his retirement," Size said.
Size holds the all-time record for wins in the Stewards' Cup with seven overall as a trainer after the victories of Electronic Unicorn (2002 & 2003), Super Kid (2004), Armada (2007), Glorious Days (2013) and Waikuku (2020 & 2022).
The 68-year-old will be two-pronged later on the card in the HK$12 million Hong Kong Classic Mile (1600m) when Sweet Encounter and Tuchel contest the age-restricted race.
Sweet Encounter will pair with Ryan Moore for the first time and the duo will step away from gate two. Moore will also ride Waikuku for Size.
"It seems like he's in good form, he's quite consistent and solid. He's been beaten twice in six starts – both times with some excuses, but he's a beautiful animal, he's got a very good temperament, he's well-built and at this point seems to be trouble free," Size said.
Sweet Encounter is a four-time winner from six starts, tasting defeat only twice – including at his most recent outing after winning over 1800m two starts ago.
"His trial the other morning showed he had a bit of a spring in his step and that he was quite happy to be there. He had a month between runs last time and that might have been telling in the finish, the winner carried 25 pounds less than him, so I thought his run was sound coming back 200 metres (from 1800m to 1600m).
"He (Ryan Moore) was pencilled in for this horse, he saw him win on International Day over 1800 metres and I think he was a bit taken by that with regards to the future that he could run 2000 metres," Size said.
Tuchel has gone from strength-to-strength for Size, nailing his fourth win at his eighth start just two weeks ago in Class 2. That outing was his first run since the end of September.
"It was very pleasing, you could see in the Parade Ring, it was quite obvious that he wanted to be there and he was going to run well, he was just bounding with good health and enthusiasm. He travelled three-wide facing the breeze but he got comfortable and in that class he was comfortable with it," Size said.
Luke Currie will ride the 83-rater this weekend, breaking from gate six for the first leg of the three-race Four-Year-Old Classic Series.
"It was probably an expectable performance from him, he was well found in the market and he did the job. Two weeks after that is a little soon to come back and have an outstanding run and to back him up after 14 days but the options for him going forward weren't particularly attractive, so I thought he might as well run against horses his same age and hope that his quality will help him run well," Size said.