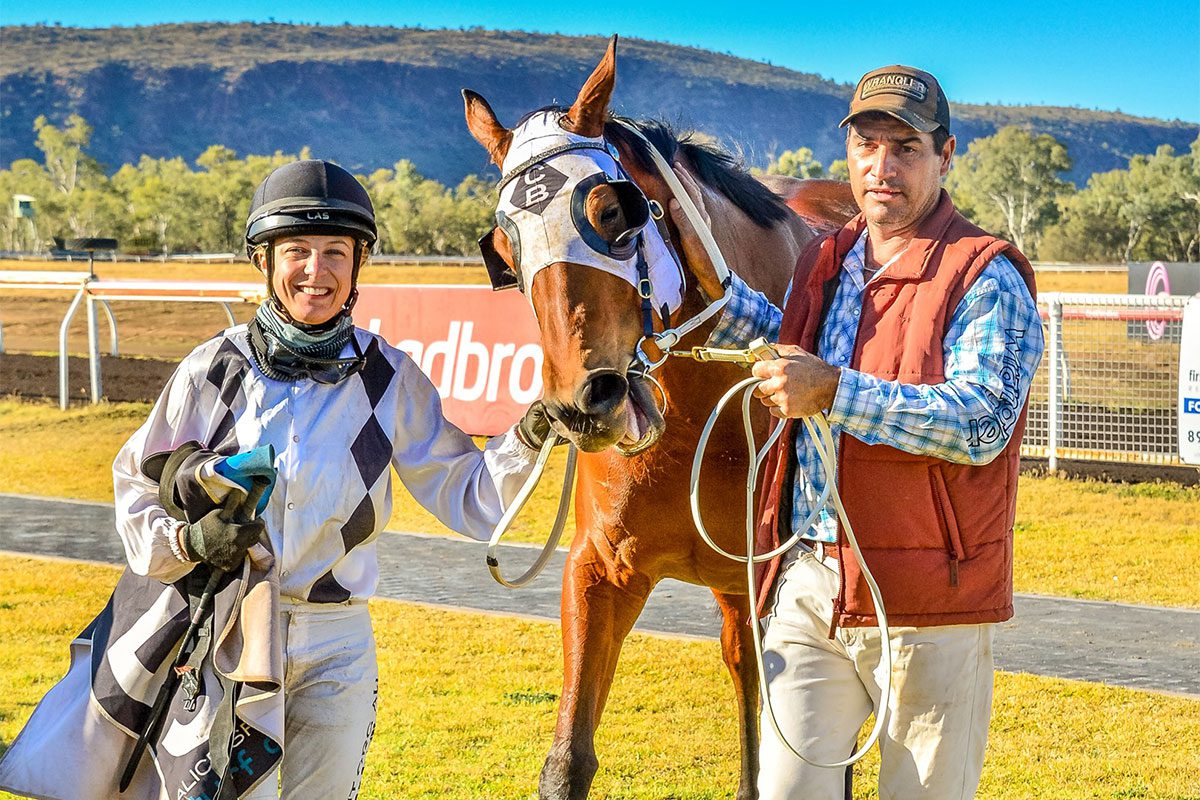 Alice Springs trainer Barry Cooke had every right to be confident when he took Valenciano to Tennant Creek for Saturday's meeting.
The six-year-old mare duly delivered with victory in the AU$20,000 Denis Staunton Memorial Cup (1200m) for the 0-70 class on Tennant Creek Racing Club's annual Cup Day.
Valenciano was outstanding finishing third in the $30,000 Queen Of The Desert 0-76 Handicap (1200m) – the feature fillies and mares race during the Alice Springs Cup Carnival – at Pioneer Park on April 29.
Returning from an eight-week spell, Valenciano stormed home from the back of the field to finish only half a length behind impressive pair Addictions from the Trevor Montgomerie stable and Mini Boom from the Phil Cole yard.
With a history of suffering injury, Cooke was disappointed that Valenciano didn't have a run to prepare for the Queen Of The Desert.
"Every now and again she hurts herself – she's one of those accident prone horses," Cooke said.
"Going into the Carnival – that Queen Of The Desert race I would have liked to have had a run under my belt fitness wise before it.
"It didn't happen because she got hurt.
"She was working the house down.
"Addictions and Mini Boom are good horses, but a couple of more strides she would have got them."
Cooke admitted that heading 500km up the Stuart Highway to Tennant Creek wasn't initially on the radar for Valenciano.
It was due to the fact that there won't be another race meeting in Alice Springs until May 29.
"I sort of had to go to Tennant Creek," he said.
"She had that one run – I basically took her up there to give her another run."
Cooke is now eyeing the Rose Bowl (1200m) – the feature race for fillies and mares during the Darwin Cup Carnival at Fannie Bay on July 13.
"I'll just get her right, give her a bit of a freshen up, see how she pulls up and hopefully we'll get her up there for that," he said.
Recommended!
In regards to the race on Saturday, Valenciano (Paul Denton) snuck home by the skin of her teeth.
Greg Connor's Me Cabo (Jessie Philpot) and Kym Healy's Shift The Risk (Wayne Davis) led approaching the 600m before Valenciano made her move.
Kerry Petrick's favourite New Roman (Casey Hunter) then posed a threat turning for home before Valenciano and Me Cabo kicked away to battle it out with Cooke's mare prevailing by a nose.
"You're never home until you're home, but I was pretty confident going up there," Cooke said after arriving back home on Sunday.
"Lot of horses do get a bit stirry up there.
"Valenciano is normally a quiet horse, but she got a bit hot under the collar up there.
"It didn't affect her in anyway, really."
After eight starts for Phillip Stokes in Victoria, which included one win and two seconds, Valenciano ended up in the Red Centre in March 2020.
In 22 starts at Pioneer Park, she had tasted victory on four occasions before saluting at Tennant Creek.
"She's been up and down for me," Cooke said.
"She'll get hurt or she'll get an abscess – or something all the time.
"All her races are staggered because of the injuries in between.
"She's a hard mare to train, but to be fair she's got a big heart.
"She likes a bit more ground too, 1400m plus – she doesn't mind getting over that sort of ground."
In other races on the program, Garry Lefoe's Blue Jean Baby (Casey Hunter) travelled down from Darwin and proved far too good for her rivals in the AJ Couriers & Haulage Class 2 Handicap (1200m).
Blue Jean Baby hit the front approaching the home straight and went on to win comfortably from Carrol Hunter's Marsalis (Paul Denton) and Jess Gleeson's Distant Lover (Sairyn Fawke).
Jess Gleeson's Dataset (Jessie Philpot) hasn't been in the best of form, but returned the winner's circle for the first time since August last year with success in the Ronin Security Technologies 0-64 Handicap (1450m).
Dataset hit the front when they jumped and was never headed before downing Phil Cole's in-form Sedona (Wayne Davis) by two lengths with Kym Healy's Bolt I Am (Sairyn Fawke) a distant third.
He hasn't been far away since arriving in the NT from NSW with a few near misses in Alice Springs, but Will Savage's Saiken (Paul Denton) finally got that win at the 10th attempt in the T&J Contractors Maiden Plate (1000m).
Saiken, who never left the fence, and stablemate Redonzo Lad (Casey Hunter) dominated the race with Savage's hope getting home by the barest of margins followed by Cooke's runner Shortball (Wayne Davis) – who gave the leaders plenty of cheek.