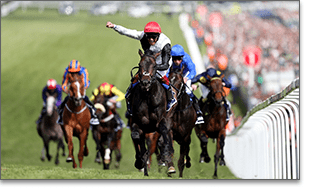 Estimated Reading Time: <1 minutes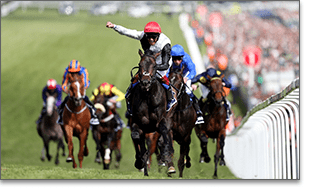 GOLDEN Horn is a good thing to win the 2015 King George VI & Queen Elizabeth Stakes at Ascot this Saturday, according to former champion jockey Joe Mercer.
Mercer rode in the King George 40 years ago, dubbed the 'race of the century' and he believes Golden Horn can remain unbeaten.
The John Gosden-trained runner is a short priced favourite with bookmakers ($1.41 at WilliamHill.com.au) and Mercer thinks it won't be beaten.
"I can't see Golden Horn being beaten," Mercer said.
"The other runners may still be with him at the furlong marker, but not after that. He has a real kick. He showed that in the Eclipse when he took off.
"I have been very impressed with him. I love his character – he has a lovely disposition and he has a great frame – I would love to sit on him."
Mercer won the 1972 King George aboard the legendary Brigadier Gerard and he sees a lot of similarities with Golden Horn.
"He has all the attributes to be a good horse. I can see a bit of the Brigadier in him – his style and build.
"He is very powerful. I don't think much bothers him."
Owner of Golden Horn, Anthony Oppenheimer, almost sold the colt as a yearling, but is very happy he decided to hold onto the son of Cape Cross.
"The jockey [Frankie Detorri] says we haven't got to the bottom of him yet, but if he wins or is second or third it's not actually going to make much difference to his value," said Oppenheimer regarding Golden Horn's potential stud value.
"Not that that's what we're after though – I'd just like him to have a really nice look of mares when he goes to stud."
Being a European three-year-old, the stud value holds more weight than a successful career later in life, but breeding is where the money is at the moment.
"I am talking to John Gosden about it this week, but the only decision so far is that he will stand in Newmarket," Oppenheimer added.
Being the only three-year-old in the field, Golden Horn gets in well on the weights and the bookmakers are unlikely to shift it higher than its current price.
2015 King George VI & Queen Elizabeth Stakes odds
Punters have two markets to bet into at WilliamHill.com.au. One is the market including the hot favourite Golden Horn and the other is betting with Golden Horn in the race.
This provides punters with a better betting experience if backing short favourites isn't their thing. 'Without Golden Horn' odds are in brackets*.
Golden Horn – $1.44
Snow Sky – $7 ($4)
Eagle Top – $8 ($4.33)
Flintshire – $11 ($6 at WilliamHill.com.au)
Postponed – $13 ($6.50)
Telescope – $15 ($7)
The Corsican – $21 ($10)
Dylan Mouth – $26 ($13)
Madame Chiang – $34 ($15)
Clever Cookie – $41 ($21)
Romsdal – $41 ($21)