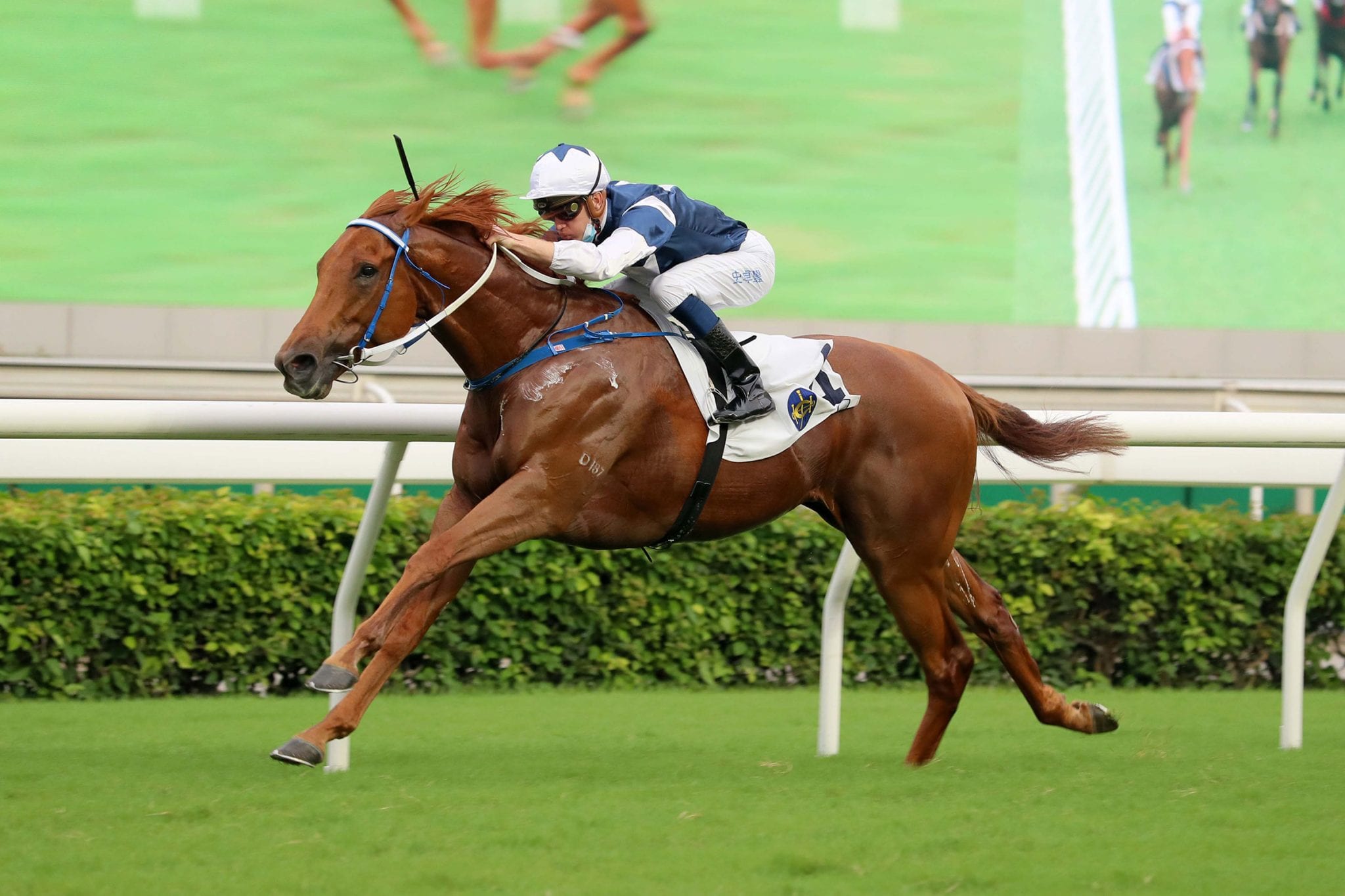 Estimated Reading Time: <1 minutes
After starring with five wins from 12 runners and a clean sweep of both Group 3s on Sunday afternoon (20 June) at Sha Tin, Caspar Fownes is looking to land another blow in the Hong Kong trainers championship tussle as he readies a team of nine for Happy Valley's midweek fixture on Wednesday night (23 June).
Six wins clear of the previous best personal he saddled through the 2008/09 season when crowned champion trainer, Fownes leads this year's title race by seven wins over 11-time champion John Size with just seven race meetings left to go; the score stands at 74-67.
Included in Fownes' heavy arsenal of declarations is Green Luck (128lb) and The Rock (130lb), who both line up in the feature race, the HK$2.2 million Class 2 Bowen Handicap (1650m).
Setting off from gate three, The Rock is aiming to follow up his impressive all-the-way success with another after he boldly overcame gate 14 to score by a comfortable two lengths earlier this month at Sha Tin under jockey Chad Schofield.
"There didn't look to be a lot of speed on paper and with a long run to the first turn we thought we could overcome the draw by gradually coming across.
"We were left alone in front and I was able to dictate nicely and to the horse's credit he showed a good burst of speed when I did press the button – it was a strong win," Schofield said.
A three-time winner from 13 starts in Hong Kong, the Dutch Art gelding made a successful first-up appearance this term in Class 3, before adding two more wins to lift his rating to an imposing mark of 97, firmly entrenched in Class 2.
"He's a big free-rolling horse and you don't want to go too slow on him, he has a lovely big action and he likes to use that, so you don't want to restrain him too much.
"He was very comfortable in front, he was travelling beautifully and when I let him go he found a good bit of acceleration," Schofield said.
The chestnut galloper stretched his legs on the dirt track yesterday (Monday, 21 June) over 1200m at Sha Tin, clocking 1m 26.7s (29.9, 29.9, 26.9) for the gallop.
"I think so (to it being a matter of time before he wins at Happy Valley), he's racing in career-best form, he's had a terrific season, he's coming off the back of a win, his confidence is high, he has a lovely draw and he should run well," Schofield said.
Also included in tomorrow night's feature race are Glorious Artist (133lb), California Rad (127lb), Savaquin (126lb), Solar Wai Wai (126lb), Highland Fortune (116lb), Holy Heart (116lb) and Magnificent (116lb), who is expected to instead shoulder 117lb – 1lb overweight.
"We'll see how he jumps, we have good early speed but obviously Magnificent is a high rolling horse himself, we have the inside draw so we'll just assess the situation when the gates open, but The Rock has shown he's versatile enough to take a sit," the 27-year-old Schofield said.
On the card, Fownes will also saddle Jazz Steed, Wonder Brahma, Whiskey Neat, Fast Pace, Green Aeon, Sky Show and Amazing News.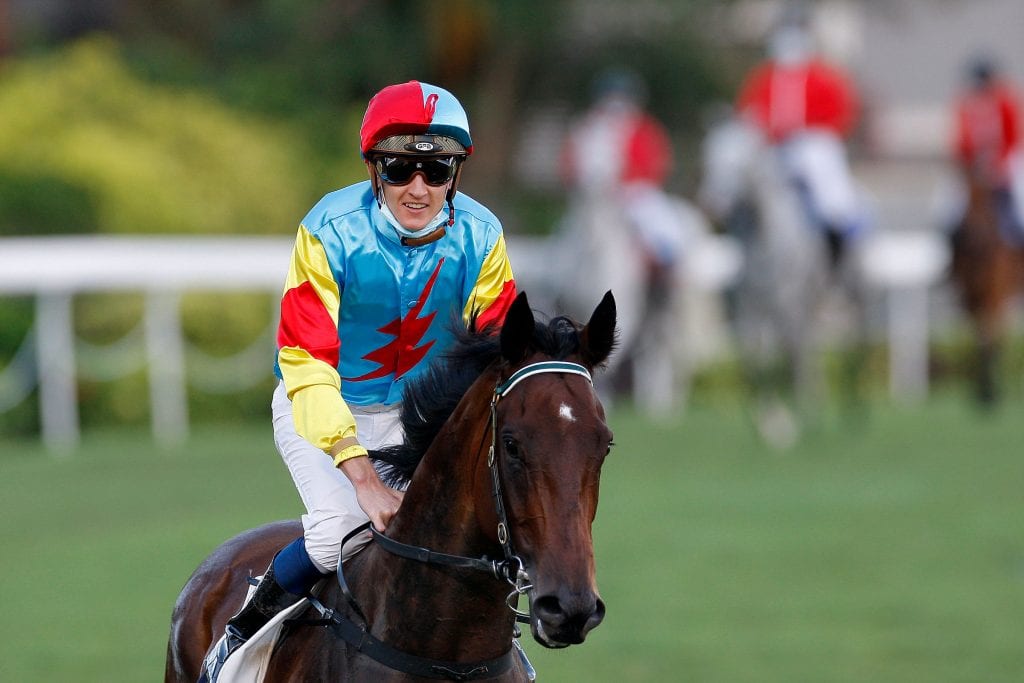 Although he's recently edged past 200 career Hong Kong wins and struck up an envied partnership with the talented Fantastic Treasure this term, Schofield is already looking towards next season as he prepares for his seventh campaign in Hong Kong.
"I am pleased with another season, it's been a disappointing season for me this one, though, hopefully I can bounce back next season and get some more support and more winners," Schofield said.
Schofield earned another full-season licence on Monday (7 June) and is eager to better his personal best 43 wins which he rode last term.
"You always want to be improving on the one before, this one has been below par compared to my previous five seasons in Hong Kong, so hopefully we can raise that bar back up to where it needs to be.
"Injuries haven't helped but I think it comes down to a lack of support, I've got some really nice young horses coming through, like Fantastic Treasure, who I hope can win some nice races next season," Schofield said.
Fantastic Treasure is unbeaten in five runs in Hong Kong, each time with Schofield in the plate having won in Class 4, Class 3 and Class 2, enhancing his claims strongly as one of next season's major players for the Four-Year-Old Classic Series.
"Hopefully we can finish strong and get some more momentum into next season but there's plenty to look forward to," Schofield said.
Schofield's 203 wins in Hong Kong includes a Hong Kong Classic Cup (1800m) success aboard Singapore Sling in 2018, a 2019 Group 2 Sprint Cup (1200m) triumph aboard Rattan and last season's Group 3 Lion Rock Trophy Handicap (1600m) atop Ka Ying Star.