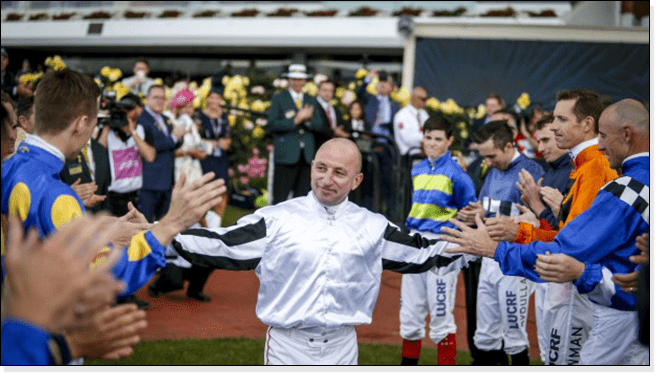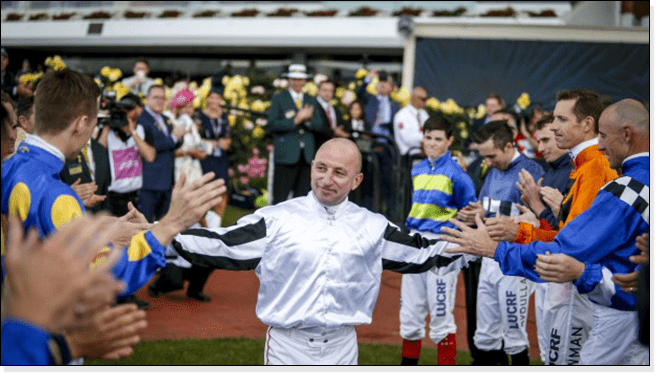 JIMMY Cassidy rode his last ever race at Flemington on Thursday after a career that spanned 36 years and an incredible 104 Group 1 wins.
The New Zealand jockey's last ride came aboard the Lee and Anthony Freedman-trained Distant Rock which aided the eventual winner Zebrinz to victory in the Crown Resorts Plate.
Cassidy gave James McDonald – who was riding Zebrinz – a great cart into the race after heading towards the outside rail at the top of the straight. McDonald was able to pull off Cassidy's heels and produce a strong run to score a narrow win in the last race of the day.
"I had an influence on the result," Cassidy said.
"Funnily enough I was talking to Macca [James McDonald] before the last and I said to him you've got to be prepared to back your own ability and your own judgement."
Cassidy walked out of the jockeys' room for the last time and he described the moment as "overwhelming".
"It's a sad day. I've got a tear in my eye," Cassidy said.
"It will be a little hard for the next week or two not walking in here [jockeys' room] and seeing all the boys.
"It's been a wonderful journey and I can't stress how good it's been.
"I've had a great time. If all the jockeys could experience, probably not all that I've been through, but half of it, they'd have a hell of a life."
Cassidy is one of a few riders who have won the Melbourne Cup, Caulfield Cup, Cox Plate and Golden Slipper – known as the Australian racing grand slam – and he won the Melbourne Cup twice aboard Kiwi (1983) and Might And Power (1997).
"I've had a great ride. I've ridden for all the great trainers. I've ridden for the new up and coming stars," Cassidy said.
"It's over, it's finished.
"I feel good about my decision. I'm happy and I've finished in one piece.
"I've stood the test of time, I've hung in there and I've finished on a good note."
The day wasn't all good news for Cassidy, who lost his ride in the Group 1 Crown Oaks after Dawnie Perfect was scratched that morning, but it was a bittersweet feeling for Cassidy.
"It would have been nice to get another one, my last one, for Singo [John Singleton] and Clarry [Conners] but that's racing. It wasn't meant to be," he said.
"My last Melbourne winner was aboard the filly for the boys so that's a memory I'll never lose."
Cassidy was pleased to see fellow rider Michelle Payne win the Melbourne Cup on Tuesday, something he had hoped to see during his lengthy riding career.
"I came here in 1983 for the first time and won the Melbourne Cup on Kiwi and on Tuesday I had my last ride in a Melbourne Cup. It is a great race and has become the race that stops the world," he said.
"I saw one of the greatest things happen in my career on Tuesday, seeing Michelle Payne win the Cup.
"I was lucky enough to be just outside her for three quarters of the race and when I got past the post, to see Michelle had won it, it was probably one of the most touching moments in my life to see a lady rider come out and win one of our greatest races in the world.
"To all my fellow riders I'd like to thank you all throughout Australia and the ones that are here at Flemington today for the competition, the challenges and the main thing that we all come back in one piece after every race and go home to our families at night.
"To the racing public that have supported me throughout my career in Australia and in New Zealand, I wish to thank you all very much.
"I wish everybody well. Keep safe, God bless and thank you very much for having me."
Sign-up with Sportsbet and claim up to $501 in free bet bonuses.