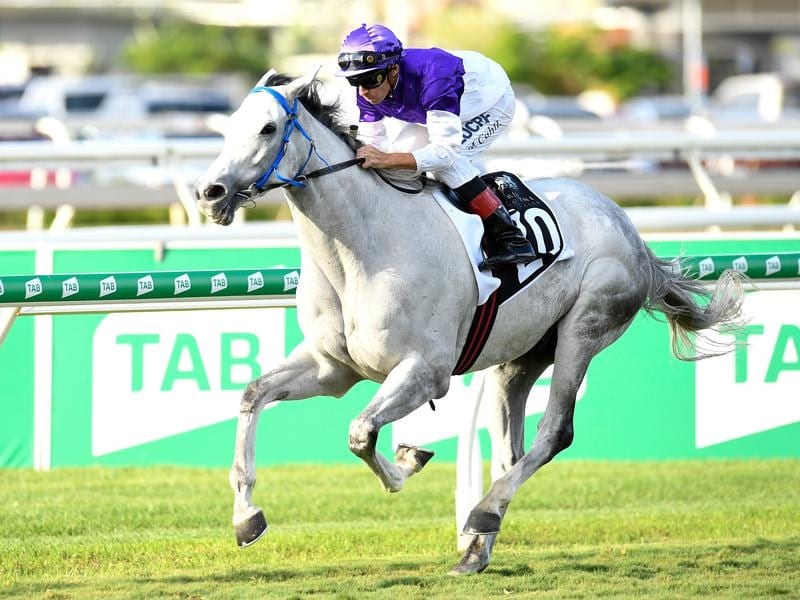 A lack of suitable races in Queensland has resulted in trainer Barry Baldwin sending The Candy Man to Victoria ahead of the Winter Carnival.
The Candy Man has his first start racing left-handed in the Listed Golden Mile (1600m) at Bendigo on Saturday.
Baldwin remains trainer of The Candy Man for Saturday's outing, but Peter Moody takes over for the remainder of the gelding's stay in Victoria.
The Candy Man will be in Melbourne for around five weeks ahead of his first Winter Carnival assignment, the Group 2 Hollindale Stakes (1800m) at the Gold Coast on May 8.
Baldwin said it was easier to transfer The Candy Man to another trainer than send staff, a similar tactic he employed when the gelding raced for Peter and Paul Snowden during a stint in Sydney last spring.
After an unsuccessful Sydney campaign, The Candy Man resumed at the Gold Coast on March 13, finishing fourth in the Listed ATC Trophy Quality (1400m).
"After his first-up run at the Gold Coast, which was a $100,000 race, there was no other race for him for five weeks," Baldwin told RSN.
"We all surmised he would handle the Melbourne way of going. He had two trips to Sydney where he did a bit of work the Melbourne way, so we decided to send him down."
The Candy Man arrived at Moody's Pakenham stable last week and Baldwin was on hand to watch the gelding gallop on Monday morning.
"He galloped very well on the course proper at Pakenham," Baldwin said.
"He was out in the centre, on his own, and went straight. That was his first serious gallop the reverse way."
Baldwin is not shying away from the task confronting The Candy Man on Saturday.
"It looks a pretty tough field," he said.