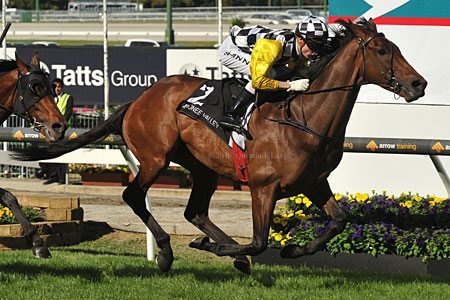 Punters who backed the Bart and James Cummings trained Precedence to win the 2013 Melbourne Cup with Sportingbet will have their win bets refunded after the eight-year-old failed to make the final field for what would have been his fourth consecutive start in Australia's great race.
Precedence ended up 25th in the order of entry after Mr Moet, Silent Achiever, Kellini, My Quest For Peace and Moriarty to did pay up for final acceptances.
The stunning win by Ruscello in today's Lexus Stakes forced him in to the 2013 Melbourne Cup field of the others with the race exempt from ballot.
Sportingbet Australia CEO Michael Sullivan said the horse was the sentimental favourite with punters.
"We were writing more bets for Precedence than any other horse due to the Bart factor and there's no doubt he would have been the crowd favourite on Tuesday," Sullivan said.
"Hopefully by refunding bets on Precedence it will help our punters get over the disappointment of not being able to cheer on the master trainer in the race he is synonymous with," Sullivan said.
Sportingbet had started a campaign on twitter, using the hashtag #BartsCup2013, to rally support for Precedence to make the final field.
The latest Sportingbet Melbourne Cup Odds prior to the barrier draw is:
Melbourne Cup Final field, pre-barrier draw
1. DUNADEN $41
2. GREEN MOON $41
3. RED CADEAUX $51
4. SEA MOON $16
5. BROWN PANTHER $23
6. FIORENTE $8
7. FORETELLER $26
8. DANDINO $12
9. ETHIOPIA $61
10. FAWKNER $28
11. MOURAYAN $81
12. SEVILLE $19
13. SUPER COOL $41
14. MASKED MARVEL $31
15. MOUNT ATHOS $7.50
16. ROYAL EMPIRE $31
17. VOLEUSE DE COEURS $13
18. HAWKSPUR $15
19. SIMENON $26
20. IBICENCO $71
21. VEREMA $13
22. DEAR DEMI $15 (was $26 before Mackinnon)
23. TRES BLUE $19
24. RUSCELLO $20 (was $401 before Lexus)