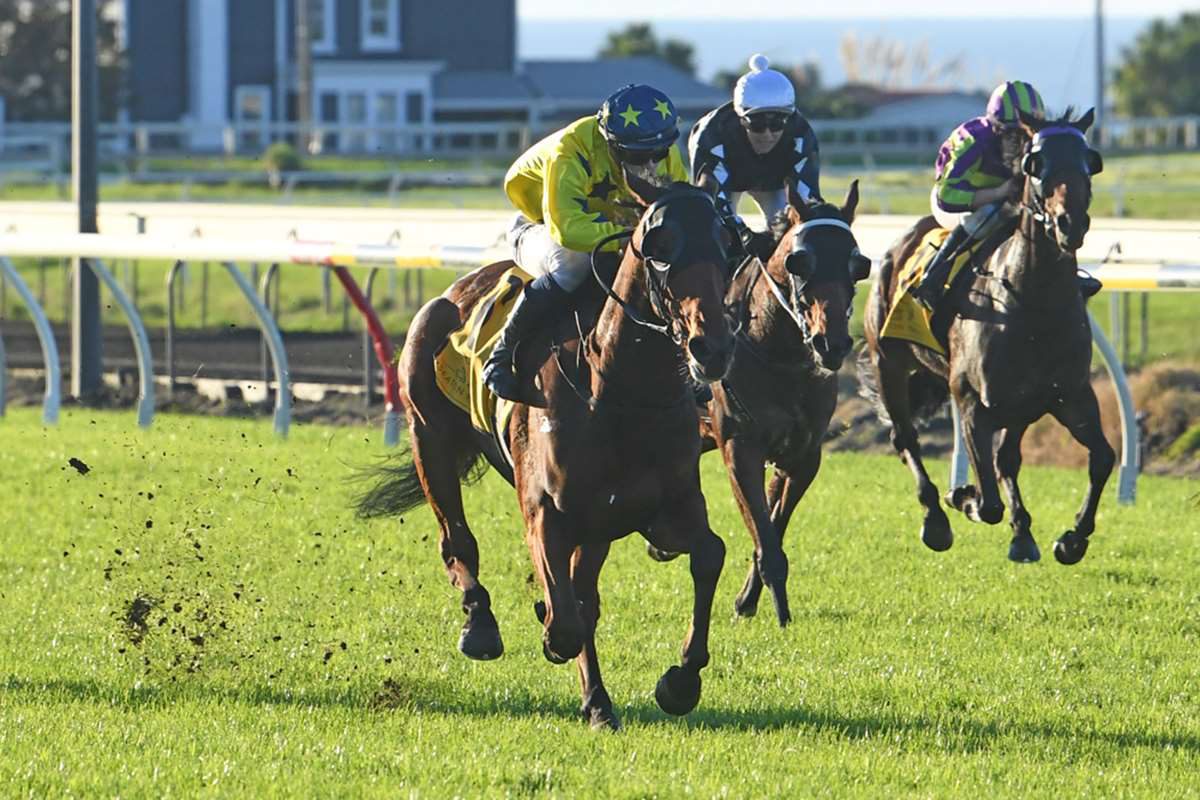 Progressive three-year-old Urenui is proving a marquee player for New Plymouth trainer Debbie Harris.
The son of Derryn has fashioned the tidy record of three wins from his seven appearances with his most recent success a dominant performance to score over 1600m on his home track on Saturday.
Harris branched out on her own three years ago after a decade with a fellow Taranaki trainer.
"I worked for Rob Patterson for 10 years and I sit at about six to 10 horses now and do a few pre-trainers for other people," she said.
"I've been quite lucky to have had some nice horses, but a few of them were sold to Australia and you have to sell at the moment."
Current headline act Urenui is raced by breeders Chris and Lencie Thompson with friend John Crawley, who hail from the coastal Taranaki settlement the gelding takes his name from.
"Chris and Lencie have got the mare and been breeding for quite a few years and they have been really good owners and very loyal," Harris said.
"They all live in Urenui and this horse has quite a following, there's quite a few from the pub and the golf club that all back him."
Urenui is out of Genuine Offer, a daughter of outstanding Derby winner Generous. The progressive gelding is from the family of former champion Hong Kong performer and multiple Group One winner Vengeance Of Rain.
The mare also has a yearling filly by Derryn and foaled a Time Test filly last season before visiting Staphanos.
Urenui has come through his latest success in fine order and will be back in action early next month.
"He's pulled up super and I couldn't be happier with him. There's a three-year-old mile race at Wanganui on June 3 that we will look at running him in," Harris said.
"It will be quite beneficial to go back to his age group again, he's been racing against the older horses.
"There were seven and eight-year-olds in that race on Saturday and he is still only a baby. They are a lot bigger and stronger so he's doing pretty well to be beating them."
Harris formed a good opinion of Urenui early on and hasn't been surprised by his progress through the grades.
"He's a really nice type and he's been very straight forward and I've always liked him," she said.
"Right from day one, he has been pretty positive and he has got a good brain.
"He did have a race as a two-year-old, but he's quite a tall boy and he needed a little bit of time.
"He's strengthened up, although he's still got some strengthening to do and I think he's going to be a better horse in the future."
Another major plus is Urenui's ability to handle all types of footing, having delivered his maiden victory on a Good 4 surface at New Plymouth last spring.
"He doesn't mind the firmer tracks and he gets through the wetter tracks really well, he's a pretty versatile horse," Harris said.