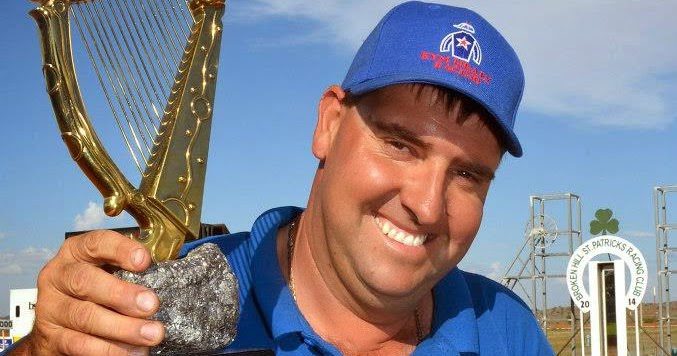 Yet another South Australian trainer has decided to head to Alice Springs in search of a firm track.
Strathalbyn-based trainer Kym Healy, winner of the 2014 and 2017 Alice Springs Cup with wonder mare Pretty Blonde, has taken four horses to the Red Centre for Sunday's meeting at Pioneer Park.
Healy, who has tasted endless success in the NT having supported the Alice Springs and Darwin Cup Carnivals for many years, arrived in town on Friday with experienced trio Magnossiva, Adoradancer and Tony's Reward, as well as the maiden Starlite Zebow.
Fed up with the wet tracks in South Australia, Murray Bridge-based Garret Lynch headed to the NT for the first time with six horses for the Pioneer Park meeting on October 29 and posted a win with six-year-old gelding Archery Butts.
The fact that Healy has returned to Central Australia after taking a team to the Alice Springs (April-May) and Darwin (July-August) Cup Carnivals before heading to Betoota, Birdsville and Bedourie in outback Queensland in late August and early September perhaps indicates that finding a firm surface was a priority.
It's around 1600km from Strathalbyn, located 55km south-east of Adelaide, to Alice Springs, but for Healy the dry dirt surface at Pioneer Park will be nothing short of pure relief.
After the six-event meeting on Sunday, Healy heads home on Monday morning.
"We've had a bad run of wet tracks down home and a few of these horses I ran them a couple of weeks ago in Adelaide and they just didn't handle the wet track at all," Healy said on Friday.
"So yeah, I just thought I'd try and come and do a hit and run up here with four of them.
"A few of these horses have been quite competitive on the dirt before – they have reasonable dirt form.
"I've got a little maiden horse (Starlite Zebow) that's coming off a long spell, but the other three have all raced at Darwin before and they all went out to Queensland."
Those other horses are Tony's Reward, Adoradancer and Magnossiva, and all four from the Healy yard will be making their first appearance in the Red Centre.
Tony's Reward (Race 1), an eight-year-old gelding, takes on 0-58 opposition over 1200m, Starlite Zebow (Race 3), a four-year-old mare, appears in an 1100m maiden, Adoradancer (Race 4), an eight-year-old mare, confronts 0-64 starters over 1100m, and Magnossiva (Race 5), a seven-year-old gelding, takes on rivals at a Benchmark 54 level over 1400m.
Darwin-based jockey Wayne Davis, who returns from injury and will ride at Fannie Bay on Saturday, will fly to Alice Springs to ride the Healy stablemates on Sunday.
Classy duo Adoradancer and Magnossiva are more than decent hopes and Tony's Reward should prove competitive, while Starlite Zebow, who trialled over 1000m at Strathalbyn on Monday, will be making just her third career start after spending the past 12 months in the paddock.
"Adoradancer, I actually bought her last year from Queensland," Healy said.
"She goes well fresh and seemed to like the dirt in Darwin.
"She went quite well in Darwin this year, then I took her out to Birdsville and Bedourie and she ran a couple of seconds.
"Magnossiva, I only just bought before I went to Darwin and he went really good up there, and then ran second in the Birdsville Cup and the Bedourie Cup to Phil Cole's horse Saccharo.
"I nominated him for a couple of races on Sunday.
"I just thought the Benchmark 76 was a really strong race – that horse of Paul Gardner's, Roughly, is absolutely flying right now.
"I know his got 62kg, which is a big ask, but it's a fair drop in class – one was a Benchmark 76 and the other is a Benchmark 54, so I'm just hoping that his class can prevail.
"Tony's Reward, he ran a couple of nice races in Darwin and then won well at Betoota a few weeks later."
It was only after racing Magnossiva (10th) over 1550m and Adoradancer (11th) over 1000m at Morphettville Parks on November 19 that Healy decided it was time to find a dry track.
"Magnossiva was travelling good and jockey Justin Potter said he hit a wet spot and put the white flag up," he said.
"The horse said no, I don't want to be a part of it.
"I won't tell you what Justin said after the race."
After years heading up and down the Stuart Highway, Healy doesn't necessarily need much of an excuse to make the trip to Alice Springs.
"No, I had the horses there," he said.
"I've got 15 in work and I've got another four to come back in as soon as I get home.
"I just said to my wife, I think I might do a quick run to Alice and have a crack with a few of these.
"I left yesterday morning and drove to Coober Pedy, and got here at lunchtime today."
More Australian horse racing news