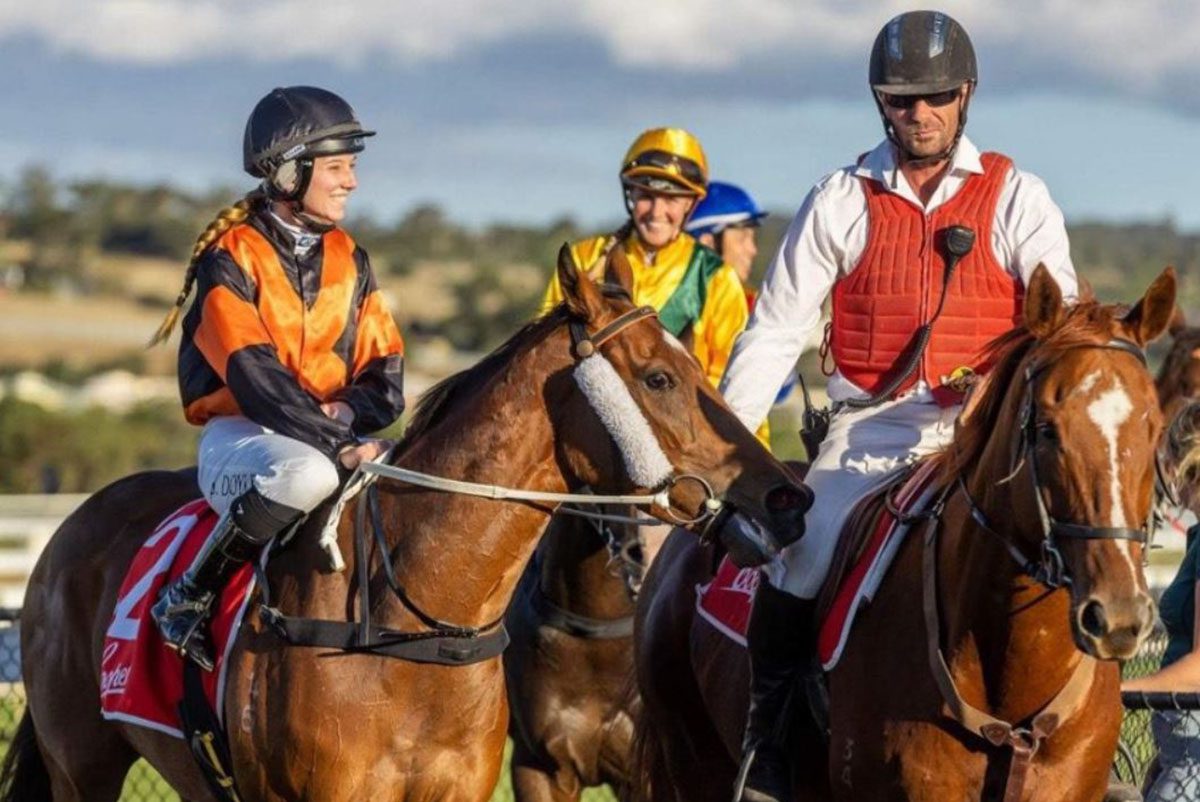 Estimated Reading Time: 3 minutes
She has only ridden at two race meetings at Alice Springs since becoming an apprentice jockey, but for Jade Doyle she always looks forward to returning to the Northern Territory.
The 24 year-old was born and raised in the Red Centre, so there is never an excuse to catch up with family and friends on the occasions she arrives in town on either a personal or professional basis.
Based in Adelaide where she is indentured to the Gordon Richards and Damien Moyle stable at Morphettville, Doyle started her four year apprenticeship late last year and had her first ride at Ceduna on the west coast of the Eyre Peninsula in South Australia on December 4.
Partnering Gottabiton in a Benchmark 58 Handicap over 1300m for Port Lincoln trainer Simon Drewitt, Doyle didn't exactly have the most auspicious start to her riding career after finishing at the tail of the field in ninth place.
Since then Doyle has had a further 166 rides throughout South Australia for six wins, 12 seconds and 16 thirds, and apart from a further five rides Pioneer Park in Alice Springs she also had three rides at Mildura in Victoria in May.
Making her riding debut in the Red Centre on March 5, Doyle finished fifth on Carrol Hunter's Exonerate in the opening event on the program before taking out the next race on Defactor for trainer Jess Gleeson.
Doyle, who was able to claim 4kg at the time, ended a memorable day with another fifth after partnering Halogem for the Gleeson stable.
By the time Doyle returned to Pioneer Park on June 19 her claim had dropped from 4kg to 3kg and in two rides for Gleeson the end result was a third on Dataset and a fifth on Glock – two horses that would go on and make a huge impression during the 2022 Darwin Cup Carnival.
The Alice Springs Turf Club will stage its fifth meeting of the 2022/23 season on Sunday with Doyle making to the trip to fulfil four riding engagements on the six-event card.
Doyle's bookings include Kenneth for Ursula Dobbe (Race 1), Truckload Of Hoffa for Dobbe (Race 3), Rockford Files for George Cooke (Race 4) and Hard Work Rewards for Leah Walling-Denton (Race 6).
Adelaide is definitely home these days, but getting back to Alice Springs is always met with excitement and anticipation as far as Doyle is concerned.
"I was obviously born there and grew up there, so I try and get back there and ride whenever I'm not riding on the weekend here," she said.
"It gives me a good excuse to get home, and see friends and family as well.
"It's always a good opportunity to get a few good rides – I do really enjoy going up there to ride.
"They're always looking for claimers up there – obviously they don't have a lot of jockeys, especially at this time of year.
"Definitely looking forward to Sunday, I've got four nice rides and I usually get to stay overnight.
"A lot of my friends are still in Alice Springs, it's always good to see them."
It was a big step for Doyle to leave Central Australia and forge a career in the saddle, but it is seemingly paying dividends.
Before heading to South Australia, she did spend time abroad.
"Straight after school I moved overseas to the UK for about a year and a half," she said.
"I was just riding track work over there.
"I started my apprenticeship here in Adelaide with Gordon Richards and Damien Moyle.
"I was always riding horses when I was growing up.
"Just sort of left school and had an interest in racing.
"I was small enough to be a jockey, so it just seemed the obvious way to go.
"I was riding track work down here, but I wasn't really ready to start an apprenticeship.
"I then moved over to Melbourne for a year.
"I knew that I still had a lot to learn, so I thought I'd get over there and get a bit more experience before I started my apprenticeship.
"I worked for Rob Hickmott and Matt Laurie when I was over there.
"I then moved back here to start my apprenticeship.
"I also do apprentice school once a week."
More importantly, Doyle is happy in Adelaide as she strives to make a name for herself in the racing industry.
"Yeah, things are going well – obviously it's very competitive here in South Australia," she said.
"I'm just trying to make the most of the opportunities that I'm getting.
"My bosses Gordon and Damien give me as many opportunities as they possibly can, so that's always good.
"Outside racing, I don't have much time to do much else.
"I haven't had any real big wins, but I had a winner on a horse called Tubby Two Tracks at Gawler for Chris Bieg in April and that was probably my biggest win so far."