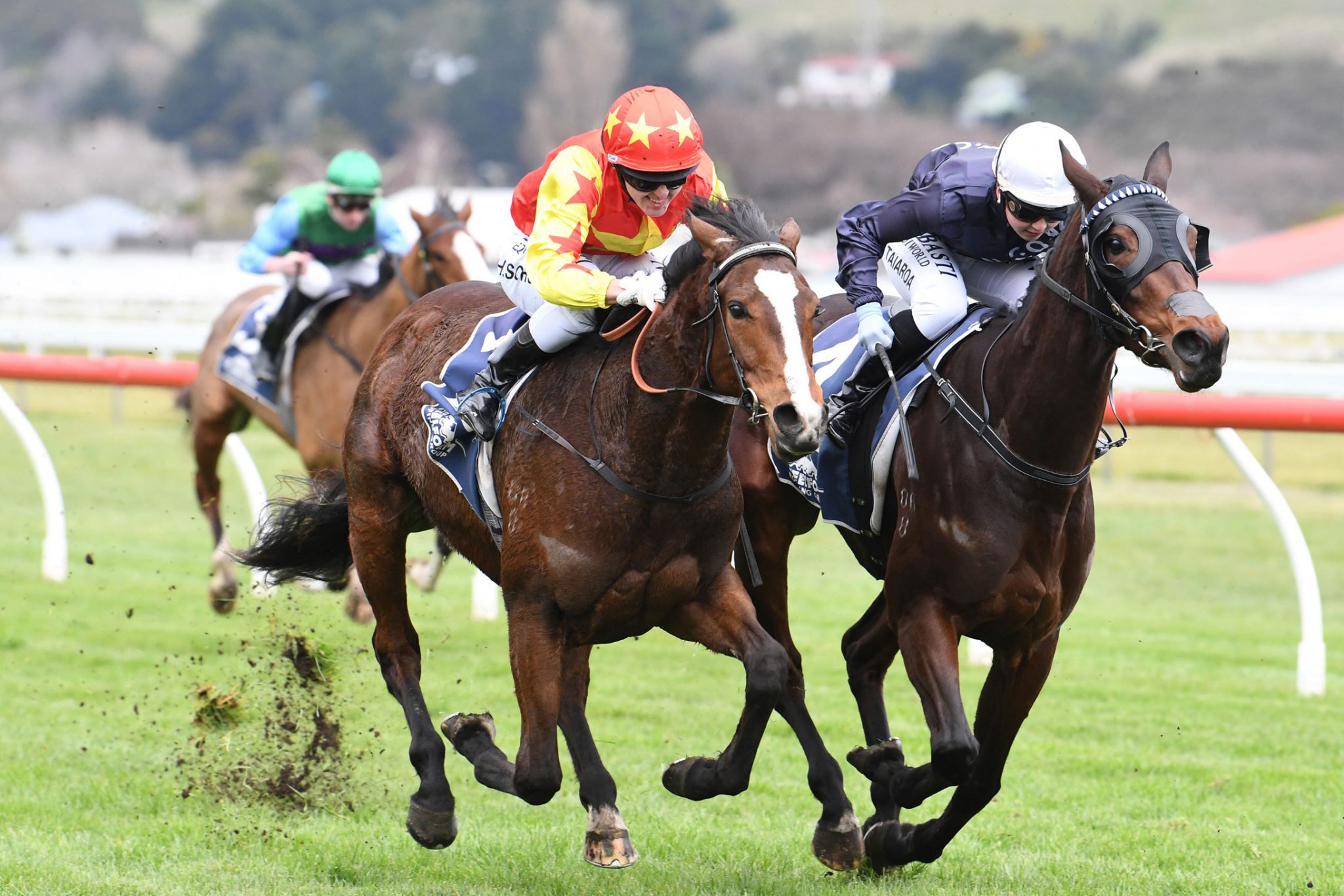 Estimated Reading Time: <1 minutes
It's already been one of Allan Sharrock's most memorable seasons but the New Plymouth trainer is keen to add the icing on the cake at Otaki on Saturday.
Sharrock has already set new personal benchmarks for wins in a season (54) and stakes earnings (NZD$1.11 million) but he heads to Otaki with a formidable team of six, including a pair of two-year-olds who could provide him with an eighth stakes winner of the season, which would also be a new mark.
As well as two-year-olds Yeaboi and Catsacharmer contesting the Listed Courtesy Ford Ryder Stakes (1200m), Sharrock will saddle Group Two winner Tavi Mac and last Saturday's Listed Opunake Cup (1400m) runner-up London Express in the Levin TAB & Sports Bar 1100, Butler in the Racing This Time TV On Facebook (1200m) and Collinstreet in the Courtesy Ford 1600.
"I really can't split my two for the Ryder. They'll both be very hard to beat on their work – and their raceday form too," Sharrock said.
"It's only a moderate field for a Ryder so we think we're going into it with a good chance. Yeaboi is the big improver. It depends on how bad that track is but he has improved and on fitness and bodyweight, we think he's pretty much right up to the mark. He's a robust fella and we think a bit of him.
"But Catsacharmer's win at Te Rapa was pretty special. Young horses don't tend to do that. She was gone with 300m to run but got going again late and came back to win. You don't often see that sort of tenacity from a two-year-old."
Sharrock was looking forward to the return of Tavistock five-year-old Tavi Mac at Otaki.
"He's going to improve with the run. He's a portly little fella but he's forward enough so it won't hurt him," Sharrock said.
"His work on Tuesday was outstanding. He was three seconds quicker than anything else, even on a bog track. We put London Express as a late nomination because the race was in risk of being canned with the small entries.
"She's had two days on the walker, then we gave her some light work this morning and she came off the track like Spring-heeled Jack. But at the weights with Callum (Jones, 3kg-claiming apprentice) on, Frodo (Tavi Mac) has to be right in the fight."
Tavi Mac will head from Saturday's race straight into the Group 2 Valachi Downs Foxbridge Plate (1200m) at Te Rapa on August 28 before tackling the Group 1 Tarzino Trophy (1400m) at Hastings a fortnight later, while London Express will progress to the 1300m open handicap at New Plymouth on August 21.
Sharrock was delighted with Butler, an easy 2.75 length winner at Awapuni earlier this month, his third win from just seven starts.
"He's not the soundest horse in the stable but thankfully he goes well on wet tracks which is conducive to keeping his condition intact and his form says it all. He's a pretty smart customer and I'd expect him to be right in it again this weekend."
The abandonment of the Trentham meeting earlier this month robbed Collinstreet of a chance to win this year's Parliamentary Handicap (2200m) but with a further two weeks between races, Sharrock wasn't worried about the drop back to 1600m on Saturday.
"He did win at 1400m earlier this preparation and he's a good miler but this field is nearly as strong as the Opunake Cup last week. With Dolcetto in there, he's in nicely at the weights and he'll run well, then we can get him back up to 2000m next time."
Sharrock reported his Opunake Cup winner Justaskme had bounced through his win at New Plymouth on Saturday and would progress to the Group 3 Winning Presentations Winter Cup (1600m) at Riccarton with stable apprentice Hazel Schofer replacing winning rider Sam Weatherley.
"He's flown through the weekend. I'm not happy he'll be carrying 60 kilos at Riccarton. He's only had 11 races and while he's won six of them, he's now got to carry topweight in a Group Three race," Sharrock said.
"It's one of my biggest worries with New Zealand racing that it's too hard for that type of horse here. It's no wonder all these horses are heading over to Chris Waller and other Australian trainers."
Sharrock also revealed that connections had shelved Group 1 Melbourne Cup (3200m) aspirations for Group 3 Wellington Cup (3200m) winner Waisake, who has returned to pre-training with Chris Bothwell at Stratford ahead of an upcoming spring campaign.
"The owners want to win the Wellington Cup again so we'll work back from that and then we might have a look at the Sydney Cup in the autumn," Sharrock said.