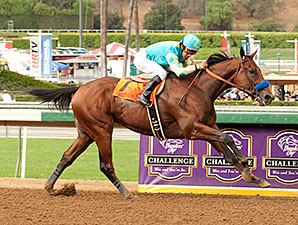 TRIPLE Crown hopeful American Pharoah has stunned rival trainers with impressive work this week.
The Bob Baffert-trained three-year-old was the shining light in its final workout ahead of the 2015 Belmont Stakes this Sunday and its left rival trainers buzzing.
"I've never seen so many trainers up here during the break clocking one horse," said Carol Hoffman, who runs the canteen at the clocker stand.
"It's a once-in-a-lifetime thing. You just never know which horse is going to do it."
American Pharoah is currently $1.80 at Sportsbet.com.au to become the 12th horse in history to win the Triple Crown and the stadium was packed with local trainers just wanting a glimpse of the star.
Churchill Down clocker Neil Howard was on the track and his comments explain the excitement that morning.
"Damn, Jesus, unbelievable, so effortless, he is something else," Howard said.
Bob Baffert said the superstar covered the mile "effortlessly breezing five furlongs" in good a time of 1:00.20 with solid 13 second splits.
"Everything went really well today," Baffert said.
"I was worried about the rain a little bit, but the track was in perfect shape.
"He went around there really nice. It went just as we were hoping it would.
"He just kept on clicking right along, and I was really happy with that.
"So now we'll just play the waiting game."
American Pharoah will likely face only seven rivals for the Belmont Stakes with the acceptances and barrier positions drawn on Thursday.
It is vying to become the first horse to win the Triple Crown since Affirmed in 1978 and Bob Baffert has had his fair share of chances.
Baffert has failed in three previous Triple Crown attempts – Silver Charm (1997), Real Quiet (1998) and War Emblem in 2002.
Expected 2015 Belmont Stakes field:
American Pharoah – $1.80
Materiality – $6
Frosted – $6.50
Mubtaahij – $11
Madefromlucky – $17
Tale Of Verve – $21
Keen Ice – $26
Frammento – $34
American Pharoah arrives in Belmont
Kentucky Derby and Preakness Stakes winner American Pharoah has arrived in Belmont safe and sound.
The Zayat Stables-owned colt arrived on Wednesday at Long Island MacArthur Airport and made its way to Belmont Park later that afternoon.
Trainer Bob Baffert was pleased with how the champion three-year-old travelled.
"The horse shipped really well," Baffert said.
"He handled the flight and the trip.
"He's a pretty cool customer… I'm really happy."
American Pharoah was greeted by a swarm of media, but also some typical New York cold and rainy weather.
Baffert isn't overly concerned about the weather as American Pharoah plugged through the wet conditions to score easily in the 2015 Preakness Stakes.
"This is Pharoah weather," Baffert said.
"He likes wet, but he's shown he can run well on dry. He runs well on everything.
"As long as he shows up and runs his race, that's all you can ask for."
Many Triple Crown hopefuls get found out by the increase in distance, most notably last year's contender California Chrome, which looked just as good as American Pharoah has this year.
Punters have shown mild concern as the market has suggested in the last week. American Pharoah opened as the $2 favourite after winning the Preakness Stakes, but was quickly backed into as low as $1.70.
That price fluctuated back out to $1.90, but is now settling at $1.80 with CrownBet.com.au. If the rain continues to fall, expect the price for the favourite to drop.