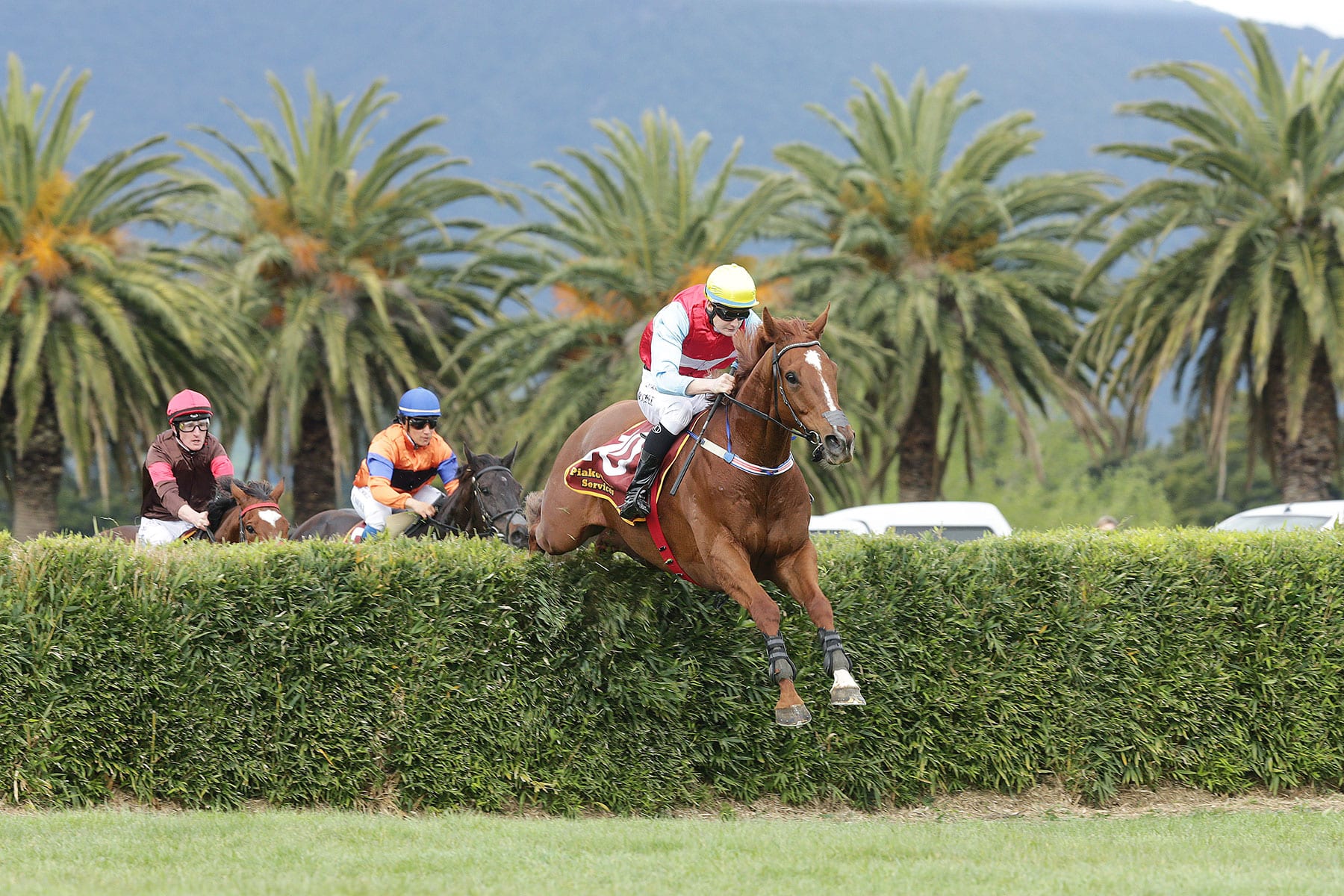 Sunday's National Jumps Day at Te Aroha brought the curtain down on the 2019 New Zealand jumping season, but it also provided an exciting glimpse into the future. The feature race, the Bayleys Waikato Hunt Cup (4200m), was won by Pythagoras, a seven-year-old Pentire gelding who is now unbeaten in two steeplechase appearances.
Ridden by Reece Cole for Matamata trainers and part-owners Peter and Jessica Brosnan, Pythagoras took over at the top of the straight and scored a strong half-length victory over Caballo Noir and Raisafuasho. "It was a great result," Peter Brosnan said. "He's a horse we've always held in pretty high regard as a jumper, so it was really good to see him do that."
After winning three of his 23 starts on the flat, Pythagoras switched to hurdling in June of this year and finished seventh, fifth, fifth and ninth in his four maiden hurdle starts. He made his steeplechase debut on September 1 with a win at Te Aroha, then delivered a repeat result in richer company four weeks later. "We introduced him to jumps racing with a few starts over hurdles earlier in the winter, but he's always jumped like more of a steeplechaser to us," Brosnan said. "We were looking forward to getting him up to steeplechases."
Pythagoras has been a key contributor to a remarkable start to the 2019-20 season for the Brosnans, who have had eight wins and five placings from 35 starters since August 1. That already puts them ahead of their 2018-19 total of six winners from 122 runners, and they currently sit in fifth spot on the premiership.
The couple's best-ever season came in 2016-17, when their 163 runners included 12 winners. "We've been pretty happy with our results in the last couple of months," Peter Brosnan said. "The horses have all been going really well."
Winter is a busy time for the couple, who frequently have more than a dozen horses in work as well as being parents to four children under the age of 10. But the stable is set to be much quieter over the summer months. "We won't have many runners over the summer," Brosnan said. "We have a couple of horses who might run again in the next few weeks before the tracks dry out too much, but then most of them will go out for a break before we start getting them ready for next winter."
Pythagoras is sure to be the Brosnan stable's headline act going into the 2020 jumping season, along with proven stablemate Old Countess. But there are some other jumpers around the country who will also be worth keeping an eye on.
We asked leading jumps jockeys Shaun Fannin, Buddy Lammas and Shaun Phelan to name the three horses they are most looking forward to riding next winter. "I'd say my three are Laekeeper, Hamiltonian and Each Way," Fannin said. "They're three nice hurdlers to look forward to. Laekeeper is a good open-class horse, while the other two were nice maiden winners recently – Hamiltonian at Wanganui the other day, and Each Way at Te Aroha on Sunday."
For Lammas, two of his three selections were no-brainers – his Grand National winners Shamal and Alfie Dee, both trained by Ken Duncan. "Those are the two obvious ones," he said. "For the other one, I'd say maybe Rigel. He's injured at the moment, but when he comes back, I think he could make a nice jumper."
Phelan also opted for a Grand National winner, but added an intriguing name who has yet to make his jumping debut. "My three would be It's A Wonder, Bay Rocker and Kaharau," he said. Kaharau is a 13-time winner on the flat, most recently in the Ruakaka Cup (2200m), and has earned more than $325,000 in stakes. Phelan rode him to win a hurdle trial at Cambridge on July 1.