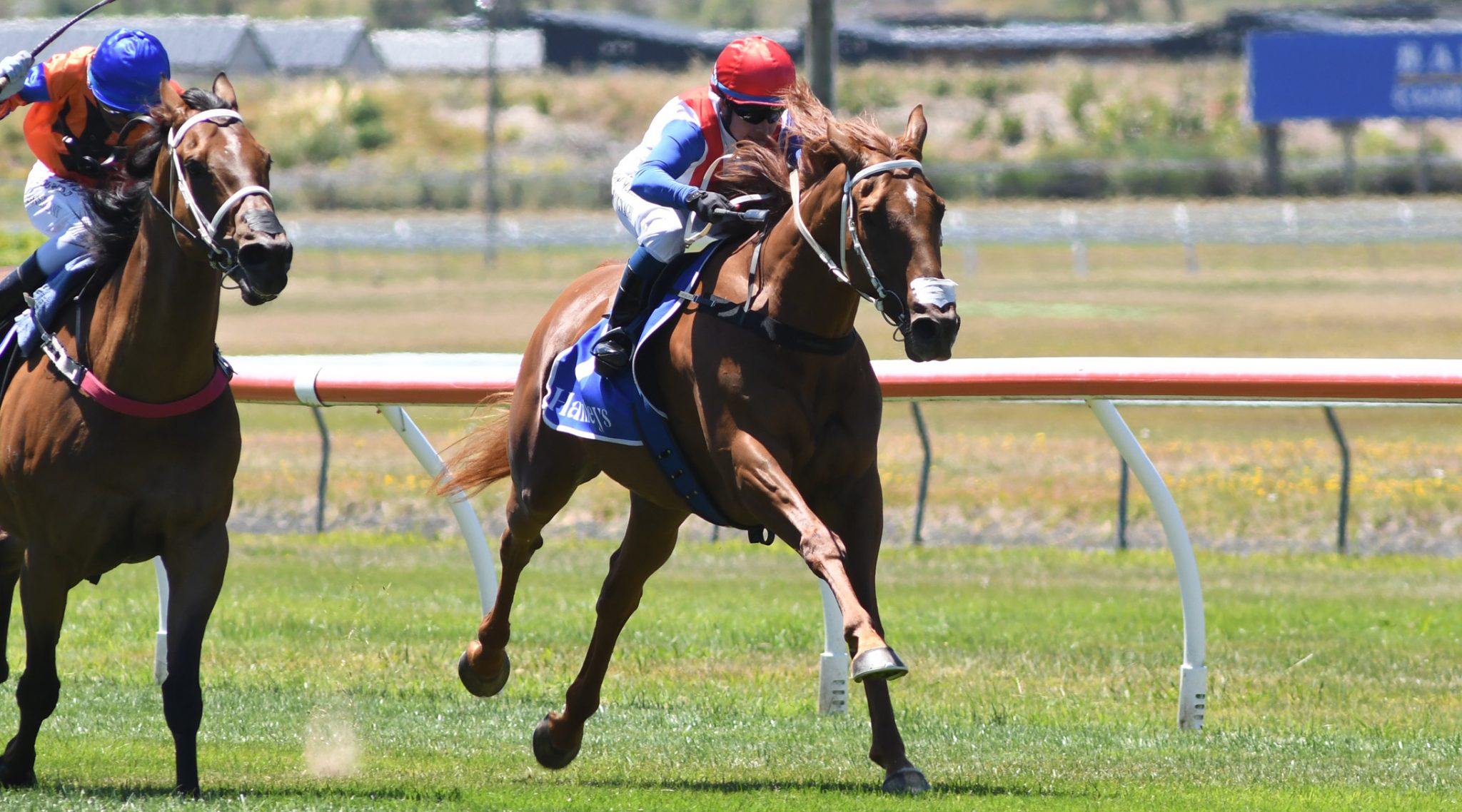 Danny Frye describes Our Echo's entry for January's Group 1 Sistema Railway (1200m) at Te Rapa as "pie-in-the-sky" optimism but the North Canterbury trainer is keen to give the emerging sprinter his shot at elite-level glory.
Our Echo begins a new preparation in Friday's Catalyst Performance Clare Memorial (1220m) at Cromwell, with Frye hoping a recent tie-back operation can be the catalyst for the Echoes Of Heaven six-year-old gelding to reappear as an even more effective racehorse this season.
Not that he's been any slug so far either; in 16 starts Our Echo has won four times, including at Trentham on last season's Group 1 Telegraph (1200m) undercard, and finished second on six occasions.
"He's come up really, really well. His coat is not quite there yet but January is still more than a month away and he'll be a whole lot better in himself by then," Frye said.
"We're aiming for the stars. We're probably a year ahead of ourselves with where he is at in the ratings. At this stage we're dreaming but we're keen to give him his shot. We've got a really good band of owners, about nine of us and we're all itching to see him have a real crack at it."
Our Echo prepared for Cromwell with an easy three-length trial win at Ashburton earlier this month under his raceday rider Tina Comignaghi.
"There wasn't a lot to make of it. There were only two other horses in the heat but Tina gave him a good workout which he needed," Frye said.
"She put him under a bit more pressure than what we put him under at home and he's come through that with flying colours."
That trial and knowing that Our Echo rarely runs a bad race has Frye expecting a bold run in Friday's Cromwell sprint feature.
"I'm expecting a pretty forward run. It's a softer option than the second day. He would have been more vulnerable over 1300m on Sunday. We're going there with a bit of optimism without being cocky."
Frye had hoped Our Echo would have had the tie-back operation to help his breathing sooner than last May but the Australian veterinary surgeon booked for the job was twice delayed, first when he contracted Covid and again when his wife tested positive.
"We didn't end up getting the operation done till May so that's why we weren't ready for Cup week," Frye said.
"His wind was never 100 percent last time around so theoretically if he can get the oxygen he needs this time in, he should be even better. We'll know more after Friday with his breathing under raceday duress and we know the trip will only bring him on.
"We're really keen on this horse. To do what he was doing last time when he wasn't getting the oxygen he should have been getting just shows what we think he could be capable of. He was always making noises after his races but from what we've seen so far, we'd like to think the operation has worked 100 percent."
Group One-winning trainer Frye's only other runner at the two-day Cromwell meeting is Ocean Park seven-year-old mare Aquattack, who tackles Friday's White Robe Lodge (2030m) as a possible precursor to a trip north for the Group 3 Windsor Park Stud Queen Elizabeth II Cup (2400m) at Te Rapa on the Railway undercard.
"It's probably a bit pie-in-the-sky with her too but we know she stays," Frye said.
"She's an honest little mare. Last start was a bit of a second-up run. She's a year older and she may not have been as forward as I thought she was going to be. But her fresh-up run was smart and she can run some serious times in the last bit of her races. She's better than her form reads."