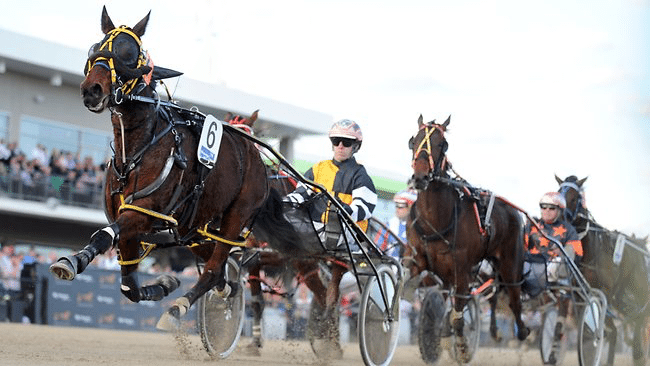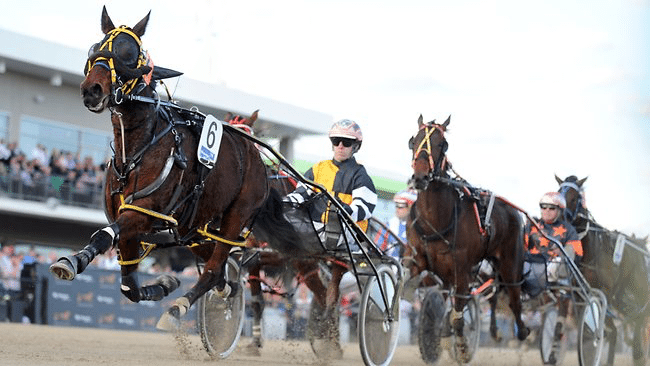 FOUR prominent racing identities have been arrested in part of a harness race-fixing investigation in Victoria.
Victoria Police arrested the four in connection to a year-long race-fixing investigation which culminated at the Breeders Crown meeting at Melton on Sunday.
The race being looked at was run at Cobram in June 2015 with Harness Racing Victoria's integrity department beginning the investigation shortly after the race. Chairman Dale Monteith says he supports the police swoop at the Breeders Crown as it sends a message to others.
Victorian Racing Integrity Commissioner Sal Perna says race-fixing is rare in Victoria.
"This shows that Harness Racing Victoria is on the ball," Perna said.
"They've picked up something that's suspicious and the system that's in place has worked.
"It (race-fixing) is rare. There's nothing to suggest we've got a systemic issue."

Champion driver Nathan Jack has allegedly been linked to the arrests. Jack has previously been suspected of leaking inside information to punters to increase their betting odds. Police are still questioning Jack and the other industry participants on Sunday night.
Sensitive betting activity prompted the investigation, which stewards and police thought may have been fixed. Those involved in the case could face serious penalties which includes large fines or jail terms.
"There will be instances from time to time that cause sporting controlling bodies to raise suspicions with the police, who then conduct separate investigations. This is a great example of how the sports integrity system should work," Perna added.
Wohler brings team for Melbourne spring carnival
Andreas Wohler knows what it takes to win the Melbourne Cup and this year he's bringing a team over for the Melbourne spring carnival.
In a team which may include 2014 Melbourne Cup winner Protectionist, Wohler will target the Caulfield Cup and Mackinnon Stakes with Articus and stablemate Red Cardinal will be looking to make the Melbourne Cup field.
Australian Bloodstock purchased both runners with co-director Jamie Lovett stating they should adapt to Australian racing well.
"Articus ran fifth in a group 1 in Germany last start and we bought him after that and he has moved to Andreas' stable," Lovett said. "He believes that Articus will be the perfect Caulfield Cup horse and would love the pressure of the race and the circuit.

"The the Mackinnon being three weeks after it, he will target is as well, being a group 2 winner at 2100m.
"He will go into quarantine with Red Cardinal, which we bought before his third in the Geoffrey Freer Stakes. He is a lightweight Melbourne Cup chance. He would probably have to win a race like the Moonee Valley Cup or Geelong Cup to get a run in the Cup.
"They will both be on the first shipment of horses. We would have liked to run Red Cardinal in the Herbert Power Handicap but the way it is structured this year they don't get out of quarantine until Caulfield Cup eve."
Lovett also stated that Protectionist could return to Melbourne if it doesn't go towards the Arc de Triomphe.
"He is going to have another run next month in France in an Arc lead-up, our intention is to run in the Arc but if he doesn't live up to expectations, the Melbourne Cup is still an option," Lovett said.
"He has shown us enough by winning that group 1 in Germany he is worth a crack at an Arc and it would be a dream for us to have a runner in the biggest race in Europe."
Protectionist is currently $21 at Sportsbet to win the 2016 Melbourne Cup with Articus at $51 for the Caulfield Cup.
Kent targets group one with talented mare
Abbey Marie is already a group one winner when it remained unbeaten in the Group 1 Schweppes Oaks in Adelaide, but trainer Mick Price is looking to send the mare into the Myer Classic fresh up.
Kent is planning to run Abbey Marie fresh up in the Group 1 Myer Classic on Derby Day and he believes it has enough potential to win what's usually a tough race.
The Redoute's Choice mare has recovered from an illness which kept it out of action following its Oaks win, but Kent says it has come back in great order.
"Because Abbey Marie had a few weeks in hospital she only had the month off, so really I have only got the Myer for her, but she's come back terrific," Kent said.
"She could go straight into the Myer. If I am happy enough she might have a prep race over 1400m before that, but I am happy enough to go straight into the Myer with her."

Stablemate Supido finished third in the Group 1 Goodwood behind subsequent group one winner Black Heart Bart and will be set for the Manikato at Moonee Valley.
"I want to run Supido in the Manikato. I am not sure whether he will go to the Gilgai first up or straight into the Manikato," Kent said.
"I will give him his big break now. There are not a lot of races for him in the spring, but in the autumn there are a million races he could go for."
Kent also has Charlevoix which looked impressive last campaign and will be looking to remain unbeaten at Sandown.
"Charlevoix, I took him a step too far, five weeks (without a run) into the Derby, he just raced really flat. It's the Sandown Classic for him, he is unbeaten at the track," Kent added.
Baffert in shock after Travers Stakes
Triple Crown winner Bob Baffert was blown away when Arrogate won the Grade 1 Travers Stakes in record time on Sunday.
It was sweet redemption for Baffert after the Hall of Fame trainer suffered a shock defeat with American Pharoah last year. Baffert returned this year with Arrogate which recorded a 1:59.36 time for the 2000m race and won by 13.5 lengths.
Baffert couldn't quite believe what he watched as another stable star might have been unearthed.
"I watched the race again a couple of times and I still can't believe the way he kept on rolling. It was just incredible," Baffert said.
"You're always hoping that they're that good. I knew he was good, but I didn't know he was really, really that kind of good.
"After he ran like that, I was like everybody else, and thought 'Wow!' I was like a fan, thinking 'Wow! What did we just witness?'"
American Pharoah has since been retired to stud after an incredible juvenile career and there is now a new stable star in the Baffert stables.
"Maybe this horse will take the sting out of not having him around. What we saw yesterday – at least it gave us a little hope," Baffert said.
"Every time I have a horse like Pharoah, when he leaves, I think, 'Damn, I'll never have anything again close to him at all,' and then this horse goes out and does that.
"I'm not going to crown him yet, but at least he's got us excited and something to think about. But there will never be another Pharoah."
Arrogate is now $4.50 at Sportsbet for the Breeders Cup Classic on November 6.