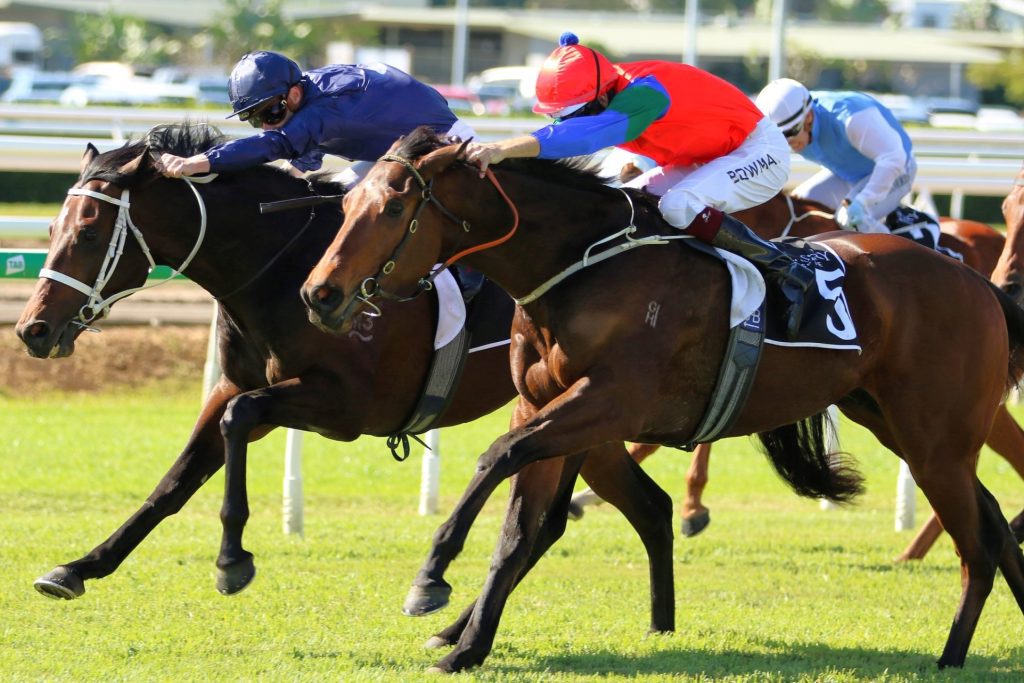 It was not a pretty watch for punters who took the even money quote about Political Debate in Saturday's Listed The Phoenix at Eagle Farm, but the colt was able to stick his nose out on the post and get the bob in.
Despite being a maiden after two starts, the Chris Waller-trained two-year-old went in to today's race as the favourite for next Saturday's Group 1 J.J. Atkins, with a win vital for him to take place in that race.
The son of So You Think was given an arrogant steer by James McDonald, settling down sixth in the three-wide line.
After looking like he would win by a space at the 300m mark, the well-supported second favourite Sharp 'N' Smart burst through a laid down a challenge, going down by a nose in the narrowest of margins.
While punters blew out a big sigh of relief when the number went into the frame, Waller and McDonald were undoubtedly more relieved that the promising galloper got the victory.
Watch Political Debate Win The Phoenix
So close was the finish to the race, Chris Waller thought he had been beaten.
"I was looking for him (Graeme Rogerson) to congratulate him because to tell you the truth I thought his horse had won," Waller said.
"A few things went wrong during the race. A midrace skirmish so he got back further than what we would have liked."
With the Group 1 target just seven days away, Waller says that neither the mile nor the quick back-up will be an issue for this "very talented horse".
"No problem with backing up but we've just got to make sure he's attacking the line and doing thins right," the master trainer continued.
"He's a very talented horse. (The mile?) That's not problem. It is the execution and getting the timing right."
Winning rider James McDonald supported those claims, saying that the rise in trip "won't be a concern at all".
McDonald was happy enough with where they settled down in the run, but admits it wasn't where he expect to be.
"Nothing really went right in the run," the jockey said.
"We ended up in a nice enough spot but not the spot I wanted to be in. To be fair, he was left in front a long way from home so that was jockey error.
"I think just with that experience he'll come on again. He's a beautiful horse with plenty of upside."
Political Debate is now a $3.50 favourite for next Saturday's J.J. Atkins (1600m) where he will look to join Pressday, Press Statement and The Autumn Sun as a Waller-trained winner of the race.