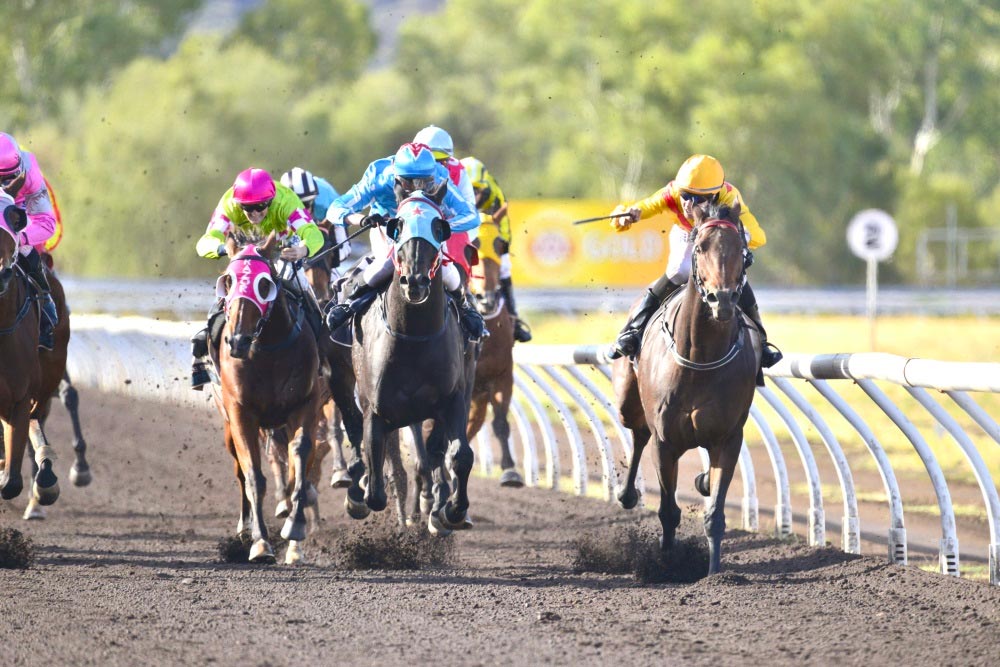 A shrewd purchase at the 2022 Magic Millions Darwin Tried Horse Sale in July during the Darwin Cup Carnival is now paying dividends for Northern Territory trainer Kerry Petrick.
Petrick, a leading force in Darwin and Alice Springs since the mid-1990s, settled on former Victorian gelding Kikuyu, who was a three-year-old at the time.
Prior to selling for $41,000 in the Top End, the son of Crowded House had five starts for Mornington trainers Jason Warren and Dean Krongold for a second, a third and two fourths before a last-start fifth at Geelong in July.
A first-up fifth in an 1100m maiden at Fannie Bay on October 1 was followed by a first-up sixth against the three- and four-year-olds over 1100m (Class 2) in Alice Springs on October 16.
The blinkers were removed and since then Kikuyu has won three straight at Alice Springs with Phillip Crich, who rode for Petrick at Kununurra in WA in late August and early September, the pilot on each occasion.
He settled at the back before roaring home to win an 1100m maiden on October 29, then overcame the three- and four-year-olds over 1200m (0-66) in similar fashion on November 5.
On Sunday, Kikuyu settled a lot closer to the front over 1400m (0-64) before holding down fourth spot when Kitty Damour and Bold Tropic shot six lengths clear along the back straight.
Kitty Damour and Bold Tropic were gobbled up with 400m to go approaching the home turn, with Kikuyu leaving the fence to make his move down the middle of the track to seal victory from Will Savage's fast-finishing Fantasy Eagle (Sonja Wiseman) and Kevin Lamprecht's Ginger Creek (Ianish Luximon).
Suffice to say the four-year-old has been a wonderful purchase for the Petrick stable.
"He sure has – he took those first couple of starts to sort of find his way in the Territory and with our style of racing," Petrick said.
"The first couple of starts he got a fair amount of dirt in his face which set him back a little bit, but he's certainly found his feet in Alice Springs that's for sure."
There were several factors as to why Petrick, who watched the race on the weekend while holidaying in the Grampians in Victoria, settled on Kikuyu.
"I liked his form, I thought he had reasonable form and I really liked him as an animal," she said.
"I went in the yard with him and mucked around with him a little bit, I really liked a lot about him.
"I thought that he had room for improvement – for example, growth-wise.
"I think he's still a long way off yet, but I really believe that he's done a fantastic job so far."
Petrick added that the horse is ticking over beautifully, but she is also looking at the big picture.
"He's very immature within himself and he needs to grow into his body structure," she said.
"I'm pretty sure we'll give him a spell now.
"He's probably been overwhelmed with his trip from down south up to the Territory and he didn't handle the heat in Darwin particularly well.
"We were so fortunate to have some sensational weather in Alice Springs when we got back which really brought him on I feel and he's done a really good job and rewarded us for it."
Looking ahead, Petrick has yet to decide if Kikuyu is a sprinter or a middle-distance runner.
"Well, I really don't know," the trainer said.
"It was tempting to keep him going and try him over the mile on December 18, and look, that's still a possibility – but at this stage I'm leaning towards not running him.
"I believe he'll get distance, just the way he is racing.
"Although he jumped quite clean on Sunday he then was able to relax and then when Crichy asked for him he made that long sustaining run which probably makes me think that he will be able to relax enough to get over a little bit of ground."
Like every other trainer in the NT, Petrick is also looking ahead to the Alice Springs Cup Carnival (April-May) and although plenty of water will pass under the bridge before then, she has already identified a race for Kikuyu.
"I guess I like the three-year-old and four-year-old mile – it's one of the feature races over the carnival, but realistically we'll just give him a break over the summer and see where he takes us," she said.
That race Petrick highlighted resulted in a win this year to Flying Start – the Alice Springs Turf Club's Horse of the Year for 2022.
Fellow Red Centre trainer Carrol Hunter has been caring for Petrick's horses in her absence and agreed that Kikuyu has thrived in Alice Springs.
"His first run here was typical of some horses on our track," Hunter said.
"Forgive and forget, he won well again on Sunday."