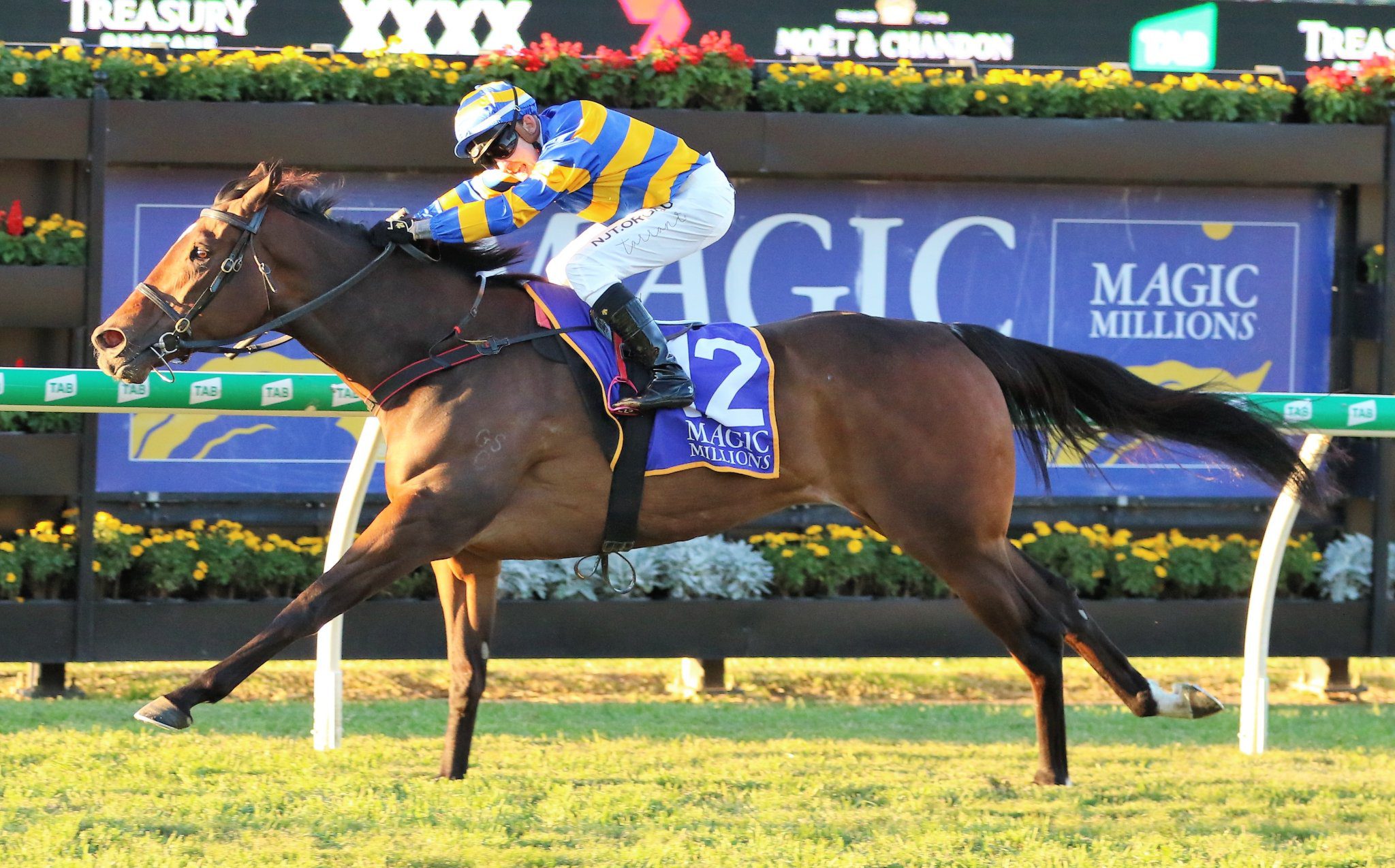 After Palaisipan's classy finish on the inside to win the Dane Ripper Stakes you wouldn't have thought she once had weight issues as a "roly-poly fat mare".
But Eagle Farm trainer Chris Munce has worked his magic on the four-year-old and, as a result, he's confident she can be competitive in the $700,000 Tatts Tiara (1400m) on Saturday.
Not bad for a bargain $40,000 buy from the 2020 Magic Millions Gooree Stud Reduction sale, and a mare who Munce's trackwork riders called "a lemon" soon after he purchased her.
Now with over $310,000 in prizemoney and six wins from 11 starts, Munce has already got everything he wanted from his improving mare.
That is why he will not be weighed down by expectation on Saturday.
"It doesn't always work that way, but as it turns out $40,000 sounds cheap now considering what she's won and what she's worth as a broodmare, particularly with her pedigree," he told RacingOnline.
"She's done more than what we could've asked, so everything from now on is just a bonus.
"A lot of my riders didn't have a big opinion of her – they didn't like her action.
"And for want of a better word she was a bit of a roly-poly fat mare when she first came into the stable.
"But we trained her up and got her fit and gave her a short jumpout, and she went very well."
Palaisipan responded very well to Munce's training regime, winning her first four starts from April 12 to June 19 last year.
"After that (first trial on February 16 last year) I put her away and gave her another break and brought her back again. She came back and won her first four starts," he said.
"You've got to treat your horses as individuals and you've got to work with their strengths.
"She's just a quality mare. She's very tough and never leaves any feed.
"You can throw anything at her and she continues to eat, which is always a good sign."
After humble beginnings, Munce's talented sprinter is now in a position to make the step up to Group 1 level and do her stable proud.
Despite being a little overweight when she first arrived in the Munce stable, the former champion jockey also saw the potential to transform her body type into a feature-race winner.
Indeed, she has outstanding pedigree by So You Think from Touch Of Red.
"She's a beautiful filly. She's an absolute sweetheart to look at. He (So You Think) has certainly stamped her, that's for sure," Munce said.
"She's always shown me a lot of ability and I've always thought she'd get to this grade. So it's good to see her being able to get to that stage now.
"She's only lightly raced, so she can go on for another 12 months or so."
After her three-quarter length win last start in the Group 2 Dane Ripper Stakes over 1300m on June 11, Munce's mare has good-value odds of $23 to win with PlayUp.
"I think she's a good hope. She's just coming into a bit of form and she's done very well since her last start when she won," he said.
"I know it's a harder race, but I just think she's earned her place in the field.
"And I think apart from the obvious picks in the race like Brooklyn Hustle ($12) and Mick Price's horse (Annavisto at $5.50) I think it's an open race."
Luke Tarrant took advantage of barrier one to win from the inside in the Dane Ripper Stakes.
It will not be as easy from barrier 14 this time.
Luke Tarrant has quickly built up a nice combination with the developing mare, his first start on Palaisipan a fifth in the $150,000 Magic Millions Bright Shadow (1200m) at Eagle Farm on May 14.
"She races well for him. He's only had the two race rides on her. The first start she got well back in a race that didn't really suit, but she still hit the line very well," Munce said.
"She probably should've finished in the top two or three. And then with all the rain we've had we put her in a mile race (at Doomben on June 1) to get a bit of conditioning under her belt.
"That was going to tell me what races I could line her up in because if she won that I would've stepped her up in distance and probably not ended up going to the Tiara.
"I probably would've gone to a race over a bit further. But after that race I just regrouped and brought her back in trip.
"And then she came out and won the Dane Ripper."