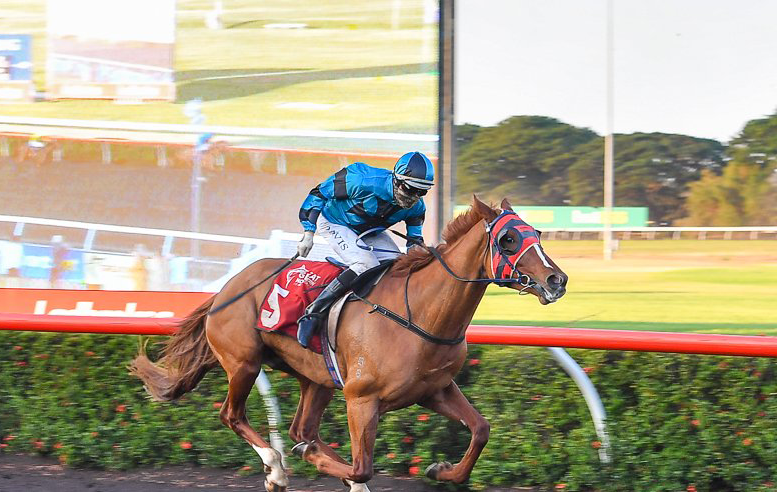 Top End trainer Peter Stennett, along with two close friends, will celebrate in style should former Victorian galloper Pacadow make an impact in the three-year-old features during the forthcoming Darwin Cup Carnival.
The gelding is set to contest the $75,000 Darwin Guineas (1600m) on July 2 and the $135,000 Ladbrokes NT Derby (2050m) on July 16, and if last Saturday's dominant win against 0-58 opposition over 1600m at Fannie Bay is any guide he might just be a serious contender.
Winless after five starts before arriving in the NT, Pacadow (Wayne Davis) shared the lead for the first 400m and once hitting the front entering the back straight was never headed to basically leave his rivals in his wake.
He was easily five lengths clear with 600m to go and once turning for home only continued to assert his authority before overcoming Phil Cole's three-year-old gelding Fischer (Paul Shiers) by three lengths, while other three-year-olds in the race battled.
Pacadow started at the juicy odds of $14 with online bookmakers and despite his performance it didn't necessarily come as a surprise as he had ran beyond 1600m on three occasions in Victoria.
"I expected him to be real competitive, but to be honest I didn't expect that he'd do that," Stennett said.
"He was impressive, but when you work it out he has had an interesting career – like he ran in a listed race at Caulfield over a mile and a half in his third ever race start.
"That's the thing that got me keen on him because for 2200m of that race he bowled along like he did on Saturday – OK they ran over him in the last 250m and he finished well down the track, but they were open class horses in a city race.
"I just think that he's the ideal Derby horse.
"Not many three-year-olds up here can get past the 1600m and he'll just keep going.
"Wayno (Wayne Davis) said to me the hardest part of the race on Saturday was pulling him up – he just wanted to keep going.
"So I think the 2050m of the Derby, if we can get him in it, will suit him down to the ground and he'll be strong – he's got a real good cruising speed.
"Definitely going to the Guineas – we got a free ticket in there after winning on Saturday, so that will be his next start and hopefully he runs well."
It was friend and Pacadow's former trainer Patrick Ryan, from Warrnambool, who brought the horse to Stennett's attention.
"We're good mates and he just rang me up one day and he said 'I've got this horse down here' and told me about him – I watched him and after that Caulfield run I said 'I'll take that horse' because I reckon he's going to run the distance up here," Stennett said.
"It's hard to believe this horse only got gelded just over a month ago.
"Like he was only a colt when he last ran at Warrnambool on May 4.
"I said to Pat, I'm not bringing him up here unless you geld him.
"It's a long way to come when all he wants to do is play with the girls, if you know what I mean.
"He's a pretty talented horse in the three-year-old ranks because he's strong and he can keep going, so hopefully he can do it for a couple of more runs."
Stennett, 63, admits that he has never had a big winner in Darwin adding that he only mucks around with a couple of horses where he is happy to pick up the occasional win or two every year.
For the record, he currently has Padacow, Koa, Kent Street and The Albion on his books.
The other feature race for the three-year-olds last Saturday, which accommodated a much stronger field of Guineas candidates over 1300m, saw Gary Clarke's Wilsons Prom prevail from Greg Connor's Flying Start, John Peacock's Super Famous, Jason Manning's Max Fire and Phil Cole's Starlite Valley.
"To be honest, I think they're a good bunch of three-year-olds," Stennett said.
"That 1300m race was a lot stronger than the race Pacadow was in.
"I rate the others pretty highly – there are some smart horses there and you'd like to own them, but they've got to run the trip in the Guineas and Derby and Pacadow has proven he can.
"He's not a bad type of horse and he's loving it here – he has got a good set of lungs and he'll keep going.
"What I did see that day at Caulfield – Pacadow didn't embarrass himself, he rolled along, he bowled along just like he did on Saturday."
Apart from Pat Ryan, Stennett will also celebrate with another close colleague Maurie Ryan if Pacadow can deliver the goods during the Carnival.
Ryan, a former Central Land Council chairman in the Northern Territory and the founder of the First Nations Political Party, is a part-owner of Pacadow and Kent Street.
He also shared the Nichols Medal best and fairest award for the 1968/69 season as an Australian Rules player for Wanderers in the Darwin-based NTFL competition.
Suffice to say Maurie Ryan, who is now enjoying retirement, is well known throughout the NT and according to Stennett "it was good to win a race with an old mate".
"I bought two horses and Maurie paid for the majority of both of them, and that was the biggest thing that pleased me on Saturday," Stennett said.
"Anyway this is Maurie's first ever winner as an owner and as you can imagine he was really pleased with the whole show.
"We used to play footy together at Wanderers and now that he has retired he has got a horse he can have a bit of fun with."
Meanwhile, Padacow was up against the former Chris Waller trained Sirocco Gale in that 2400m race at Caulfield – the $200,000 Elvis Thurgood Galilee Series Final for three-year-olds on April 16.
Sirocco Gale finished eighth, while Padacow finished 11th.
Significantly, Sirocco Gale, who has since ended up in Alice Springs under the tutelage of trainer Will Savage, won a 1400m maiden at Pioneer Park last Sunday.