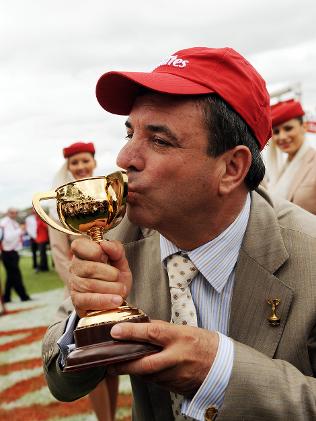 FOUR of the biggest names in the thoroughbred racing industry are facing lengthy disqualifications after being charged by Racing Victoria Stewards with a total of 29 charges relating to the administration of the prohibited substance cobalt.


Group 1 trainers Danny O'Brien and Mark Kavanagh as well as Lee and Shannon Hope are at the centre of the saga, some of their horses returning a swab of 2-3 times in excess of the national legal threshold for Cobalt of 200 micrograms per litre of urine. 


O'Brien, a Cox Plate and Caulfield Cup winning trainer, is up against 16 counts for swabs pertaining to his horses including Bondeiger (370mcg/L), De Little Engine (580), Bullpit (320) and Group 3 Geelong Cup winner Caravan Rolls On (380).
Lee and Shannon Hope are facing bans for their horses positive swabs which included Windy Citi Bear (300mcg/L), Best Suggestion (550) and Choose (440).
Melbourne Cup winning trainer Mark Kavanagh, who trained superstar mare Atlantic Jewel, is facing four charges, with one of his charges Magicool returning a reading of 640mcg/L.


Also in hot water is leading veterinarian Dr Tom Brennan, a partner in the Flemington Equine Clinic, who is up against 20 charges relating to administering cobalt and that he supplied or caused to supply a substance containing a high level of cobalt to both O'Brien and Kavanagh.
Brennan's charges come in the following days after he spoke at a Racing NSW hearing where he denied sending vials to Sydney, which allegedly contained cobalt, to Sam Kavanagh, Mark's son. Sam Kavanagh is currently facing similar charges to his father.


RV Integrity Services general manager Daryle Brown said that the charges against the five Victorians came after a detailed investigation, while each person will now be given the opportunity to defend themselves when they race the Racing Appeals and Discilinary Board (RADB) for their respective hearings.


"We have dedicated considerable resources to undertake these investigations as swiftly as possible while ensuring they were thorough," he said.
"During the course of the investigations we have collected a considerable amount of evidence and have undertaken extensive forensic analysis and testing.
"Each of the five people charged will have the opportunity to defend these charges before the independent RAD Board and we hope that this can occur at the earliest possible opportunity."


Mark Kavanah spoke publicly for the first time about the scandal back in April while he was under investigation, maintaining that he had done nothing wrong.


"We've been named, blamed and shamed and been punished for something nobody has done'," he said.
"Nobody's done anything wrong. It's in feed supplements and it's turned up in swabs and it's just unfortunate."
At the time he remained positive that he would be cleared of any wrong doing.
"You can't get in any trouble if you haven't done anything wrong,'' he said.
However, the fault in Kavanagh's logic is that the evidence suggests normal supplements do not produce such high level readings, with horses generally returning cobalt readings in the single digits. 


In September last year, racing authorities were informed of data which had been collected for the international conference in Mauritius. The data indicated what the threshold for cobalt should be set at, with enough of a margin to allow the use of cobalt supplements while still being able to identify those using it to gain an unfair advantage.
In total, 10,300 urine samples were tested, including horses which were given cobalt supplements as a part of their normal diet, with the average cobalt level being 5.29mcg/L, the highest being 78mcg/L.
Cobalt can be toxic when found at high levels, but can have a positive impact on a horses ability, with similar effects as the endurance drug EPO when used in humans.
It causes the body to believe that it is being deprived of oxygen, resulting in the increased production of Erythropoietin.
If these levels are high enough, red blood cells production is stimulated so that more oxygen can be carried around the body, resulting in improved performance.
If found guilty, each trainer is facing possible three year disqualifications.