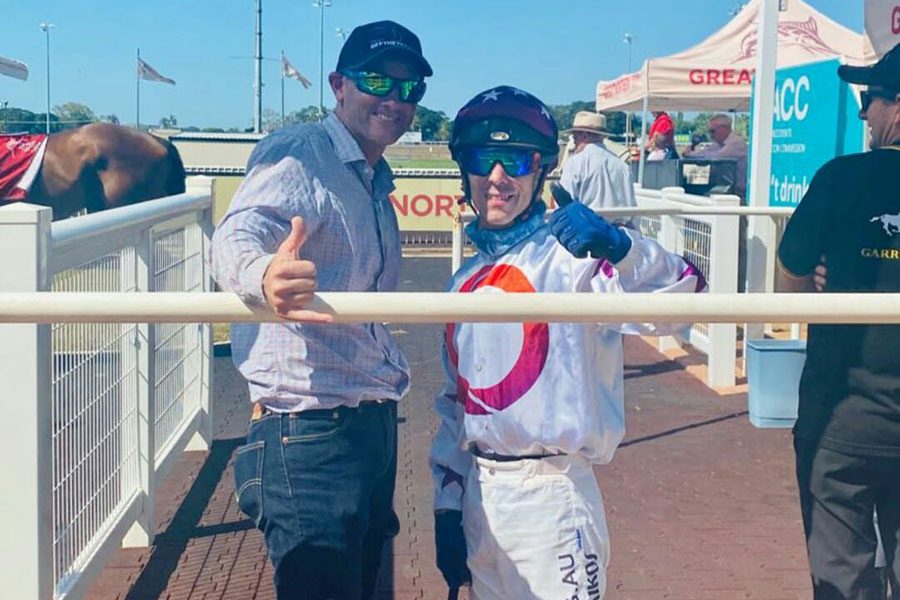 It wasn't all that long ago that Alice Springs trainer Terry Gillett boldly declared that he planned to take unbeaten three-year-old filly Dakota Lee to Queensland.
Well, the time has come.
And that's despite a frustrating setback when, as an odds-on favourite, Dakota Lee refused to load for the AU$50,000 NT Guineas (1600m) at Pioneer Park on April 16 and was scratched.
Gillett has dominated the Red Centre landscape in recent years and is set to defend his trainers' premiership, but the Guineas episode effectively put his Alice Springs Cup Carnival campaign to bed.
Who knows how Dakota Lee would have faired, but Gillett had every right to be optimistic.
"She's probably the best horse I've ever had," he said.
"She's still unbeaten."
The Kuroshio filly took Central Australia by storm when she arrived in March last year as a two-year-old.
Victory in a 1100m maiden was followed by six wins on the bounce as a three-year-old from 1000m-1400m, and during that period she carried between 54.5kg and 61.5kg.
The Inglis Red Centre 2YO Classic (1200m) was once held on Alice Springs Cup Day before it was scrapped a few years ago.
Dakota Lee may have been a show in that race, so the fact that she also missed the NT Guineas is arguably a case of what could have been.
The likes of Savatoxl and Desert Lashes left their mark at Pioneer Park before grabbing national headlines, so perhaps destiny now awaits Dakota Lee.
"She's been back in work for two weeks now," Gillett, a former jockey, said.
"She's going really well, I'm really happy with her.
"There's a fillies race over 1200m – set weights – at Eagle Farm at the end of June, so I will probably aim her at that.
"Every chance I will give her a trial before leaving.
"There's a 1200m open company race coming up here, I haven't decided if she will be running or not.
"I might just take her straight to Brisbane because I will probably have to re-trial her again on the grass.
"Let her get a feel of the grass.
"There's one thing galloping them on the grass, it's another thing trialing them on the grass."
Recommended!
If the cards happen to fall the right way, it will definitely be a family affair when Dakota Lee races for the first time in Brisbane.
Gillett's 16-year-old daughter Dakota, whom Dakota Lee was named after, could be in the saddle as she has being doing plenty behind the scenes in her quest to attain her jockey's license.
"Dakota is riding at the Rockhampton trials on Friday, so she'll be back to ride Dakota Lee in two weeks time for the trial," Gillett said.
"Dakota Lee has been ripping my arms out at the moment with Dakota away.
"I've got to ride her work.
"Dakota gets on really well with the horse."
Gillett also plans to take another stable star That's Justified to Queensland.
The intention was to contest the $125,000 Battle Of The Bush, a series that will see 16 qualifiers from country regions in Queensland qualify for the final at Eagle Farm on June 20.
"That's Justified is back in work and hopefully Dakota gets her license next week and then she can start riding him," Gillett said.
"He's not eligible for the Battle Of The Bush because you've got to have five starts in the bush in Queensland.
"That's basically a whole prep, so I'll just be playing it by ear now.
"There could be a race in Brisbane, if not the Gold Coast, Ipswich, Sunshine Coast or Toowoomba.
"While he's heavily rated here, Dakota – she gets her license – her 4kg claim puts him down to about 60kg or 61kg and throws him straight back into the mix."
Gillett's wife Leanne, more than an accomplished trainer herself with victory in the 2018 Alice Springs Cup on her CV, will be running operations at home while husband and daughter are away.
"Leanne will probably pop over to Brisbane for race day to watch Dakota Lee and That's Justified," Gillett said.
"I expect to be away for about six weeks.
"I want to get past the trial first here in Alice, then I'll work it out from there a week or so afterwards when I will leave for Queensland."
Meanwhile, Gillett has confirmed that his regular Alice Springs stable rider Stan Tsaikos, who is well ahead in his quest for back-to-back premierships, has temporarily returned to Melbourne.
Tsaikos is planning to return to the NT to ride for Bendigo trainer Kym Hann, who is taking a team to the Top End for the Darwin Cup Carnival starting in July.
Additionally, Tsiakos will continue to ride for Gillett at Alice Springs meetings.