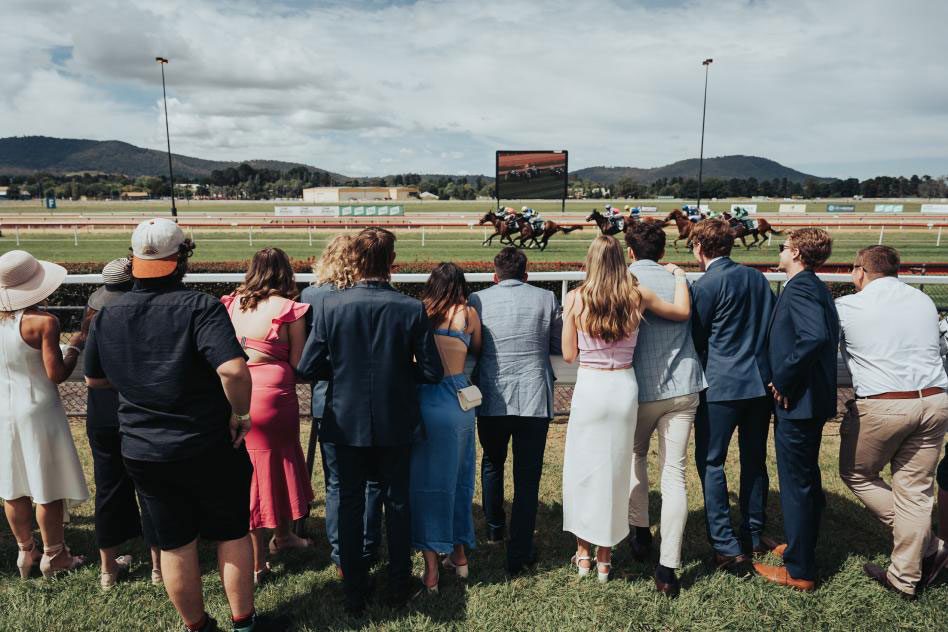 Some prominent trainers have left the ACT this year, but in better news, the Canberra Racing Club was delighted to announce the introduction of the A$400,000 Canberra Speed Series and Clan O'Sullivan feature race for two-year-olds.
The Canberra Speed Series covers three two-year-old races, culminating in the 50th anniversary of the Group 3 Black Opal Stakes.
A bonus of $100,000 will be offered to the owners of any horse who wins all three of these races:
Clan O'Sullivan – Friday, December 30 – 1000m 2YO Open Handicap – $50,000
Black Opal Preview – Friday, February 24 – 1000m 2YO Open Handicap – $50,000
Black Opal Stakes – Sunday, March 12 – 1200m Group 3 2YO Set Weights & Penalties – $200,000
With up to $400,000 in prizemoney available in the Canberra Speed Series, Canberra Racing Club CEO Darren Pearce was excited at the quality of trainers and jockeys who could now venture to the nation's capital as a result.
"The Group 3 John McGrath Auto Group Black Opal Stakes holds an important place on the autumn racing calendar," he said.
"There are many great races in the nation's capital, but the Black Opal Stakes is the most exciting.
"With the introduction of this series and bonus, we are confident that we can attract a quality field befitting of the 50th anniversary of the first running of this great race.
"The race has produced some serious stars with locals Catbird, who won the Golden Slipper, Clan O'Sullivan of course and, more recently, subsequent Group 1 winners Epualette, Criterion and Trapeze Artist."
This announcement is welcome good news for Thoroughbred Park, with prominent Canberra trainers Keith Dryden, Luke Pepper and Paul Jones recently telling HorseBetting.com.au about the pressures which conditioners now face in the ACT.
Pepper left for Scone because of high workers' compensation costs and Dryden said he would fight the ACT Greens "until my last breath".
The political party has not been shy in its desire to end horse racing because it thinks it is a barbaric practice.
Matt Dale has also recently left for Goulburn, while Nick Olive now calls Queanbeyan home.
But the trainers left in Canberra now have a reason to smile, even if it might only be temporary.
The Clan O'Sullivan, programmed as an additional race on December 30, will celebrate the first Canberra-trained horse to win the Black Opal Preview and Black Opal Stakes double.
The Frank Cleary-trained Clan O'Sullivan was also the winner of the Magic Millions 2YO Classic and runner-up in the Golden Slipper in 1992.
Cleary was thrilled with this announcement.
"It's great recognition of a great horse; horses like him shouldn't be forgotten," he said.
"He was the first local winner of the Preview and Black Opal double, and that came with plenty of pressure I'll tell you.
"Half of Canberra were ringing me up telling me I've got to win.
"It's a shame his owner Ken Jones isn't alive to see this; he would have absolutely loved this race.
"Ken did a lot for Canberra. When Clan O'Sullivan was entered in the Slipper he shouted a heap of buses from Canberra to Sydney, and he might have even stocked them full of grog for everyone."
The $50,000 Clan O'Sullivan will be held 15 days prior to the Magic Millions 2YO Classic on the Gold Coast, and it represents a great lead-up for horses looking to gain a place in the $2 million feature.
Both the Clan O'Sullivan and the Black Opal Preview will hold ballot exemption for the first two horses past the post.
"The Clan O'Sullivan will bring quality two-year-olds from the region and from interstate," Pearce said.
"There are a number of big projects that the club is working on, and we are really excited about the year ahead."