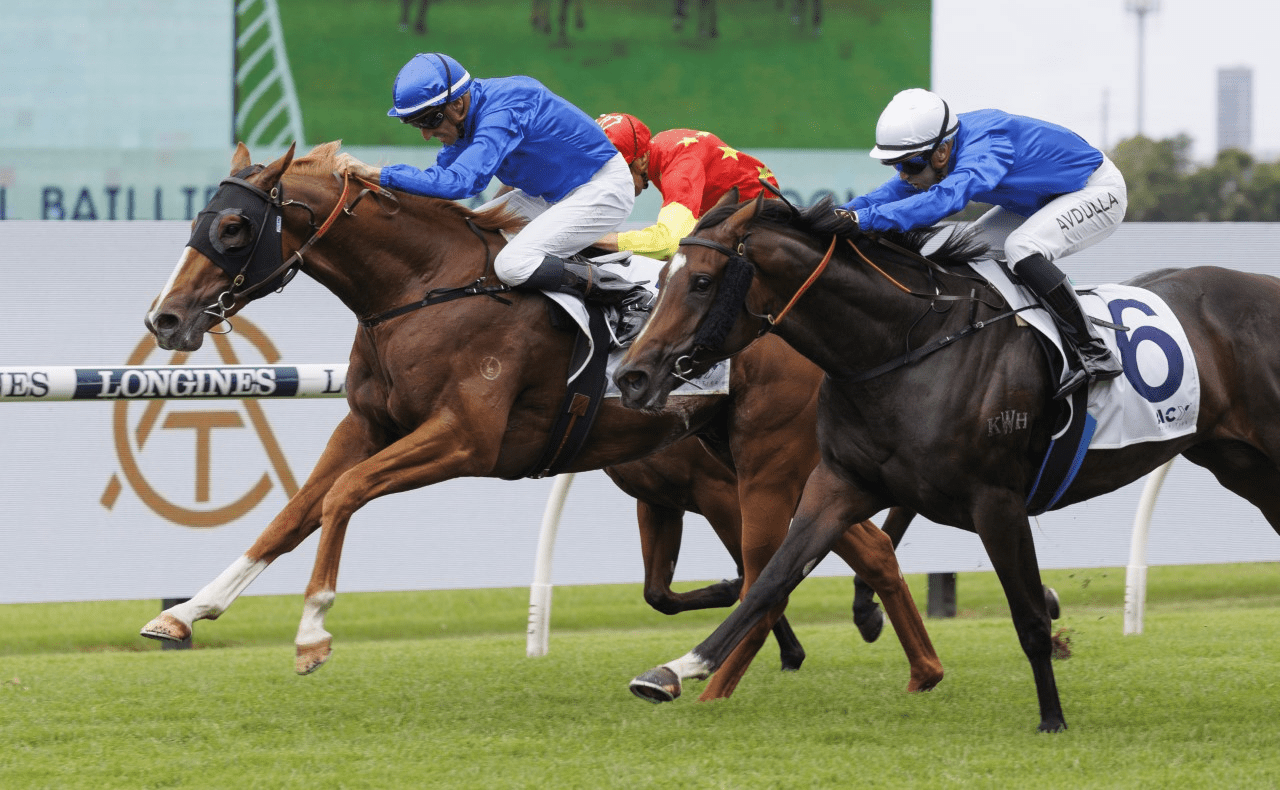 Not even the top weight could stop Amur on Saturday afternoon as James Cummings and Nash Rawiller combine in the Group 3 Baillieu Handicap.
It's becoming more apparent for punters the form out of the Sires' Produce Stakes at Flemington on March 11 will be holding up nicely, as Amur was able to bounce from his third placing behind Veight.
It was a perfect ride from Rawiller, stalking the leaders back throughout, as to punters surprise Disneck was sent forward to lead from the inside draw. Leaving race favourite, The Years, to sit outside the leader throughout the 1400m journey.
Once getting clear running the two-year-old Snitzel colt dashed away and held off all challengers as he got past stablemate, Inhibitions, who ran into the quinella for team Godolphin from the one-one position.
Waverly was storming down the middle of the track and Make A Call did the same up the inside. both making great inroads late to round out the minor placings.
2023 Group 3 Baillieu Handicap Replay – Amur
Stable representative Darren Beadman spoke post-race about Amur and gave an indication of his improve throughout the prep; however, not giving too much away in terms of what's next on the agenda.
"He's quite an unassuming colt, his bark is worse than his bite," said Beadman.
"he's got a lot of presence about him and it's a great job by the team because he can be a little bit of a handful.
"He came up here in fine order and he had the tough run over the 1400m in the Sires Produce which really toughened him up for this but he's only going to get bigger and better as he gets older as well.
"I'm sure the team will let the dust settle, little fish are sweet."
Nash Rawiller also spoke to the improvement of this two-year-old moving forward and suggested he'll only get better as he matures into a three-year-old.
"Full credit to the team, once you're on his back he's a different horse," said Rawiller.
"he obviously takes a bit of managing on the ground, he was very professional here today. Sure he's still growing up and a big boy. Mentally he's not 100 percent on the job but what I did like today when the chips were down at the 100m and he had to dig deep to beat the stablemate.
"He really showed a lot of fight and he was strong through the line and should be able to get further. At this stage the world's his oyster, it's a great stepping stone.
"He's still learning his craft, he's still a big baby boy.
"He's just going through one of those stages, but to his credit when the chips were down he really dug deep and that's what you love to see in a horse."