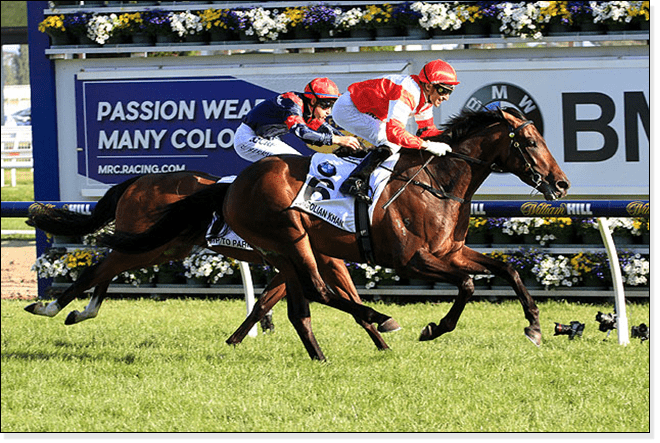 Estimated Reading Time: <1 minutes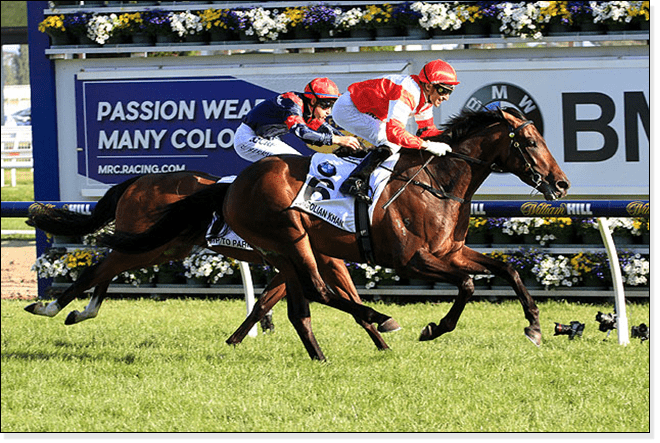 THE 2015 Melbourne Cup market has been updated after the running of the Caulfield Cup on Saturday where Mongolian Khan proved too classy.
The New Zealand-trained colt started as the $5 favourite after being as low as $4.40 throughout the week and, after getting a gun ride by Opie Bosson, it held off a late challenge from Trip to Paris to score by half a length on the line.
Trainer Murray Baker, who had previously trained both Nom Du Jeu and Harris Tweed to finish second in the Caulfield Cup, was delighted with the win.
"It's amazing," Baker said. "To win one after running in the placings a few times is unbelievable.
"We've been coming here a long time and I think this one is for good attendance.
"It was worth the wait."
The dual Derby winner (New Zealand, ATC) is a classic stayer and it will likely contend the 2015 Melbourne Cup, where it currently sits on the third line of betting at $9 with Sportsbet.
"He's a very good stayer," Baker said. "We wanted to make this a staying test and he just kept kicking.
"He's got a beautiful relaxed temperament and I think he's loving being a racehorse."
Jockey Opie Bosson settled the four-year-old in a beautiful position one-off the rail and presented the son of Holy Roman Emperor around the final bend.
A strong challenge from Our Ivanhowe was thwarted and the only danger came from its inside as Trip to Paris flashed home late, but being beaten never looked likely for the New Zealand team.
"That was awesome," Bosson said. "Everything went to plan, we had the perfect run.
"He relaxed so good. I was probably exposed a bit earlier than I wanted to be but I knew he'd run the trip right out and I didn't want to be boxed up.
"He just keeps going and won't let anything get past him. He still took a bit to pull him up as well.
"This is the biggest thrill of my career."
The 2015 Melbourne Cup market made for interesting reading following the $3 million Group 1 feature. Japanese runner Fame Game was seen flashing home into sixth position after spending most of the race stuffed back on the inside of runners at the tail of the field.
Stewards queried the tactics adopted by trainer Yoshitada Munakata and jockey Zac Purton – asking the questions as to "whether the Caulfield Cup was Fame Game's priority today".
Purton said the tactics used were to plan and to instruction.
"Ride him where he's comfortable," Purton told stewards. "Ride for a bit of luck and angle out in the straight.
"They said that's how he likes to be ridden. I had nowhere to go."
Chief steward Terry Bailey stated that Purton could have been more aggressive and he was never in doubt of breaking the whip rules.
"I don't think there was any stage where I could have got the whip out and hammered him," Purton responded. "Maybe the last 30 metres when the race was all over.
"The Japanese wanted to win both races. The race was run at a walk. It was always going to be hard for my horse to win.
"I was never coming out to sweep around them. I can't go over the top of them. I'm not a helicopter.
"I can only go as fast as the horses in front of me are going."
Fame Game made significant ground and the punters took note. The classy Japanese runner is now the $5 favourite with Sportsbet.com.au and, with the extra distance of the Melbourne Cup, it looks a great chance of winning.
"The Melbourne Cup is a longer race," trainer Yoshitada Munakata said.
"We've come all the way from Japan. Of course we want to win."
Trip to Paris paid $8 for the place with Tommy Berry in the saddle and now it's paying that same price to win the Melbourne Cup.
Trained by Ed Dunlop, who has prepared Red Cadeaux to finish second in three Melbourne Cups thus far, Trip To Paris looks a strong chance over the 3200-metre distance at Flemington.
Our Ivanhowe (third) exceeded expectations and it starting to show its true potential. Its Melbourne Cup price has been slashed into $17, but it did appear tired at the end of the 2400-metre trip.
Other eye-catching runs came from Gust of Wind, Snow Sky and Who Shot Thebarman. All three runners will be better suited at Flemington and they have have all been well supported in the market at double figure odds.
2015 Caulfield Cup results and jockey comments
1st – Mongolian Khan ($5) – Opie Bosson
"That was awesome. Everything went to plan, we had the perfect run. He relaxed so good. I was probably exposed a bit earlier than I want to be but I knew he'd run the trip right out and I didn't want to be boxed up. He just keeps going and won't let anything past him. He still took a bit to pull him up as well. This is the biggest thrill of my career."
2nd – Trip to Paris ($8) – Tommy Berry
"I don't think anyone would have missed the run. He travelled really well in the run and every time I asked him, he picked up well. He sprinted through the gap at the top of the straight and I thought I was going to pick up the winner but he just stole a bit of a march. The Melbourne Cup looks to be the right race for him."
3rd – Our Ivanhowe ($7) – Ben Melham
"He was there to win and there's just improvement to come from him and that stopped him late. Hopefully he tightens up from that and I'm looking forward to seeing him at the two miles."
4th – Gust of Wind – Chad Schofield
"The others sprinted a little bit better than her but she was really solid through the line."
5th – Snow Sky – Damien Oliver
"He got held up a bit around the home turn but he finished off well and he would be better suited at Flemington. Good effort."
6th – Fame Game – Zac Purton
"As expected, it was always going to be a bit short and they went too slow but he did what we wanted."
7th – Who Shot Thebarman – Blake Shinn
"Good run. He hit the line well and will be better at Flemington."
8th – Hauraki – James McDonald
"He was slow out of the gates because he was in there too long and he just stepped slow.
9th – Lucia Valentina – Dwayne Dunn
"A little bit of jar out of the track helped her. We had a few traffic issues up the straight but she acquitted herself really well.
10th – Hokko Brave – Craig Williams
"We had no favours in the run, three-wide no cover, and he'll take a lot of merit from today's run."
11th – Grand Marshal – Jim Cassidy
"I'm happy enough. He's ticking over alright."
12th – Volkstok'n'barrell – Craig Newitt
"He ran alright. We were put out of the race at about the 700 or 800 when Royal Descent fell in a hole."
13th – Rising Romance – Damian Lane
"A bit disappointing. She travelled well but we got held up a little bit where it would have been nice to have been flowing but when she got out, she didn't finish off like she can."
14th – Magnapal – Dean Yendall
"He had a nice run but he just wasn't quite up to them today. He might have felt the track a bit."
15th – Protectionist – Brenton Avdulla
"Very disappointing. I travelled into it well but he just struggled around the 600m onwards."
16th – Set Square – Kerrin McEvoy
"Leading wasn't the preferred plan. I thought we had a nice enough time to maybe kick a bit better than what we did from the 500m."
17th – Magicool – James Winks
"Not up to them. He had a lovely run in transit."
18th – Royal Descent – Glen Boss
"She had the toughest run of all time but I don't think she stays. She might be a mile to a mile-and-a-quarter horse."
2015 Caulfield Cup bookmaker result:
1st – Mongolian Khan – $5/$2
2nd – Trip to Paris – $8
3rd – Our Ivanhowe – $7
Quinella – $81
Exacta – $120.50
Trifecta – $2460.10
First Four – $57951.70
2015 Melbourne Cup updated market
Fame Game – $5
Trip to Paris – $8
Mongolian Khan – $9 with Sportsbet
Preferment – $10
Who Shot Thebarman – $12
Amralah – $13
Our Ivanhowe – $17
Snow Sky – $17
Hokko Brave – $17
Max Dynamite – $17
Bondi Beach – $17
Criterion – $17
Gust of Wind – $17
Dandino – $21
Sky Hunter – $21
Kingfisher – $21
Hauraki – $21
Hartnell – $21 with Sportsbet
Red Cadeaux – $26
Secret Number – $26
Big Orange – $26
Grand Marshal – $34
Rising Romance – $34
Lets Make Adeal – $41
Pornichet – $41
Royal Descent – $51
Excess Knowledge – $51
Set Square – $51
Prince of Penzance – $51
Elhaame – $67
Guardini – $67
Quest For More – $67
Protectionist – $67
Gailo Chop – $67
Ruling Dynasty – $67
Almoonqith – $67
Magicool – $101
Beaten Up – $101
Happy Trails – $101
Galiante – $101
Dibayani – $101
Chance To Dance – $101
Havana Cooler – $101
La Amistad – $101
The Offer – $101
Observational – $126
Opinion – $151
The United States – $151
Orbec – $201
Taiyoo – $201
Manalapan – $201
Pondarosa Miss – $201
Foundry – $201
Bohemian Lily – $201
Precedence – $201
Thunder Lady – $201
De Little Engine – $201
Bondeiger – $201
Bold Sniper – $201
Sertorius – $201
Purple Smile – $301
Maygrove – $301
Bikila – $301
Renew – $301
Like A Carousel – $301
Nazir – $301
Kapour – $301
High Midnight – $301
Escado – $301
Bonfire – $301
Zanteca – $401
Astronomos – $401
Ethiopia – $401
Don Doremo – $401
Epsom Hill – $401
Prince Cheri – $501
Pop 'n' Scotch – $601
Thunder Set – $1001
Mister Impatience – $1001
Miles apologises for poor Caulfield Cup call
There wouldn't have been one listener that didn't pick up on Greg Miles' "Magnolian Khan" call and the legendary broadcaster has apologised to all.
Miles was calling his 35th Caulfield Cup on Saturday and he appeared on RSN on Sunday morning to explain the circumstances surrounding his call.
"It was a train wreck and I apologise," Miles said.
"I've copped my whack on social media and I understand that. People have the right to have their say.
"If I was a listener I'd be belting the broadcaster around the ears as well."
Miles reported that he was ill in the days leading up to the Caulfield Cup and made the wrong decision to call the race in an unhealthy state.
"I hadn't been well during the week and I got some medical assistance to get me through the day and I felt I was pretty right," Miles explained.
"When the pressure of the main race race on, I think it was a mile out [from the finish] that I knew I was in trouble.
"I just wasn't in control of the race as I normally would be and breathing was a major issue.
"I probably shouldn't have been there but for the grand final, you do everything to be there on the day and it wasn't the right thing to do."
Miles took Sunday off to recover, but expects to be fully healthy for the Geelong Cup this Wednesday.
Sign-up with Sportsbet and claim up to $501 in free bet bonuses.