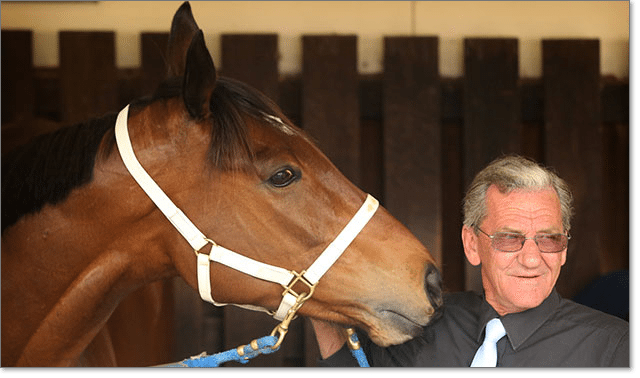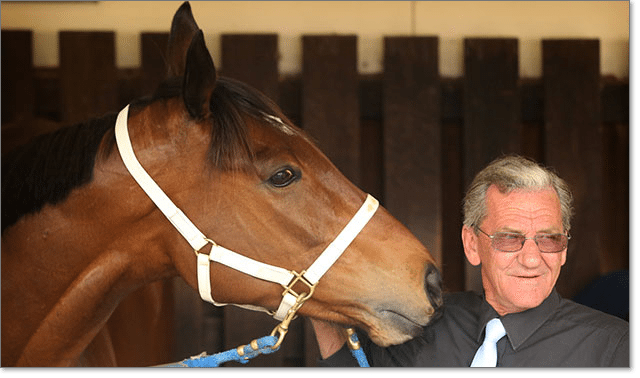 POPULAR trainer Mick Bourles has been dumped as the trainer of The Cleaner in controversial circumstances.
The Cleaner has been a revelation for Tasmanian racing and Mick Burles has been an integral part of that journey, but connections have decided to send The Cleaner to a still-unknown Victorian trainer.
"I'm quite pissed off, but they'll get the same result they got before," Burles said.
"They couldn't tell me who is taking them, so that's a good start, but I won't be taking him back and fixing him again.
"The horse is easy to train but you can't train owners. In my opinion, the horse should be retired. They reckon he should win the Melbourne Cup, it's just greed."
UPDATE: Owner comes clean about controversial horse transfer
The eight-year-old struggled in its return to racing after contracting a virus in the Cox Plate, finished well down the track behind Admiral.
"It's the first bad race he's run for me, apart from the first couple when he didn't know what he was doing," Burles said.
"The track rider told the owners he'd had mucus running out of his nose all week and coughing his guts out all week, but that wasn't true.
"If it was, his blood wouldn't have been much bloody good and his blood was perfect on Tuesday morning."
Burles believes there could be something seriously wrong with The Cleaner.
"Quite honestly, there's something wrong with him, he run off in the Cox Plate and he run off in the race the other night," Burles said.
"It's going to take a lot of finding. You can't just flex him up, he'd have to be x-rayed and scanned, all that crap. It might be a little bone chip, it could be anything. He could be worn out, the horse has earned $1.3 million.
"Sending him to Melbourne they think they can improve him – didn't they learn anything with Robert Smerdon, he's one of the best trainers in Australia. He got homesick there and come home 60 kilograms lighter."
The decision has effectively ended his relationship with the owners, a group he considered his friends.
"I don't want them near me. When greed comes into play then they can piss off. They didn't even know the name of the trainer he was going to for god's sake," Burles said.
"I'm on top of my health and it's going real good, they can't use that as an excuse.
"When you've got good mates and then they want to become trainers – I can't do anything about that.
"Owners have got rights to things, they own the bloody horse, but I just think they are wrong."
Burles wasn't the only disappointed man in racing as former rider for The Cleaner, Jason Maskiell, expressed his frustration on Twitter.
"Disappointing decision by the owners considering if it wasn't for Mick Burles, The Cleaner wouldn't have been theirs to own #noloyalty #greed," Maskiell said.
The Cleaner won 19 of 54 races and more than $1.3 million in stakes – all from a $10,000 purchase.
Top Kiwi three-year-old to join Hayes/Dabernig
New Zealand 1000 Guineas winner Risque will join the David Hayes and Tom Dabernig stables in Melbourne this Saturday.
Oaks Stud owner Dick Karreman has made the decision to send his filly to Australia in preparation for the Australian Oaks and other major three-year-old races this season.
"She had some time in the paddock and has been on the walker before going back into full work, but Dick [Karreman] has made the decision to send her to David Hayes," Rick Williams, general manager of The Oaks Stud said.
"I can understand the reasoning – there are so many opportunities for her over there. It's called reality.
"Whether she's prepared for the ATC [Australian Oaks] or perhaps the South Australian Oaks or the Queensland three-year-old races, that will be up to David to decide once he gets her going."
Risque was trained by newly-formed duo Stephen Autridge and Jamie Richards, who trained the filly to win three times from six starts.
"When you're talking about the country's leading filly it hurts, but you've just got to cop it," Autridge said.
The pair may have lost the best filly in New Zealand, but they still train to best three-year-old in Xtravagant which looked good in an exhibition gallop last week and will head to Ellerslie on Boxing day.
"He did everything right when he galloped with Scrutinize at Tauranga on Friday and he's actually ahead of schedule for Ellerslie," Autridge said.
"The way he went right-handed over there I don't think he'll have any problems."
Punters can bet on Xtravagant to win the Levin Classic at Sportsbet.com.au. The three-year-old is currently a $3 chance to win the January 16 feature.
Punters do their money in extreme circumstances
No one ever said punting was easy, but it should have been for punters that bet on Hawkhurst at Southwell this week.
Punters were half-way to the tote after Hawkhurst was eight lengths clear after jumping the final hurdle in a four-horse field, but nothing is certain in horse racing.
Hawkhurst, the 15/8 favourite, had the race in the bag, but it bucked and shifted sharply to the right, dislodging jockey Sam Twiston-Davies.
"I'm devastated, I don't know what happened," Twiston-Davies said.
The embarrassed jockey would later apologise via Twitter.
"Apologies to all with Hawkhurst today, I can only say sorry. An error on my part. I'll be working hard to make sure it never happens again," Twiston-Davies tweeted.
Stewards reviewed the bizarre finish before laying the blame on the Paul Nicholls-trained jumper for its manners.
"The close-up film showed quite clearly that the horse put its tail between its back legs and bucked for a couple of strides before jinking right, and that was the reason that Sam Twiston-Davies was unseated," steward Robert Earnshaw said.
Nicholls tweeted that Twiston-Davies should have no reason to apologise and he should "move on" from the incident.
Delicacy hot favourite for C.B Cox Stakes
After a narrow second placing in the Group 1 Kingston Town Classic last start, the Grant Williams-trained Delicacy has been installed as the hot favourite for this Saturday's feature.
The four-year-old looks to continue its impressive career and bookmakers are expecting it to go one better this time around. The usual contenders will line up with Real Love, Black Heart Bart and Balmont Girl all well fancied at longer odds.
A field of only 11 runners will ensure Delicacy gets every chance to win and punters are happy to take the $1.75 on offer at CrownBet.com.au.
C.B Cox Stakes market:
Delicacy – $1.75
Real Love – $4.80
Black Heart Bart – $11
Balmont Girl – $12
Extra Zero – $13
Dark Musket – $15
Kirov Boy – $18
Tower Of Lonhro – $21
Ask Me Nicely – $51
Bass Straight – $61
Woodsville – $81