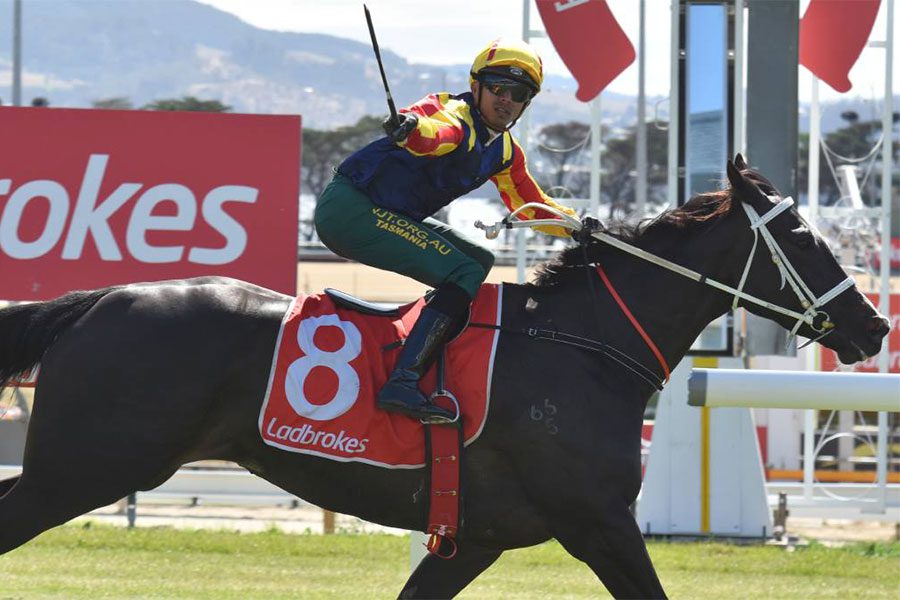 Estimated Reading Time: 4 minutes
Apprentice jockey Ianish Luximon has been a breath of fresh air since arriving in Alice Springs late last year.
The 24-year-old is from Mauritius, an island in the Indian Ocean located off the eastern coast of Madagascar, and he has overcome numerous hurdles in his quest to establish a career in the saddle.
"I started my apprenticeship in Malaysia for the 2014/15 season under trainer Stephen Cook," he said.
"After that I only rode trials there.
"Then I got my B-grade licence to ride in a race, but at the same time I had an opportunity with trainer Steven Burridge at Singapore Turf Club.
"I went there to learn a bit more – I did two years there."
Stephen Maskiell, the Tasmanian Apprentice Jockey Coach and a friend of Steven Burridge, was holidaying in Singapore when he encouraged Luximon to further his career in Tasmania due to a shortage of jockeys there.
"I was like, I should grab the chance," Luximon said.
"I ended up with the leading trainer in Tasmania, Adam Trinder.
"I started there, I rode for two years and then I was like I wanted to try somewhere a bit different.
"Alice Springs, the racing is very different.
"At the same time Thoroughbred Racing Northern Territory chief executive officer Andrew O'Toole got in contact with me.
"I was like, I want to grab a chance, something new, try something a bit different, and I came here last year in November."
Luximon, a lightweight rider who can claim 3kg, had his first ride in Alice Springs on November 21, finishing third on the Dick Leech-trained Rockford Files in a maiden.
In his first ride at Darwin's Fannie Bay on December 18, Luximon finished second on the Chris Pollard-trained Savaspur.
The next day back in the Red Centre, he booted home his first NT winner at Pioneer Park when the Terry Gillett-trained Miltary Road saluted at nice odds of +650.
Happy now that he has settled in Alice Springs, Luximon's exit from Tasmania wasn't exactly smooth sailing.
Controversy ensued around this time last year when Tasracing elected not to renew his licence.
His application to continue his apprenticeship beyond his visa expiry date had already been declined.
At the time, Tasmanian Jockeys Association boss Kevin Ring confirmed that the decision had been made by the apprentice review panel and that it was unanimous.
The panel comprised Maskiell, Ring, and other members from Tasracing and the Office of Racing Integrity.
John Blacker, a prominent Tasmanian trainer, said he had been told that the key reason behind the decision was a perceived lack of improvement in Luximon's riding skills during his time on the Apple Isle.
Blacker added that he had no hesitation using Luximon, who won a heat of the National Apprentice Series in Hobart in 2020, on horses that needed a claim.
"They are saying we have too many apprentices in Tasmania at the moment and they want to give the locals a go, but I think that's rubbish," Blacker said.
"There's always a shortage of riders here.
"I've spoken to the stewards and they have no issue with Ianish's riding.
"It's hard to show your ability or improve your strike rate when most of the horses you are riding are 100-1."
During his stint in Tasmania, Luximon had 412 rides for 18 wins, 25 seconds and 31 thirds.
The politics and red tape coupled with the drama and stress Luximon endured when his tenure in Tasmania ended has thankfully been condemned to the past.
Luximon is now making every post a winner and according to Alice Springs Turf Club chief executive officer Tom Slattery, he has been a great asset to the local racing community.
He sealed the Alice Springs trainers' premiership for Lisa Whittle on the final day of the 2021/22 season on July 24 when he piloted Mathematics to victory.
It proved a memorable day for Luximon on a personal level because he also ended up becoming the leading apprentice with six wins from 86 starts, which also included 13 seconds and 15 thirds.
Darwin-based apprentice Jade Hampson also rode six winners for the 2021/22 season at Pioneer Park from just 17 starts, which also included three seconds and two thirds, but Luximon took out the award as his minor-placings record was far superior.
The 2022/23 season kicked off in style for Luximon on Saturday when he registered a win for his boss – long-time Alice Springs trainer Kevin Lamprecht – aboard +340 chance Travanti.
Luximon is three years through his four-year apprenticeship and is in no hurry to leave Alice Springs in the short term.
Apart from Leech, Lamprecht and Whittle, he has also received strong support from trainers Terry Gillett, Ray Viney, Jess Gleeson and Will Savage.
"I'm working very hard in the morning – up to 20 horses every morning," he said.
"I'm now working for Kevin Lamprecht and I give my boss a bit of help when he needs it in the afternoon at the stables.
"I actually ride more for Kevin in races these days, but when he doesn't have a runner the other trainers give me the pick because I help them with track work.
"They give me a lot of chances and opportunities, which is very good.
"I want to base here, I love it here – the racing and the support I'm getting.
"I think a lot of trainers are really happy having me here as I ride work instead of their horses using the walker.
"I'm hoping for a better season this time and I'm going to run my full season this time – I came a bit late last season."
Luximon holds both O'Toole and Slattery in high regard.
"I had an issue in Tasmania where I couldn't get my licence renewed, saying there's too many local jockeys," he said.
"That's the reason I got support from Andrew O'Toole and I had a great chance to get here.
"When I moved here Tom Slattery looked after me very well.
"If I needed any help, he just said to give him a call and he'll get things sorted."